THE VITAL ASPECT OF EXPERIENCE. EDGARDO GIMÉNEZ AT MALBA
By María Galarza | September 12, 2023
In the eclectic and vibrant universe of Edgardo Giménez, the exhibition There Will Be None Like Him at Museo de Arte Latinoamericano de Buenos Aires (MALBA) emerges as an unforgettable journey through more than sixty years of artistic production.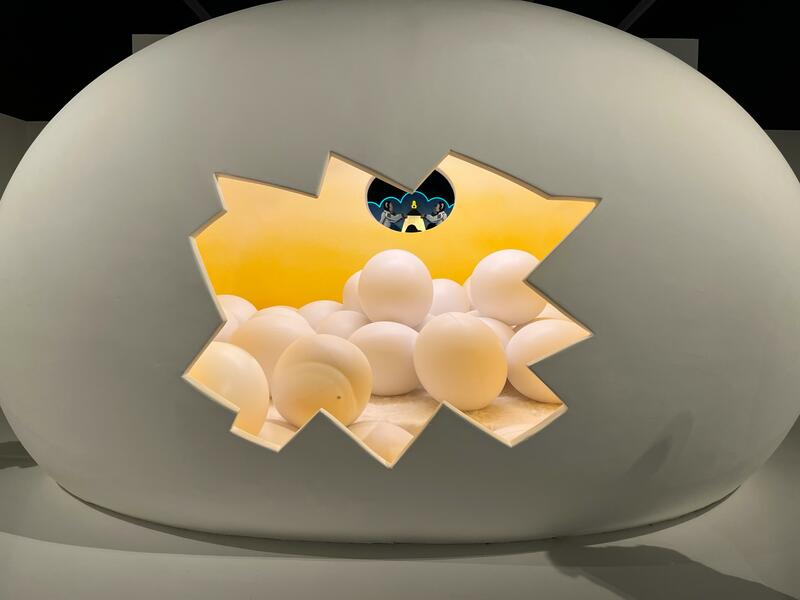 With approximately 80 works and installations that capture his irreverent spirit and his inexhaustible quest for humor, this exhibition is presented as a landscape that portrays the artist's playful and exploratory adventure.
His work holds an identity deeply rooted in the 'Argentine', using parody and the absurd to communicate the truth. The exhibition stages part of the scenography used for the films he worked on and frames objects, paintings, sculptures and works of architecture that immerse us in a fantastic story and reveal the most vital aspect of everyday experience.
For Giménez, art should produce well-being and joy, and this philosophy is manifested in every moment of the exhibition. Party, pop, dreams and brightness. Colors explode without saturating and imagination is unleashed. Each work makes us witness Giménez's ability to transmit an overflowing optimism, a talent for celebrating life. The viewer enters a world where conventional rules are blurred and where the only objective is to play.
The pop music that sets the mood of the exhibition –a playlist curated by the artist himself– is another effective resource. As we walk through the work, the music connects us with a joyful and festive spirit. It makes us feel as if we are participating in a party.
Talking animals, enigmatic figures, gravity-defying furniture and sculptures that come to life in our minds. Each piece surprises with its ingenuity and reminds us that art is a reflection of life: a space where everything is possible, where limits are conventions that can be challenged.
That is why, in these difficult times Argentina is going through, his work seems to function as a relief or an escape route –depending on each one– to detach us from solemnity and connect us with optimism and spontaneity. It is not an invitation to deny, but to learn to be moved by beauty and creativity.
The crisis threatens, among many other things, the ability to dream, and reaffirms us the importance of imagination and wit to get through it. It seems vital to keep dreaming, laughing, rejoicing in the small virtues that everyday life can bring. This is Giménez's inexhaustible fuel that gave shape to his wonderful world, this is the habit he invites us to cultivate.
There Will Be None Like It is a testament to his passion and desire to share a celebratory vision of the world. It calls us to empower our own imagination and creativity and to never stop playing.
Related Topics
Subscribe
to receive the latest news and articles written by experts
May interest you