MATÍAS SALGADO WINNER OF THE RON MANDOS YOUNG BLOOD AWARD
The 24 year old Argentine artist has been selected as the 'Best of Graduates' in the Netherlands, among Dutch and international artists. His works reflect deep connection with his cultural background, and the awarded series of paintings 'City of Eden' delves into socially shared struggles and celebrations.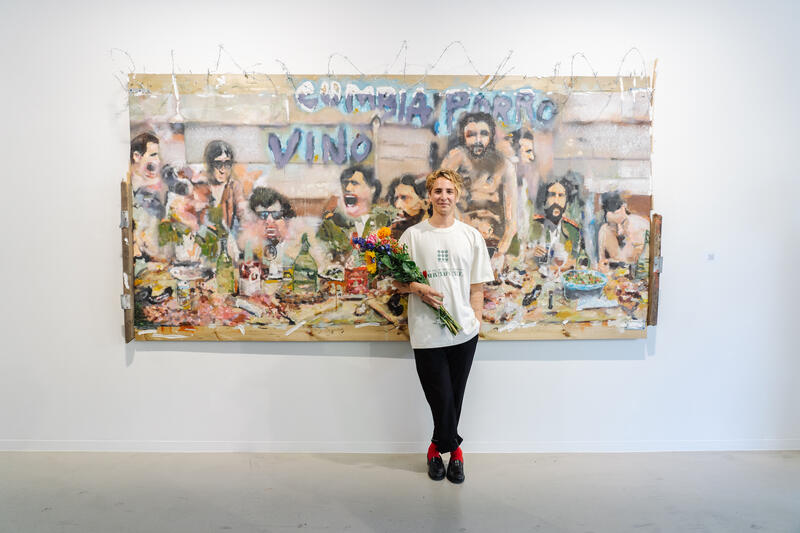 As the recipient of the 2023 Ron Mandos Young Blood Award, Salgado's painting will be placed in the permanent collection of Museum Voorlinden. The Museum features temporary exhibitions as well as its private collection, including works by Leandro Erlich, James Turrell, Ron Mueck, Maurizio Cattelan, among others.
"In his energetic compositions, presenting traditions from his home country Argentina, figuration and abstraction merge and rival. You are drawn into the painting, joining the scenery, evoking different emotions."⁠ – Joop van Caldenborgh, Founder of Museum Voorlinden⁠
City of Eden invites the public to a space where times and conflicts abstract. It plays with conventional presentations and absorbs both the painted and the spectating characters into a universally specific urban environment. Some of the included elements are barbed wire, car tires, abandoned bricks and deteriorated walls. The irony is found in the romanticized decadence and the joy of turmoil.
Inspired by popular narratives and traditional tales from his home country Argentina, Salgado taps into unresolved tensions. His personal memories come into being through a process that flirts with both abstraction and figuration, resulting in Salgado's concept of a suggestive image. His works evoke an emotional history that transcends generations and roots straight to the genesis; a spectrum of problematic dynamics generating saturated and organic compositions; a chaos that stands out for its sensitivity.
Born in Buenos Aires, Argentina in 1998, Matías Salgado started painting in his teenage years by attending courses with Ariel Mlynarzewicz at the Museo Nacional de Bellas Artes. He started exhibiting in 2016 and since then, he has exhibited in Balai Seni Negara Gallery (Kuala Lumpur), Universidad Torcuato Di Tella (Buenos Aires), Galerie Noord (Groningen), Kersgallery (Amsterdam), Tinimini Room (Dordrecht) and Ron Mandos (Amsterdam).
His works feature in private collections in Argentina, Belgium, Malaysia, The Netherlands, Switzerland, Sweden, Thailand and the United States. In 2023 he received his BA in Fine Arts from Academie Minerva.
Since the awards ceremony, Salgado's works have sold out to public and private collectors around the globe, including Jorge Pérez in Miami. "I'm very excited about what's coming. My paintings have become larger and so have my aspirations. I also wish to exhibit more institutionally, and eventually a dream of mine is to exhibit in an Argentine museum."
Walkthrough: Best of Graduates 2023 from Galerie Ron Mandos on Vimeo.
Since 2008, Galerie Ron Mandos has been supporting young artistic talent by organizing the annual Best of Graduates exhibition. Here, the gallery highlights the best of each year's graduating students and presents them to a large international public, as well as granting different kinds of prizes. This gave birth to the Ron Mandos Young Blood Foundation.
Related Topics
Subscribe
to receive the latest news and articles written by experts
May interest you