DANIEL SANTORO PRESENTS A DYSTOPIAN PANORAMA OF REALITY
Artist Daniel Santoro proposes an immersive experience at the Museo de Bellas Artes in Argentina with an unpublished 30-meter-long work, plus a series of ink works and a charcoal drawing on one of the walls of the second-floor hall.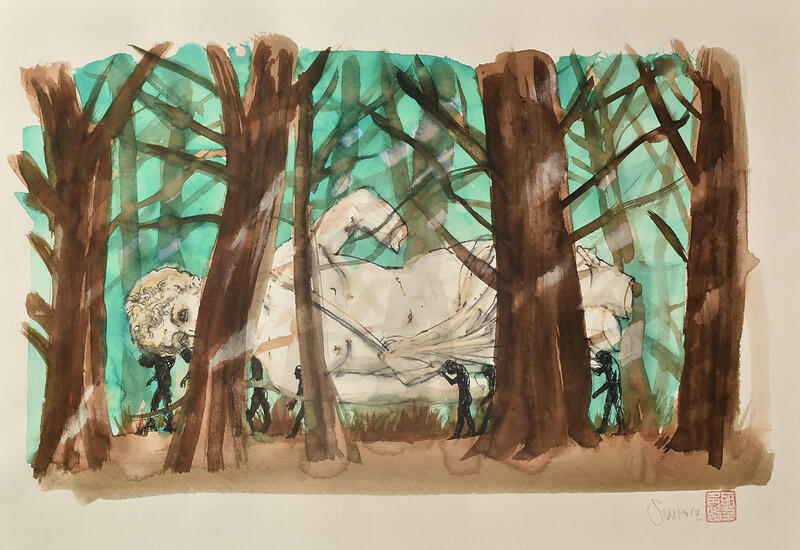 Panorama. El teatro de la memoria (Overview. The theater of memory) is the exhibition in which Daniel Santoro presents an unpublished work deployed along 30 meters, plus a selection of ink works on paper, sketches and notebooks, and a charcoal drawing made especially for this exhibition.
"Pictorial panoramas, popular in the 19th century, were huge circular murals that evoked transcendent events of the past, such as wars, natural disasters and historical episodes," expresses the director of the Fine Arts, Andrés Duprat. "They were realistic paintings that sought to emulate plausible scenes: they were, in a way, an early forerunner of cinema."
The panorama –which stretches the length of room 42 on the second floor, covering a three-hundred-degree angle– presents a sequence of images made in charcoal and diluted acrylic. "I decided to use the material trace of drawing and avoid the rhetorical artifice of painting, which resulted in a bichromy of brown colors with pigments coming from earth and charcoal," details artist Daniel Santoro.
The exhibition is completed with what Santoro calls the "theater of memory", consisting of a file that presents a sequence of miniature images, as well as a series of ink and charcoal drawings, sketches, notes and artist's books that reveal the genesis of the creation, ideas and previous studies of his recent productions.
Daniel Santoro was born in Buenos Aires in 1954. He studied at the Escuela Nacional de Bellas Artes Prilidiano Pueyrredón, where he graduated as a professor of drawing and painting. In 1986, he won first prize at the Salón Municipal de Dibujo Manuel Belgrano. Between 1982 and 1994, he worked as a set designer at the Teatro Colón in the city of Buenos Aires.
In 2002 he published Manual del niño peronista (Asunto Impreso), distinguished by the International Association of Art Critics (AICA) as the best art book. In 2004, directed by Alejandro Fernández Mouján, he starred in the documentary Pulqui, un instante en la patria de la felicidad, which won awards at several international festivals.
Between 1990 and 1996, he made numerous exhibitions and trips to the Orient. He also presented his work in Italy, Spain and the United States. In Argentina, his main exhibitions were held at the Palatina Gallery, the Centro Cultural Recoleta, the Museo de la Universidad de Tres de Febrero (MUNTREF), the Museo de Artes Plásticas Eduardo Sívori, the Museo Provincial de Bellas Artes Emilio Caraffa in Córdoba, the Museo Provincial de Bellas Artes Franklin Rawson in San Juan, and the newspaper La Capital in Rosario, among other places.
Since 2008 he has been part of the artistic collective Estrella del Oriente, with which he co-starred in the feature film La ballena va llena, among many other actions related to the drama of human migration.
Related Topics
Subscribe
to receive the latest news and articles written by experts
May interest you