THE CRISIS AS A STARTING POINT
Cien caminos en un solo día (One Hundred Roads in a Single Day) is the group exhibition staged by Luciana Lamothe at the Museum of Modern Art of Buenos Aires.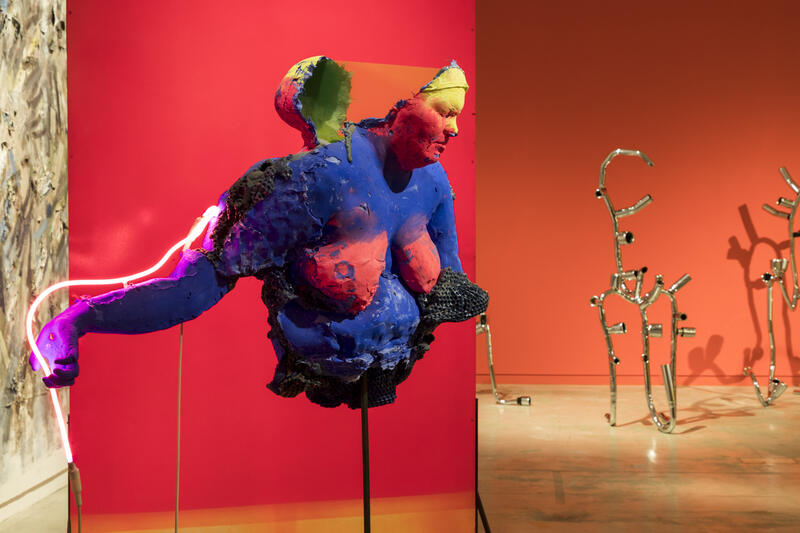 Rosario Bléfari prefaces this exhibition with a phrase from Excursiones, the cult album she released with her band Suárez in 1999. Her songs evoke images and emotional sensations of the city, while drawing ways of traveling through it, sometimes aimlessly, discovering paths to reinvent it. The city can be as hostile as it is playful, like the work of Luciana Lamothe (Mercedes, Province of Buenos Aires, 1975), as vandalic as it is constructive, as ephemeral, deformed and brutal as it is precise.
This game of opposites finds in each new action of Lamothe, a form of compensation for the resolution of the conflict. Her sculptures and installations are context and situation, and have the capacity to mutate and expand. For this exhibition, Lamothe transforms and wraps the space of the room to house a group of artists of her generation who emerged on the contemporary art scene after the argentine crisis of 2001. The memory of the devastated city became matter and experience for these artists: a poetics of waste and contamination that transmutes violence into strength and allows the invention of new ways of inhabiting. The explosion can also be a rain of colors to poeticize the surroundings of the nearby.
Among the participating artists are Nicanor Aráoz, Daniel Basso, Eugenia Calvo, Paula Castro, Cynthia Cohen with two large hyperrealist portraits, Tomás Espina, Diego Figueroa, Mariana Ferrari, Facundo Belén, Diego Bianchi and Irina Kirchuk. Graciela Hasper, Carlos Herrera, Martín Legón, Mariana López, Valentina Liernur, Tomás Maglione, Verónica Meloni and the renowned architect Clorindo Testa are also present.
Related Topics
Subscribe
to receive the latest news and articles written by experts
May interest you