THE CONCLUSION OF ARCOmadrid 2021 REFLECTS AN IMPORTANT ENTHUSIASM IN THE RETURN TO IN-PERSON EVENTS
Reactivating the market, promoting art sales and bringing about a reunion between contemporary art professionals have been the objectives that have driven the organization of this edition of ARCOmadrid 2021. These objectives have centered IFEMA MADRID's commitment to reanimate this essential event for boosting the art business, attracting great collectors from all over the world and discussing the immediate future of art. All of which lies on the essential axes of this edition: quality of the contents, internationality and presence of collectors.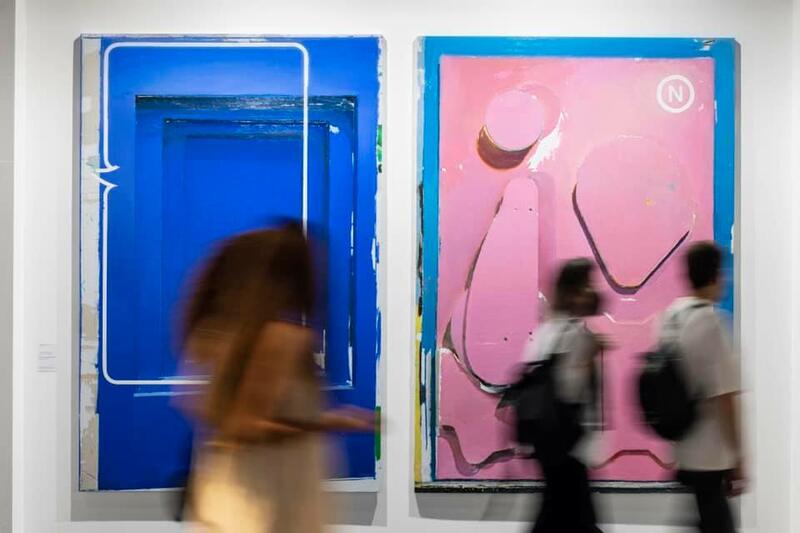 Diego Costa Peuser, director of Arte al Día, congratulates the bilateral effort of the fair and the galleries in the long-awaited reactivation of in-person events. Their support for contemporary art became visible, with special emphasis on REMITENTE - a section dedicated to contemporary art whose curatorship by Mariano Mayer deserves outstanding mention. "I celebrate the revival of the market and I really enjoyed the contact with artists and gallery owners, whose work I highlight"
Galleries like José de la Mano, Thaddaeus Ropac, Albarrán Bourdais, Foreman, Perrotin, Chantal Crousel, Mor Charpentier, Maisterravalbuena, Vera Cortês, Travesía Cuatro, Lelong, Elvira González, among many others, have celebrated the success of the occasion in an extraordinary month such as July, showing a good level of both sales and artistic quality of the fair.
Reconnecting with art collectors
International collectors have enthusiastically welcomed ARCOmadrid's invitation, demonstrating their special interest in the fair's artistic proposals and their commitment to contemporary art. Coming from 23 countries, mainly from Belgium, Germany, France, Italy, Portugal and the United States, as well as from Argentina, Mexico, Colombia, Peru, Venezuela and Brazil, the participants in this year's program have stood out spatially for their involvement, which has manifested itself in numerous purchases.
ACQUISITIONS IN ARCOmadrid 2021
Among the institutional and corporate purchases confirmed in this edition of ARCOmadrid 2021 are those of the Fundación ARCO, which has expanded the funds of its Collection with the acquisition of 9 works by 5 artists. Acquired, with the advice of Manuel Segade and Magalí Arriola, the works correspond to Georges Toni Stoll (Jérôme Poggi), Frida Orupabo (Nordenhake), Cecilia Bengolea (Àngels Barcelona), Jon Mikel Euba (Carreras Mugica) and Paz Errázuriz (Mor Charpentier ).
One more year, the Reina Sofía Museum reinforces its Collection with purchases of new works from galleries participating in the Fair. A selection of 18 works by the artists Manuela Ballester; Ana Peters; Manuel Quejido; Agustín Ibarrola, Liliana Maresca; Evru/Zush; Alonso Gil; the Ayllu collective; Clara Montoya; Andrés Pachón; Bouchra Khalili; Angela Ferreira; Dias & Riedweg; Babi Badalov; Maja Bajevic, become part of the Museum's collection. The total value of the acquisitions amounts to 300,000 euros.
The Community of Madrid has bought works by the artists Isidoro Valcárcel Medina, Ana Buenaventura and Cristina Iglesias for a value of 150,000 euros, which now enter the Contemporary Art Collection of the CA2M Centro de Arte Dos de Mayo.
For its part, the Bilbao Fine Arts Museum incorporates into its collection the mural ´Guernika´, by Agustín Ibarrola (José de la Mano gallery), acquired for 300,000 euros. In addition, DKV Seguros has bought, among others, pieces by Cristina Mejías (Alarcón Criado), Ana Esteve (Formatcomodo), Guillermo Pfaff (Heinrich Erhardt), Edu Carrillo (L21), David Martínez (ATM), Marina González (Rosa Santos) , and Asunción Molinos (Travesía Cuatro).
Also, TBA21 Thyssen-Bornemisza Art Contemporary has acquired works by Daniel Otero Torres and Charwei Tsai (Mor Charpentier), Jose Dávila (Travesía Cuatro), Regina de Miguel, Nestor Sanmiguel and Antonio Ballester Moreno (Maisterravalbuena) and Ania Soliman (Àngels Barcelona) .
In the case of the Helga de Alvear Foundation, this time it has bought pieces by Bruno Munari (Maab Gallery), Antony Gormley and Gilbert & George (Thaddaeus Ropac), and John Chamberlain (Elvira González).
The Sorigué Foundation has also expanded its funds with the acquisition of works by Nacho Martín Silva (Max Estrella gallery), and Julia Santa Olalla and Paloma de la Cruz (T20 gallery).
Subscribe
to receive the latest news and articles written by experts
May interest you