JULIA HUETE WINNER OF THE V CERVEZAS ALHAMBRA AWARD FOR EMERGING ART IN ARCOmadrid
Her work De dos cuerpos vengo (From two bodies I come) has been chosen by an international jury of experts among the five finalist proposals that are exhibited these days at ARCOmadrid 2021. Antonio Fernández Alvira, Fernando García, Juan López and Belén Rodríguez, have been the other four creators who have been part of the fifth edition of this award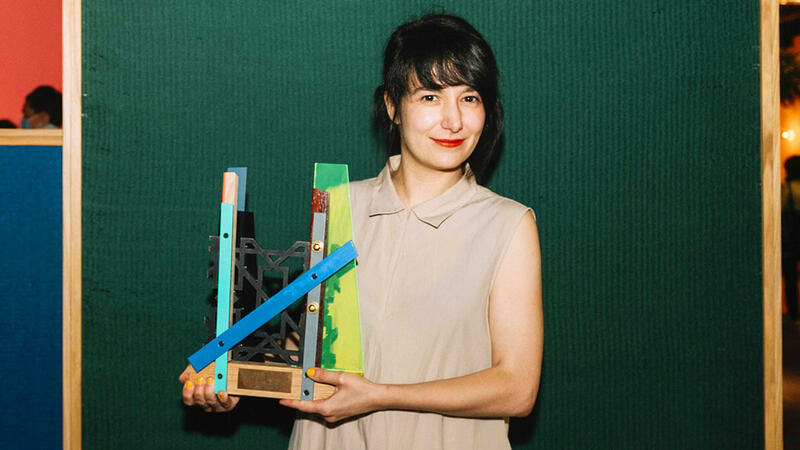 For the fifth consecutive year, Cervezas Alhambra has once again convened the Cervezas Alhambra Award for Emerging Art in which a curatorial committee invited different emerging artists from the national art scene to participate. Among them, five finalists were selected who developed their projects inspired by Alhambra in Granada with the help of contemporary artisans and mentors. The result of their work can be seen these days at the brand's stand at ARCOmadrid 2021.
The winner of this fifth edition has been Julia Huete for De dos cuerpos vengo (From two bodies I come), a work made with two pairs of chestnut wood frames on which a collection of four tapestries are stretched, combined two by two and different in each expensive. The fabrics are inspired by the Nasrid lampas, a type of cloth carved in silk, formed by two warps, base and weave, which allows the elaboration of a design on its front and back. With this structure, the lampás were added to the elements that influenced the lifestyle in Alhambra estates but also added to the color, calligraphy and architecture program of the palace.
Julia Huete is a visual artist trained in Pontevedra. Since she has been awarded a scholarship by the Royal Academy of Rome, she resides between Italy and Galicia and is represented by the Nordés Gallery, where she has had two solo exhibitions. In her last works, she has explored the relationship between the image and the object, as in the piece that she presents, through the fabric.
The jury's decision was announced this morning after deliberation by its members. As in recent editions, the panel of experts who have selected this piece has been made up of personalities from the artistic world such as Juan Antonio Álvarez Reyes, Director of the Andalusian Center for Contemporary Art; Luisa Espino, Head of the art section of El Cultural; Manuel Segade, Director of the Dos de Mayo Art Center (CA2M) of the Community of Madrid; Marta Rincón, Head of visual arts, architecture and design at Acción Cultural Española (AC / E); Patrizia Sandretto, President of the Sandretto Re Rebaudengo Foundation; Rocío Díaz Jiménez, General Director of the Board of Trustees of the Alhambra and Generalife (In her representation Carmen Yusty. Head of the Diffusion Department of the Research and Diffusion Service) and Álvaro Trujillo, Brand Manager Territory of Cervezas Alhambra.
Alicia Ventura, curator of this initiative promoted by Cervezas Alhambra, has assured that "Julia Huete's work is a clear example of the quality and potential of emerging Spanish artists". In addition, she thanked the support of Cervezas Alhambra to the art world "since their interest in the promotion and visibility of artistic proposals has been evident not only with the fifth edition of this award, but in all the activities that develop regarding culture".
Subscribe
to receive the latest news and articles written by experts
May interest you