PEACE SYMBOLS AT ZERO ARMI NUCLEARI BY PEDRO REYES
Zero Armi Nucleari is Mexicam artist Pedro Reyes first solo exhibition in the Italian Museo Nivola, exposing through his work a strong message of nuclear disarmament.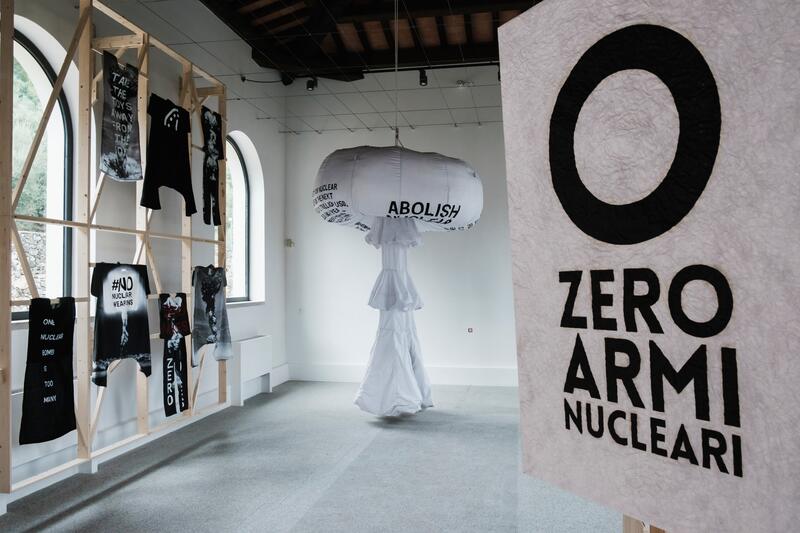 The exhibition presents the developments of the Zero Nukes campaign, launched by the artist in collaboration with numerous institutions and figures from the world of art and science, to bring the nuclear threat to the attention of the public and put pressure on governments to reduce the production and pursue the disarmament.
Pedro Reyes' work follows a double path: art as aesthetic research and as social practice. Two seemingly opposite perspectives, the first developed through the tool of sculpture, the second by conceptual and participatory strategies, both very present in this show.
Reyes' project is linked, even iconographically, to the images and symbols used in the twentieth century by groups of activists and organizations advocating for disarmament, such as the Bulletin and the International Campaign for the Abolition of Nuclear Weapons (ICAN). Reyes focuses on the "Zero" as a graphic, visual and conceptual element common to all languages, used as a symbol of global unity for the only universally acceptable cause: avoiding the destruction of life on earth.
The exhibition includes protest garments produced by Mexican designer Carla Fernández which were used in performance by dance company Nohboards, an element that reaffirms the collaborative effort for global disarmament.
Pedro Reyes (Mexico City, 1972) lives and works in Mexico City. He has established himself internationally with his large-scale projects that address social and political issues through different media such as sculpture, performance, video, and activism. Reyes explores, often in collaboration with associations and institutions, the ways in which change can be encouraged through communication, creativity, happiness, and humor. In recent years Reyes has dedicated himself to sculpture, with works in volcanic stone, marble, bronze and steel, that look at modernism and ancient South American cultures in a variety ranging from the intimate to the monumental, from the ancient to the modern, from the sacred to functional.
Subscribe
to receive the latest news and articles written by experts
May interest you