DORIS SALCEDO'S REFUGEES HOMAGE IN PALIMPSEST
In a large-scale installation, the Foundation Beyeler presents Palimpsest by internationally acclaimed Colombian artist Doris Salcedo. The exhibition is dedicated to the refugees and migrants who over the past twenty years have died attempting dangerous journeys across the Mediterranean or the Atlantic in search of a better life in Europe.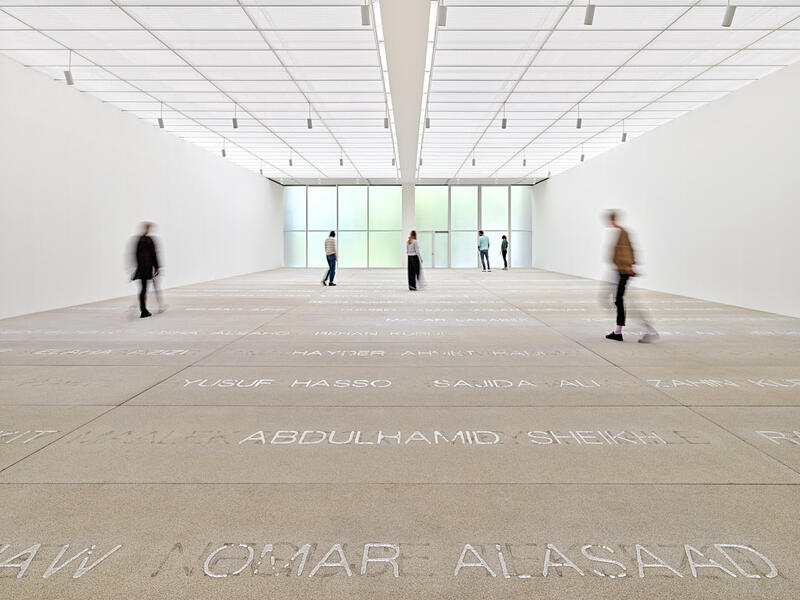 Doris Salcedo's Palimpsest is a walk-through installation of sand-coloured, porous floor slabs. The work consists of two overlapping cycles of names: the names of those who died during a migration movement prior to 2010 are set off in fine sand of contrasting colour inlaid into the stone slabs; the names of those who died between 2011 and 2016 appear superimposed as drops of water that combine to form letters before seeping away again, in a constant cycle of inscription and erasure. At the Fondation Beyeler, Palimpsest is installed in the museum's largest gallery. It comprises 66 stone slabs laid across a floor area of around 400 square metres, on which visitors are able to read 171 of the altogether 300 names.
The title of the exhibition project derives from the ancient Greek word Palimpsest, which refers to manuscript pages that were reused several times over the course of antiquity and the Middle Ages. The traces of the original sentences remained partly visible under the new script, which made the transmission of the old texts possible in the first place.
Born in Bogotá in 1958, with her objects, sculptures and large site-specific interventions Doris Salcedo addresses the ever-repeating cycle of violence, outrage, remembrance and forgetting.
Related Topics
Subscribe
to receive the latest news and articles written by experts
May interest you