A SHARED AND OPTIMISTIC FUTURE IN LANDSCAPE AND HIERARCHIES, THE EXHIBITION BY ALEXANDRE ARRECHEA.
ArtYard inaugurated the new exhibition by Cuban artist Alexandre Arrechea. LANDSCAPE AND HIERARCHIES explores the relationship between the individual and the collective, and the domino effect that human actions may have on society and nature.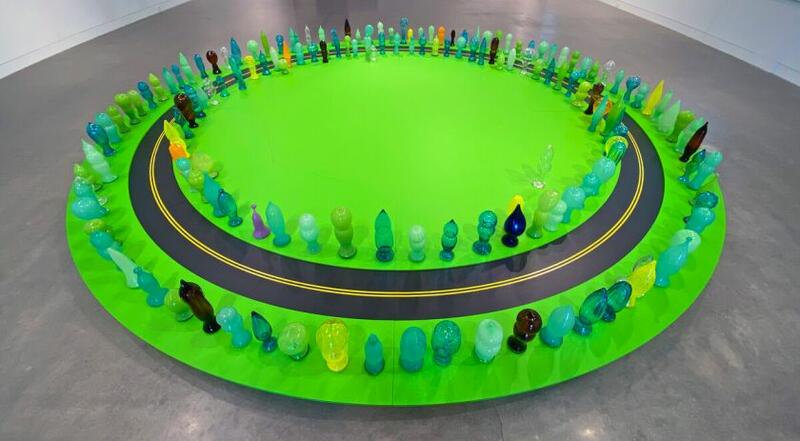 Curated by Elsa Mora, the exhibition pieces were produced specifically for ArtYard, and it includes monumental watercolors, sculptures and multimedia installations. Arrechea was inspired by sports to investigate the power dynamics that our daily lives hide. Through common objects in baseball stadiums and playgrounds, juxtaposed with natural elements, the artist transforms little gestures into big ones, giving special importance to small actions.
"Arrechea disrupts the dynamics that those at the top of social hierarchies have enacted for generations: competition for cooperation, winners and losers, rules and sanctions, the separation of humans from nature. Through his work and creative process, the artist invites us into a collaborative space to co-create a future where people and the planet thrive," says Elsa Mora, ArtYard's artistic director and curator.
This exhibition is the culmination of the artist's summer residency at ArtYard, in which he had the time to reflect, experiment, and create work. During that period, he became specially interested on the Delaware River and, as a result, he created the largest piece of the exhibition.
Alexandre Arrechea (1970) has roots in Havana, New York and Madrid. His work includes large-scale installations, sculptures, watercolors and videos that explore themes such as history, memory, politics and power relations in urban space. Throughout his career, his work has achieved a more active interaction with the audience, as his exploration of space invites to question about the cultural resonances hidden in architecture, and how these condition its multiple readings. He is recognized for Nolimits (2013), a monumental project composed of 10 sculptures inspired by iconic New York City buildings and erected along Park Avenue; and Katrina Chairs (2016) exhibited at the Coachella Music Festival in California.
Related Topics
Subscribe
to receive the latest news and articles written by experts
May interest you