GERMAN PAVILION AT THE 59TH VENICE BIENNALE: A QUESTION ON PAVILIONS THEMSELVES
The German Pavilion at the 59th International Art Exhibition—la Biennale di Venezia in 2022 will feature the artist Maria Eichhorn. By choosing Eichhorn, who was born in Bamberg in 1962 and lives in Berlin, the curator Yilmaz Dziewior has decided in favor of an internationally highly recognized artist known as much for her conceptual approach as for her subtle sense of humor. With her visually minimal gestures, spatial interventions, and process-based works, Eichhorn critically examines institutional power structures and political and economic interrelationships.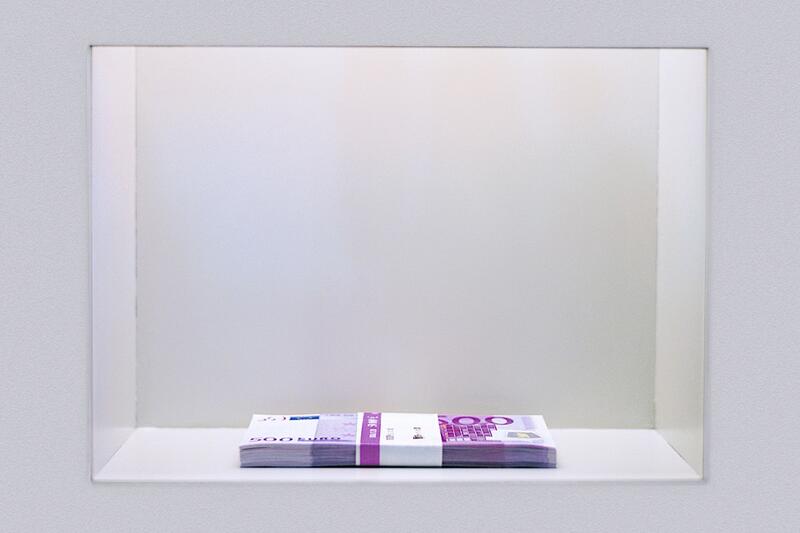 Within the context of her work, Eichhorn often poses the question of ownership. She already drew wide notice in 2002 with her work Maria Eichhorn Aktiengesellschaft [Maria Eichhorn Public Limited Company], which she realized for the Documenta11 in Kassel. It consisted in the artist's founding a public limited company with a special status that prohibited it from increasing its capital. By presenting foundation documents and the 50,000-Euro equity capital—placed in a display case in a neat bundle of a hundred brand-new 500-Euro bills—, she made a striking commentary on the relationship between art and the economy.
Maria Eichhorn's artistic projects are usually processual in nature and aspire to illuminate and transform existing social orders. "Several artists have grappled with the architecture of the German pavilion and with German history. There have been a number of attempts and proposals to redesign the pavilion. Since its monumental reconstruction in the Nazi period, the building has undergone various changes—inside and out. (…) Without departing from that aspect, I regard the German Pavilion not as isolated, but as part of an ensemble and engaged in interplay with other pavilions and other country participations in terms of national-territorial and geopolitical, global-economic, and ecological developments."
"Then there's the question of ownership: Who do the pavilions belong to? The fact that Venice continues to adhere to the model of national pavilions is inseparably linked to the fact that, like embassy buildings, the Giardini pavilions are the property of the respective countries—except the U.S. pavilion, which is owned by the Guggenheim Foundation. And country participations without their own Giardini pavilions copy this dominant structure almost without exception. How would art be produced and received more independently of such constructions of national identity?
"In my view, an artist is not a representative of a country, but of a certain attitude, a certain way of thinking and acting in relation to a given situation."
Maria Eichhorn was born in Bamberg in 1962 and lives in Berlin. She studied with Karl Horst Hödicke at the Berlin University of the Arts between 1984 and 1990.
In addition to her participation in the documenta in Kassel in 2002 and in Athens and Kassel in 2017, Maria Eichhorn has participated in the Biennale di Venezia several times (2015, 2001, 1993) as well as in numerous other international biennials, for example in Guangzhou (2008), Berlin (2008, 2004), Sevilla (2006), Istanbul (2005, 1995), Łódź (2004), and Yokohama (2001) and in the Sculpture. Projects in Münster (1997). Eichhorn has been exhibiting her work in prestigious institutions since 1986. From 2018 to 2019, the Migros Museum für Gegenwartskunst in Zurich presented an extensive monographic show of her work entitled Zwölf Arbeiten / Twelve Works (1988—2018). Her solo shows have been featured in London (2016), Vancouver (2015), Bregenz (2014), Eindhoven (2007—2010), Munich (2003), Bern (2001), Frankfurt am Main (1999), Zürich (1997). Her work was also exhibited in group shows in: Museo d'Arte Contemporanea di Roma (2021), Museum Ludwig in Cologne (2016, 2010), Stedelijk Museum in Amsterdam (2015), Centre Pompidou in Paris (2009), Institute of Contemporary Arts in London (2009), San Francisco Museum of Modern Art (2008), Centro de Arte Reina Sofía in Madrid (1994), and others.
Among the awards Maria Eichhorn has received for her work are the George Maciunas Prize (1992), the Arnold Bode Prize of the City of Kassel (2002), and the Paolo Bozzi Prize for Ontology of the University of Turin (2018). From 2018 to 2020 she was a Georg Simmel grant recipient as well as a fellow at the Käte Hamburger Center for Advanced Study in the Humanities "Law as Culture" of the Bonn University, which, in cooperation with the Department of Art History, housed her Rose Valland Institute. Since 2020, Eichhorn has been a research fellow of the Berlin Artistic Research Grant Programme. In 2021 she received the Käthe Kollwitz Prize of the Academy of Arts in Berlin.
The Pavilion's curator, Yilmaz Dziewior, was born in Bonn in 1964 and lives in Cologne. He studied Art History in Bonn and London and earned his doctorate at the Humboldt-Universität zu Berlin in 2005 with a thesis on the architect Ludwig Mies van der Rohe. Dziewior's curatorial work is distinguished by a pronounced interest in social issues with a special focus on identity-political and cultural attributions. He pursues an interdisciplinary approach that is evident above all in exhibitions and projects he has carried out at the interfaces to architecture (e.g. with Arno Brandlhuber, raumlabor Berlin, Kuehn Malvezzi, Eckhard Schulze-Fielitz) as well as theatre and dance (e.g. with She She Pop, Yvonne Rainer). The analysis of the respective context is a basic premise of his work, as reflected in the various experimental exhibition series he has initiated: HERE AND NOW at Museum Ludwig in Cologne, the KUB Arena in Bregenz, and Insert for the Hamburg Kunstverein.
Subscribe
to receive the latest news and articles written by experts
May interest you