BETWEEN SUNRISE AND SUNSET - UNITED ARAB EMIRATES PAVILION AT THE VENICE BIENNALE
The National Pavilion UAE exhibitis Mohamed Ahmed Ibrahim: Between Sunrise and Sunset at the Biennale Arte 2022 (Venice Biennale). Curated by Maya Allison, Executive Director of The New York University Abu Dhabi Art Gallery, the exhibition presents an installation of human-sized, abstract and organic sculptural forms.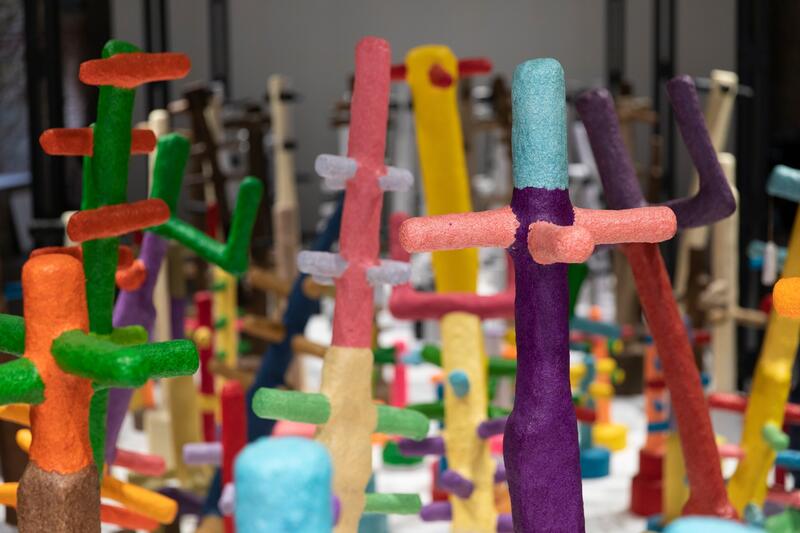 The 59th International Art Exhibition – La Biennale di Venezia is curated by New York based Italian curator and artistic director Cecilia Alemani under the theme The Milk of Dreams, which questions the representation of bodies and their metamorphoses, and the connection between bodies and earth. In resonance with this theme, Mohamed Ahmed Ibrahim's biomorphic sculptures cluster in undulating color and movement – suggesting bodies, mutation, and metamorphosis. These forms arrive from his physical dialogue with the materials of the work: accretions of papier-mâché are built up over loose skeleton structures that shift and settle into their final position as he works. Often incorporating actual earth, leaves, tea, coffee, and tobacco, the texture of the forms derives from his raw materials.
"Between Sunrise and Sunset highlights the connection I have with the nature of Khor Fakkan - my hometown and the place I continue to live in," said Ibrahim. "The exhibition demonstrates the tension between Khor Fakkan's colourful bright mornings, when the sun rises over the ocean, and the disappearance of colors in mid-afternoon, when the sun drops behind the mountains that loom over my hometown. We can never see the sunset in Khor Fakkan, but we can imagine it on the other side of the UAE."
Mohamed Ahmed Ibrahim has spent the better part of four decades developing an intensely experimental and prolific art practice. He is known as a core member of "the five," a tightly-knit group of experimental, conceptual artists who share his unflinching commitment to, and joy from, their work. That group includes Hassan Sharif, Abdullah Al-Saadi, Mohammed Kazem, and Hussain Sharif.
He received the first prize for sculpture at the Sharjah Biennial in 1999 and 2001 and has been a member of the Emirates Fine Arts Society since 1986, founding Art Atelier at the Khor Fakkan Art Centre in 1997. He has participated in artist residencies at Trans Indian Ocean Artist Exchange, Kochi Murzi Biennale, India (2016); A.i.R Dubai (2015); Le Consortium, Dijon, France (2009) and Kunstcentrum Sittard, the Netherlands (1994-1996, 1998-2000).
His works have been acquired by significant international collections, including Sharjah Art Foundation, Sharjah; Sharjah Art Museum, Sharjah; Art Jameel Collection, Dubai; Barjeel Art Foundation, Sharjah; Mathaf: Arab Museum of Modern Art, Doha; Kunstcentrum Sittard, Sittard; The British Museum, London; and Centre Georges Pompidou, Paris.
"National Pavilion UAE, NYU Abu Dhabi and its Art Gallery are shaping the UAE's cultural and scholarly efforts by realizing Ibrahim's work process through the National Pavilion UAE's 2022 exhibition" said Angela Migally, Executive Director, Salama bint Hamdan Al Nahyan Foundation, which commissions the National Pavilion UAE.
Subscribe
to receive the latest news and articles written by experts
May interest you