BLACK STAR – GHANA PAVILION AT THE VENICE BIENNALE
Following its highly acclaimed debut at the 2019 Biennale, Ghana will present the exhibition Black Star—The Museum as Freedom for the Ghana Pavilion at the 59th International Art Exhibition—la Biennale di Venezia in 2022. With the patronage of Ghana's President Nana Addo Dankwa Akufo-Addo and curatorship by Nana Oforiatta Ayim, the featured artists are Na Chainkua Reindorf, Afroscope and Diego Araúja.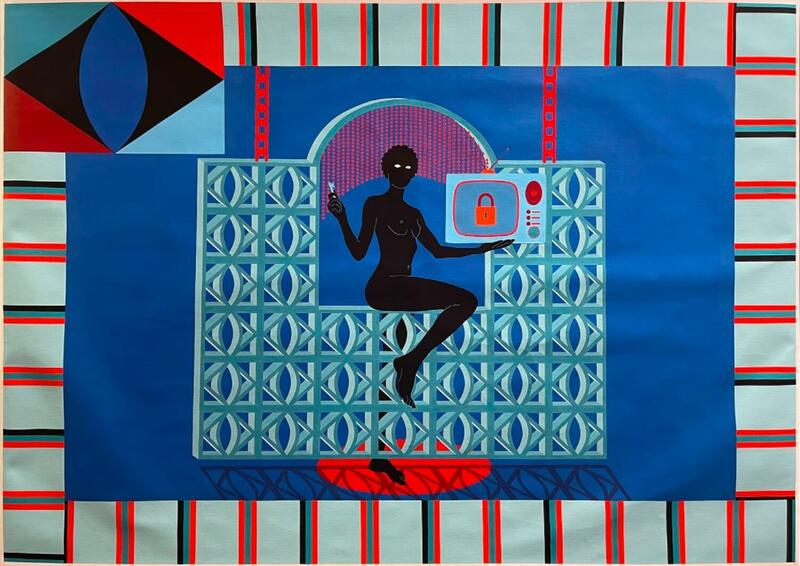 Titled after the Black Star that symbolises Ghana through its flag, national football team, and most important monument, it also became a symbol of the connection of Africa with its diasporas through Marcus Garvey's Black Star Line and his Back-to-Africa movement revived now in Ghana as Beyond the Return; as well as for Pan-Africanism and anti-colonialism with the symbol described as the "Lodestar of African Freedom." The pavilion exhibition examines new constellations of this freedom across time, technology and borders. It includes large-scale installations by Na Chainkua Reindorf, Afroscope and Diego Araúja, in an exhibition designed by architect DK Osseo Asare, and curated by Nana Oforiatta Ayim, Director of ANO Institute of Arts & Knowledge in Accra and Director at Large of Ghana's Museums and Cultural Heritage.
Na Chainkua Reindorf takes masquerade and secret society traditions that historically were largely male, and creates her own mythology of Mawu Nyonu, a fictional secret society made of seven women, at one with the elements around them. This notion of oneness is taken further by Afroscope's work Ashe, which explores the spirit that runs through all the elements, using technology as a translator of the flow of life, as exemplified by water. The theme also underpins Diego Araúja's work, A Congress of Salt, in which the Atlantic Ocean that served to separate those taken from the shores of West Africa to its diasporas, now acts as a unifier, the birthplace of a new creole.
Curator Nana Oforiatta Ayim said: "How do we dream into existence new narratives, languages, structures? Ghana in its 65th year still grapples with political, economic, cultural, social and knowledge systems not made of or for its contexts. Systems created within its communities over thousands of years were deemed inferior to ones termed 'universal' by dominant powers. As we outgrow and move beyond ill-fitting systems; new ones, not yet defined, that draw on rich histories, not with nostalgia but with discernment of hindsight and experience; are forming."
Na Chainkua Reindorf is a mixed media artist and mythmaker. Her work, which ranges from large-scale tapestries to immersive sculptural installations, is an exploration of and an ode to the rich cultural history of West African textiles, focusing largely on the complexities and visual culture surrounding masquerades and ceremonial costumes.
Afroscope is a speculative artist and designer for whom art-making is an attempt to deconstruct normative reality and challenge popular tropes by imagining transcendental visual narratives that comprise otherworldly beings, speculative dreamscapes and peculiar forms.
Diego Araúja is an artist born in Salvador-BA, Brazil, where he lives and works as an artist, director, and writer. He has directed the Creole Time process since 2015, considering the ongoing traumatic experience of Afro-Diasporic peoples and their descendants
Subscribe
to receive the latest news and articles written by experts
May interest you