A FIRE OFFERING BY DESIRÉE DE RIDDER, ARTIST IN RESIDENCE AT COLLECTIVE62
Designed as an immersive dining experiment in Miami, A Fire Offering is curated by Sofia Bastidas. This installation and performative object art is part of the Collective62's interest in creating a collective space that foments creative reflection among its residents.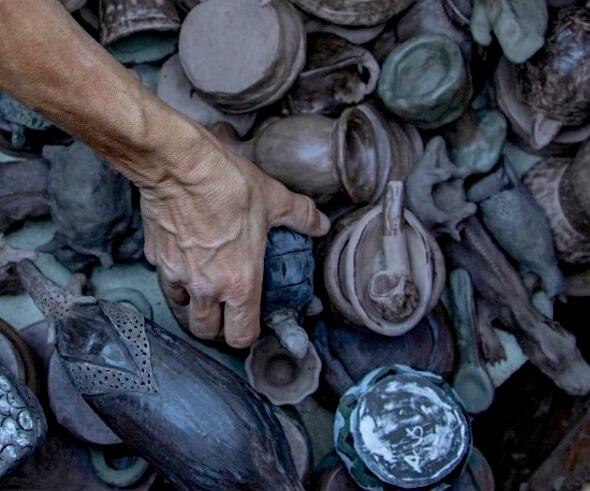 For Fire Offerings, Collective62 invited Argentine artist Desirée de Ridder to work alongside the artists of the Collective to build a wood-burning kiln that will live in the Collective62 studio compound. This action hopes to bring to the space new ways of doing, thinking, and exhibiting collective experiences around fire.
As an artist and ecologist, Desirée de Ridder states that she's interest in clay as a "fundamental element, a concept which refers to an ancestral, noble, receptive and malleable material". She adds that it "connotes nature and the telluric force that emerges from the earth and harbors all forms of life. It entails the link between the simple and the complex, as it is versatile in the first stages of manipulation but becomes more complex in successive steps. There is an appealing tension between the strength and fragility of the material."
Participating artists:
Deryn Cowdy, Giannina Dwin, Marina Font, Mercy Gavazzi, Amy Gelb, Florencia Godward, Jeanne Jaffe, Orly Kadosh, Marzena Kosicka, Marcela Marcuzzi, Molly McGreevy, Valeria Montag, Veronica Pasman, Catalina Rojas, and Nina Surel.
Collective62 is an independent art space devoted to creation outside of the traditional circuits of art. Located in Liberty City, Collective62 also seeks to reverse the growing phenomenon of gentrification through the regeneration that derived from creative and community-based workshops and affordable studios for rent.
While in Miami, Desirée will also exhibit in the Pinta fair with the Argentine gallery OdA Arte at Pinta's Main Section. From December 1st to 5th, the fair will be open to visitors at a new location: 225 NE 34th Street Miami, FL.
Desiree de Ridder works in ceramics, utilizing the materials quality as the primordial language for expression, exploring the conflictive relationship between nature and human progress.
de Ridder has trained as an artist in Buenos Aires and London, and has done residencies in Mexico and Italy. She held solo exhibitions at Calvaresi Gallery, Buenos Aires, the Urbano Poggi Museum, Rafaela, Santa Fe, and the Elsi del Rio Gallery, CABA, Argentina, among others. And, collectively, she has participated in other exhibitions across Argentina. Her work has been recognized with the Municipal Art Fund from Tigre, selected for the Andreani Foundation prize, and the National Art Salon for Ceramics, of which she was part of the jury the following year.
Related Topics
Subscribe
to receive the latest news and articles written by experts
May interest you