MONTENEGRO ART PROJECTS (MAP) OPENS A NEW SPACE IN BOGOTÁ WITH "SILENT THREADS"
The thread is the element that stars in this exhibition, increasingly relevant in contemporary art. It is silent because of its "designation" as a material for women, reflected in techniques such as weaving, embroidery and sewing. The exhibition highlights these traditional activities and shows how artists from Nigeria, Argentina, Cuba, the United States and Colombia coincide in the use of thread and collage in their works. The exhibition is curated by Los Angeles-based design specialist Liliana Becerra and the MAP team (Ana Lucía Arbeláez, art historian, and Sandra Montenegro, director).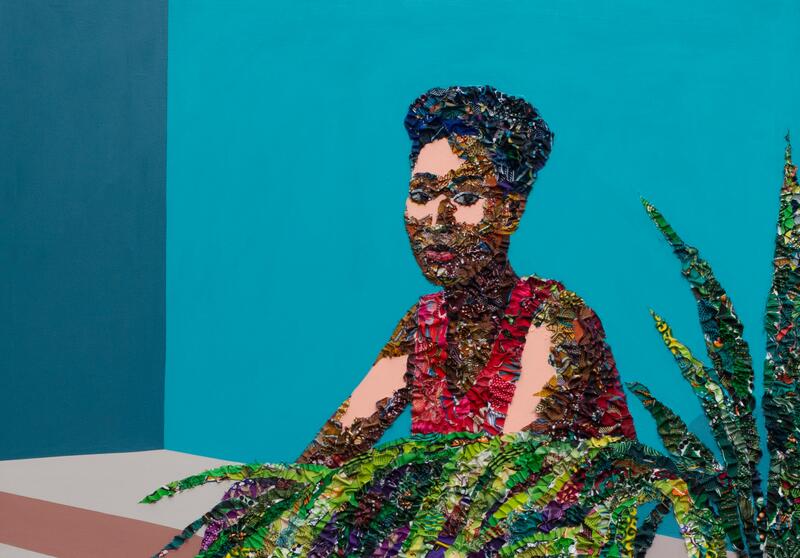 Artists:
Marcellina Akpojotor (Lagos, Nigeria. 1989), Nicole Mazza (Rosario, Argentina. 1989), Laura Renée Maier (Seattle, Washington. 1991), Liliana Angulo Cortés (Bogotá, Colombia. 1974), Aimée Garcia (Matanzas, Cuba. 1972), Natalia Behaine (Barranquilla, Colombia. 1981) and Luis Luna (Bogotá, Colombia. 1958).
The exhibition stands out, in part, for the use of unconventional materials and techniques. On the one hand, the artist Laura Renée Maier exhibits works in NFT format. On the other, figurative art is exhibited that combines alternative materials and traditional pictorial techniques: Marcellina Akpojotor, in her work Set to Flourish II, uses acrylic paint on traditional African fabric known as Ankara, woven into the canvas; and Liliana Angulo Cortés participates with her collaborative project Quieto Pelo, which documents the oral traditions and practices associated with Afro-descendant women's hairstyles, and presents Balance, which consists of an installation with an 11-meter braid of hair across the showroom.
"The strength of the fabric takes on an aesthetic and social meaning" describes Liliana Becerra, co-curator of the show, "exploring narratives related to the female experience both for its legendary connection with textiles, and for its ability to transform the simple into the complex and the everyday into supreme."
Montenegro Art Projects - MAP is an art management company that develops artistic projects internationally and creates experiences around art. Based in Bogotá, MAP is made up of the art gallery; MAP Parque 93, a shop that offers small-format works and a variety of prices within the exhibition space; the private art collection; MAP House; and MAP Travel, specializing in art tours and travelling for collectors.
Related Topics
Subscribe
to receive the latest news and articles written by experts
May interest you