JORGE PARDO'S EXHIBITION AT THE MUSEUM OF ART AND DESIGN, MIAMI
Titled Mongrel, this site-specific installation transforms MOAD's largest gallery into a dynamic interior that evokes domestic space and the artist's early experiences as a Cuban refugee. A series of twenty-five new drawings created expressly for this exhibition meld a wide variety of images into arresting abstractions of pulsing color and form, while still occasionally revealing their representational sources.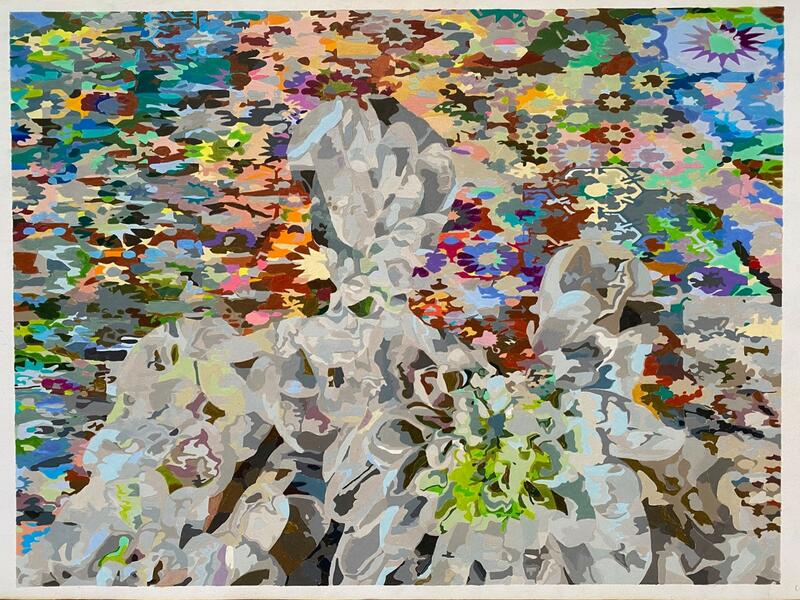 The artist immigrated to the United States as a child, passing through Miami's Freedom Tower, then used as a reception center for Cuban refugees. His memories of the welcoming architectural landmark, which now houses the Museum of Art and Design, intertwine with those of displacement, trauma, and loss caused in part by the Cuban regime's confiscation of the emigrants' family photographs and documents. Pardo's drawings use family photos—his own and others'—as their starting point, along with archival images from the Freedom Tower's days as a center for immigrants. He combines these with a vast array of other images, including many of artworks crucial to his development as an artist and others meant to evoke the cultural milieu of his formative years.
Acclaimed for elaborate installations that explore the overlooked or repressed histories of spaces and objects, Pardo references mid-century architecture and design by repurposing, remaking, and recombining decorative and utilitarian domestic furnishings and fixtures.
In doing so, he transformes images that recall personal and cultural memories into dazzlingly hued, intricately textured near-abstractions. A face, a flower, or another recognizable image still sometimes peeks through, but Pardo's drawings suggest mood and emotion more than specific memorializations.
Born in Havana, Cuba in 1963, Jorge Pardo studied at the University of Illinois, Chicago, and received his BFA from Art Center College of Design in Pasadena, California. Pardo's work has been the subject of solo exhibitions at the Pinacoteca de Estado São Paulo, São Paulo (2019); Musée des Augustins, Toulouse (2014); Irish Museum of Modern Art, Dublin (2010); K21 Kunstsammlung Nordrhein-Westfalen, Düsseldorf (2009); Los Angeles County Museum of Art (2008); and Museum of Contemporary Art, North Miami (2007). Paintings by the artist were also included in the 57th Venice Biennale (2017). Jorge Pardo currently lives and works in Mérida, Mexico.
Museum of Art and Design
Miami Dade College
600 Biscayne Boulevard
Miami, Florida
Subscribe
to receive the latest news and articles written by experts
May interest you