THE SUM OF ITS PARTS: AMALIA CAPUTO'S 'EVERY BEING IS AN ISLAND'
By Melissa Diaz & Sofia Guerra | October 07, 2021
In her first solo exhibition at the Deering Estate, Amalia Caputo considers how we construct nature and explore a site around systems of visual classification. Every Being is an Island is an immersive exhibition that serves as an extensive portrait of the native subtropical environment of South Florida.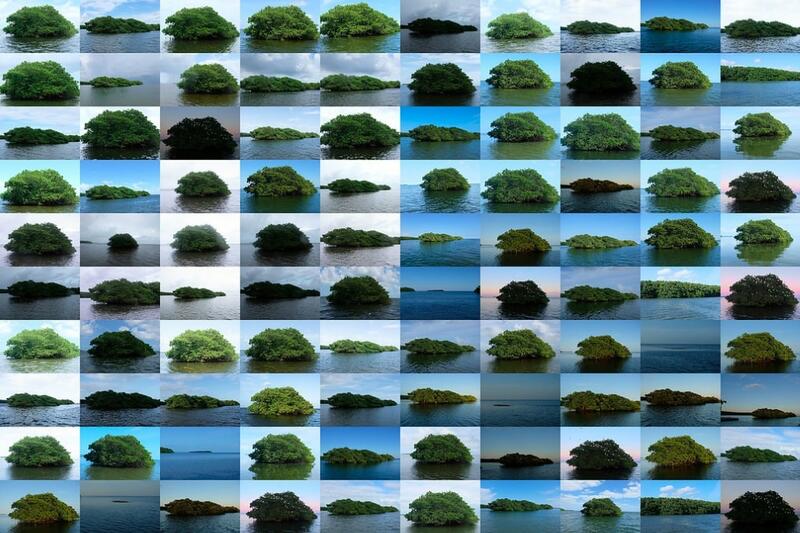 Caputo's work creates space to consider how we locate ourselves within the natural world, and the limitations of defining something as unbounded as nature. Caputo's practice is one of observation and collection that manifests in the four large scrolls that make up her visual atlas. The organization of images within the scrolls of Every Being is an Island are relationally categorized by a classification system inspired by Aby Warburg's Mnemosyne Atlas. Caputo has especially connected to Warburg's concept of pathosformel in which images are linked by their psychological and emotional impact. Every Being is an Island consists of three bodies of work completed during her artist residency at the Deering Estate. These include the four thematic Every Being is an Island scrolls, a selection of her Nature Mort photographs and Bodies of Water I, a single channel video. Each work exists separately, but come together in Caputo's holistic approach to understanding humanity's relationship to nature. The naturalist impulse in her work has always been an important part of her practice and became a key component of her fieldwork at the Deering Estate.
As one of South Florida's oldest historic landmarks, the Deering Estate has experienced over a century of change and become a living studio for artistic practice and exploration. Charles Deering's early interest in land conservation translated into this property being left largely intact, with minimal engagement or cultivation. Approaching this work within the tradition of the artist as flâneuse [1], as well as naturalist, Caputo's process included long walks in secluded wetlands and hardwood hammocks. During these trips, Caputo built an archive of still and moving images with her camera, as well as a vast inventory of organic materials found in the landscape and along the shoreline. A key component of this practice was Caputo's observations over a sustained period of time, revisiting the same sites to record their transformations and provide an archive of these images that reflected her own memories of them from previous trips. This early process was inspired by the work of pioneer naturalists such as Alexander von Humboldt, and particularly Charles Torrey Simpson, whose book In Lower Florida Wilds (1920) explored the same subtropical habitats. Caputo transformed her studio into a library of ephemera, documenting the perseverance of the natural world.
Every Being is an Island also explores how natural phenomena are experienced by human consciousness. Caputo's visual language is developed from a variety of philosophical and literary sources including Maurice Merleau-Ponty's Phenomenology of Perception (1945) and Timothy Morton's definition of 'hyperobjects' that consider phenomena such as global warming and the effects of nature as experienced in only in segments and over time. [2] The position of each image along the scrolls reveal details of textural relevance, cultivating relationships between her subjects that may not otherwise be immediately apparent. Her consideration of the natural world is informed by Edouard Glissant's "archipelagic thinking" which stresses the importance of considering the part, within its relationship to the whole. The title, 'Every Being is an Island' considers the concept of the island as part of the landscape, a being that exists by itself, but is best understood when considered within the larger framework of the archipelago, a network of islands that relate to one another.[3] Looking along the horizon line, the island becomes the iconic focal point that draws our gaze. The island also serves as the foundation of the construction of Caputo's visual atlas. Throughout the scrolls, each image exists and can be understood in relation to one another. In Island I, the island is presented as whole, but in various shades, angles, and perspectives from the vantage point of the shoreline. In Every Being is an Island (Island II), each image is a small detail of a natural feature like a tree knot or branch that, seen together, represent a much larger and wilder world. Alone, the images only provide a singular and somewhat mediated truth, but together provide a diversified narrative of biodiversity and the environment. In a way, Every Being is an Island seeks to define the experience of nature by the sum of its parts.
In Every Being is an Island, water is considered within the context of Morton's hyperobject. The third scroll, Every Being is an Island (Water I) presents several representations of multicolored algae, water oxidization and diverse marine life. Every Being is an Island (Island II) illustrates where the water meets the land. Along the scroll are details of a variety of trees, earth and plants that flow into images of objects, material and textures that are found floating in the ocean and along the coastline. Water resists representation, and in Bodies of Water I Caputo's observations and documentation makes visible what is imperceptible. The 35' video is a meditation on this connective quality of water as it moves, touches and connects all living beings and land masses together.
Caputo's collection of organic objects are utilized in the Nature Mort photographs. The exhibition includes four of these constructed natural landscapes where these objects are staged against a backdrop of photographs of algae and sand, and then re-photographed. The resulting images contrast the unmediated approach to the images of the scrolls with the carefully composed process of creating landscapes that mirror the real world and invite the viewer to question the experience of nature as it becomes increasingly altered by human intervention.
In its totality, Every Being is an Island presents audiences with a completely immersive experience to consider the temporality of the natural world. It asks us to consider the concepts and relationships introduced by our observations and experiences, the autonomy of images, and their role in creating and forming our memories. Beyond its contextual framework, Every Being is an Island also asks us to consider the fragility of nature and our consumption and exploration of the landscape.
[1] The idea of the flâneur as an observer of urban life was first introduced by Charles Baudelaire in The Painter of Modern Life (1863). In her book Flâneuse: Women Walk the City in Paris, New York, Tokyo, Venice, and London (2016), Lauren Elkin expanded the concept to include the participation of women in this practice.
[2] Timothy Morton, "Introducing the idea of 'hyperobjects,'" High Country News, January 19, 2015.
[3] Michael Wiedorn, "On the Unfolding of Édouard Glissant's Archipelagic Thought," Karib – Nordic Journal for Caribbean Studies, 6(1) (2021): 3.
Related Topics
Subscribe
to receive the latest news and articles written by experts
May interest you