LYDIA RUBIO: THE ARTIST IN ARCADIA
By Kristin Knox | September 30, 2021
Lydia Rubio was born in Havana, Cuba, with art in her bones. She comes from three generations of women painters, to be precise. "My grandmother painted every day, whenever she could," Lydia recalls. "She worked at an office but painted in the living room. The whole family lived together, so I used to see her painting there and was trained visually. My cousin, everybody was drawing and painting, but I was the only one that took it to another level of development and commitment."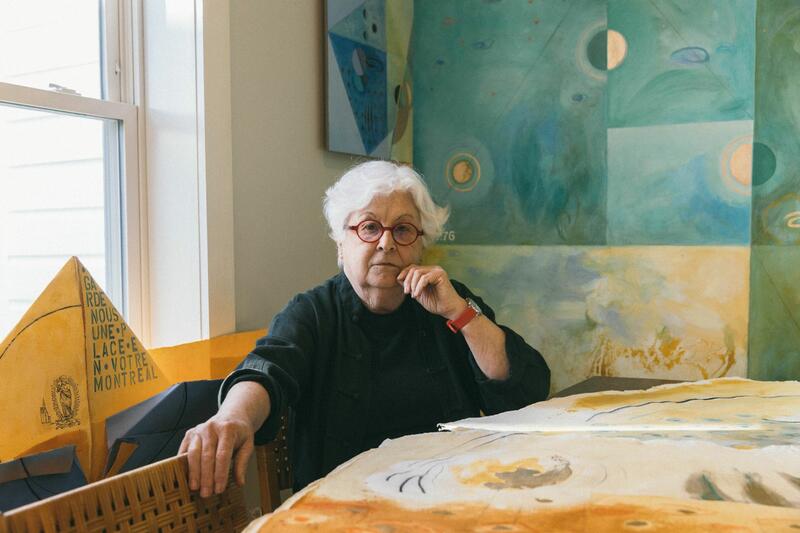 More than forty years of development and commitment, to be exact. At age 75, Lydia has made a name for herself in the international art world with multidisciplinary works, including paintings, sculptures, drawings, artist books, and large-scale public art. She has shown in numerous galleries, held solo museum exhibitions at the Museum of Art Fort Lauderdale (1995) and Bronx Museum of the Arts (1985), and participated in group and traveling exhibits. In 2008, she was commissioned by the Raleigh-Durham International Airport in North Carolina to create The Gate of the Earth, a colossal 45-foot high spiral sculpture, in stainless steel.
Now, her first major retrospective is underway in two parts at Elevated Matter, a new gallery on Warren Street. The first part, entitled PROHIBIDO (Forbidden), took place in July. It featured 13 paintings and an oversized travel journal, completed from 1992 to 2014. The second will feature abstract paintings. While this pairing may seem atypical at first, the concept of "blending" (different cultures, disciplines, aesthetic ideals, and techniques) is very much at the center of this architect-turned-studio-artist's creative world.
"The fact that I am from Latin America, that I am Hispanic, that I was an architect, means that my influences are all a blend. That mixture allows me to take from one influence freely and then the other to make my own milkshake. I put it all in the batidor and do my own blend."
Lydia's works systematically point out and interrogate the connections inherent in blends, such as those between the Hudson River School and Latin America. Frederic Church, for one, was famously enthralled by South American landscapes, which he portrayed most iconically in his mammoth 1859 painting, The Heart of the Andes. In 2014, Lydia recreated Church's South America itinerary, itself based on a journey taken by German naturalist and explorer Alexander Von Humboldt. By traveling to Colombia and visiting and painting many of the same historical views as Church and Humboldt, Lydia boldly inserted herself into an otherwise closed tradition of 19th-century male Anglo-American painters.
"It's an incredible coincidence that I have been able to exhibit paintings for the first time in the US in the cradle of the Hudson River School. To me, that's a miracle."
Lydia's family left Cuba in exile when she was fourteen. They moved to Puerto Rico before she went north to complete her studies in the US and Europe. Though Lydia had already recognized her vocation as a painter, she skipped art school and pursued architecture as a compromise between her grandmother and her engineer father. She obtained her M. Arch from the Harvard Graduate School of Design, where she studied with the renowned art theorist Rudolf Arnheim before teaching at her prestigious alma mater and the Parsons School of Design.
"I became an architect early on because I was looking for a stable profession," Lydia remembers, "but even then, I was always more involved in the design aspect than the technical and worked as a designer." She enjoyed early career success designing museums at Cambridge Seven Associates in Boston and urban renewal projects at Chermayeff and Geismar in New York. But Lydia's passion for painting never diminished. In 1980, when she was in her early 30s, she decided to produce artwork full-time.
Naturally, Lydia carried on her grandmother's tradition and trained herself. "I didn't go to art school because I decided to go fully into art. I went once to the Boston School of Fine Arts and took a painting class, but when I saw what was happening, I ran away like crazy. I know how to train myself, and I can do it without any influence from any school! That's why I've been so free to create."
To learn old master processes such as varnishing, underpainting, and glazing, she studied directly with conservationists and consulted technical artists' manuals. Frequently, her paintings contain interactive elements, hidden games, or maps. There are also modular pieces that can be rearranged. "Forget all about these theories!" Lydia exclaims. "We have to train our minds to perceive the phenomena of life and nature in an intrinsic, essential way. Technique, the process of learning, and the basics of representation and drawing are considered decadent ('prohibido!') today–but they give you so much. They train your mind to think in terms of elements of art that are not easily accessed by experimentation. Most contemporary art today is boneless. It is art that wants to shock. I want to retreat from the overloaded images and noise and escape into calm, silence, and reflection. What do people need? This is a question we artists should be asking."
Lydia describes her move from Miami in September 2018 as "one big leap, like a grasshopper!" Her friend Bianca Lanza acted as a catalyst by sending Lydia a steady stream of news articles about "this little city in the country." Sure enough, Hudson's growing reputation as an art hub and proximity to Manhattan's curators and collectors proved irresistible. "I disagree that an artist today can live anywhere–the center of the action is New York City. But like many working studio artists, I can't afford it," Lydia remarks. "So, one day, I said to myself: I am a thinking woman, an intellectual, and an artist. I want to go where the brains of the nation are!"
After arriving in Hudson, she went to work as an educator at Olana. The experience only deepened her knowledge of and love for the Hudson Valley and its 19th-century school of painting. Finding herself at home amidst so much synergy between art and nature, Lydia was delighted. She describes her life as a participation in a kind of "new Arcadia" for American contemporary artists.
"In the beginning, I was in awe of driving into the country roads. Having lived in cities all my life, I imagined a bear or a deer would come and attack me. I was a little scared at the change. Gradually, I came to like it. Now, I delight in the landscapes. I am discovering the fresh produce, the wildflowers–whatever happens on a seasonal basis. It's a thrill because I love cooking. Also, I had not experienced the change in seasons in many years."
Perhaps even more welcome than the change in seasons for Lydia was the change in her audience and creative community. She recounts: "When I got here, I immediately started meeting artists and making friends. I've found the atmosphere here far more open and relaxed than Miami ever was. Because people come to Hudson from other places, they come here wanting to reform and change their lives–they're open to others. Artists here are communicating. We are becoming friends beyond the professional level. That's very different from the isolation I went through in Florida."
All in all, Lydia Rubio is inspired. "This is a place filled with history, museums, and schools of the best kind," she says. "It makes my life much richer. And I want to be able to contribute to help make Hudson even more of an Arcadia." By continuing to make and show her work in Hudson, she's doing her part. Building on the provocative themes of her landscape show, the second act of her retrospective will present a selection of 12-15 abstract paintings. Though the subject matter is ostensibly very different from the rolling savannahs and misty mountains displayed in PROHIBIDO, there is nevertheless something very soft and human about Lydia's abstract works. They still feel like they're a part of the natural world. "These works explore a different combination of elements in abstract painting," she explains. "I'm trying to combine gesture with abstraction, and I think that's new."
Lydia has also shown a selection of works at the Hudson Eye Festival during Labor Day Weekend. For her, the critical thing is that she is there, living in the cradle of the Hudson River School, and making and showing beautiful works of art that connect with the public. "The idea of empathy is so important to me. How can you connect with a painting? When you see something attractive to you, there is a chemical reaction. A mind reaction that makes you connect to that kind of feeling. That is my goal as an artist."
Subscribe
to receive the latest news and articles written by experts
May interest you