ROGELIO LÓPEZ MARÍN (GORY): AT THE INTERSECTIONS OF PHOTOGRAPHY, MUSIC, AND DESIGN AT LnS
By Julia P. Herzberg, Ph.D. Art historian and curator | January 05, 2022
This exhibition features thirteen photographs by Gory from the Moonlight Serenade series (2012-2018). The essay by the curator Julia P. Herzberg discusses the varied contexts of the photographs, which are exhibited and discussed here for the first time.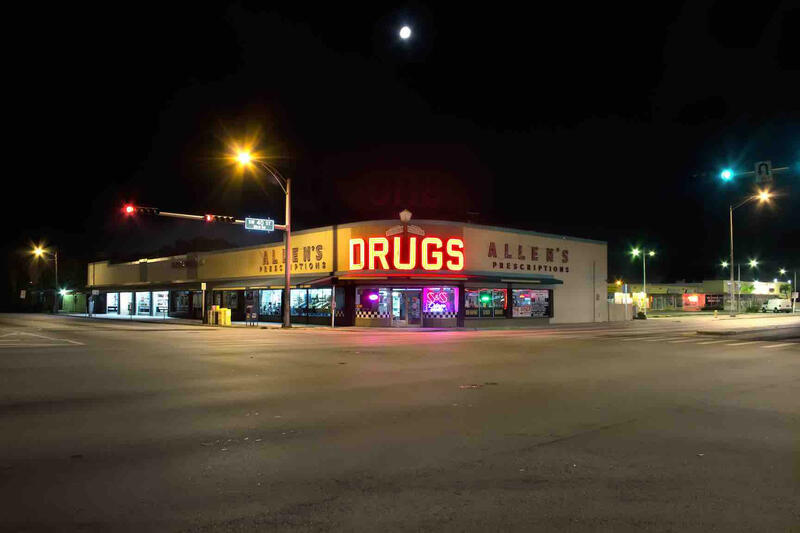 Raised in Havana, Cuba, Gory studied at both the National School of Art and the University of Havana. For over fifteen years, he worked as a photographer for the Cuban Cultural Ministry Magazine. In 1991, he left Cuba by way of Mexico and in 1992, relocated to Miami, Florida, where he has worked as an independent artist. He revisited photography beginning in 2000 with a newfound fervor.
As a street photographer, Gory describes his practice as one in which he randomly explores the street to discover a scene of visual interest. Midnight Serenade, based on the Glen Miller eponymous song, is one that the artist and his wife, the poet Lucia Ballester, often listened to. She wrote a series of untitled poems about the moon, which prompted Gory to begin his exploration of night scenes (2012-2018). Midnight Serenade, dedicated to her, begins with her poem on the night. Gory's photographs include scenes from the Everglades and from Miami where trains, cars, trolleys, a famous pharmacy, a well-known local bar, Las Rosas, where his son played his band, and a house in Little Haiti in Miami inspired by the Robert Frank photo Covered Car—Long Beach California (1958), all define place as a subject of his gaze.
By observing almost obsessively, Gory's curiosity was triggered by the unusual, the unexpected, the mundane, and perhaps the one off. He was enamored with the night and the endless possibilities of the moon's light, whether visible or not, to create mood, atmosphere, and aura.
Rogelio López Marín (Gory): At the Intersections of Photography, Music, and Design
LnS Gallery - Miami, Fl 33133.
Curated, with essay, by Julia P. Herzberg, Ph.D.
Essay: "The Night Comes First," LnS Gallery Journal, Volume III, 2021, October / November. ISBN 978-1-7346065-3-9
Subscribe
to receive the latest news and articles written by experts
May interest you