SYNDEMIA - VOLUSPA JARPA'S PROJECT ON VIOLENCE AND RESISTANCE
Voluspa Jarpa's Syndemic is the winner of the inaugural edition of the Julius Baer Art Prize for Latin American Female Artists, a new biennial award initiated by Julius Baer and The Museum of Modern Art of Bogotá – MAMBO. It is the first of its kind to be held in Latin America, and its mission is to honor the research of outstanding Latin American female artists. Syndemic is a site-specific multimedia project that involves photos, archival documents, videos, maps, sculptures, objects, installation, wallpapers, and lasers that project beyond the Museum's physical space into the surrounding environment. The term "Syndemic", from the medical field, is Voluspa Jarpa's metaphor to analyze the violent social riots that occurred from October 2019 to March 2020 in Chile.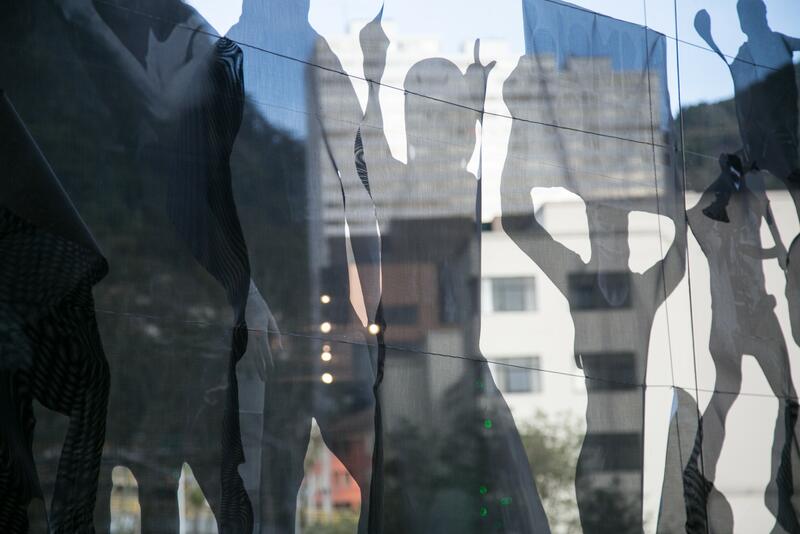 Voluspa Jarpa's artistic practice focuses on a detailed analysis of archives and declassified documents that emphasize hidden narratives. Working with the archives' materiality —either textual or visual—Jarpa draws attention to the mechanisms of consensus connected to the construction of authoritarian regimes concealing brutal subjugation. She investigates notions of memory and trauma, often addressing the Chilean socio-political context and, by extension, Latin American.
Syndemic delves into sensitive issues related to one of the most intense social outbreaks of Chilean history, culminating with a new national Constitution that replaced the one written in the 1980s under the dictatorship of Augusto Pinochet (1973-1990). The process was marked by violence and severe police abuses, as has occurred during the recent demonstrations of the Colombian national strike.For this reason, the artist decided to extend her research to the Colombian context, comparing how governments manage social unrest and human rights violations, which often remain in impunity.
Working with archived material, both written and visual, Jarpa points out the consensus mechanisms that are connected to the construction of authoritarian regimes that cover up a brutal submission "Syndemic summons different disciplines, knowledge, and experiences to think about the phenomenon of protest, of the collective, of resistance, violence, and rebellion to analyze: What happened? How do we narrate it? How do we process it? How do we symbolize it? And in this way, be able to say: it is not possible to erase what happened. So I think about the exercise of art as an anti-erasure action, in the sense of generating collective and civil knowledge, to own the right to analysis, denouncement and storytelling." states the artist.
For this exhibition, Jarpa invited collaborators—an astrophysicist, a mathematician, a Mapuche poet, a female witness, and a woman fighting in the frontline—to collect and share experiences about this phenomenon of protest, resistance, and rebellion against systematic Human Rights violations: torture, sexual violence, and other injustices.
The work of Voluspa Jarpa (Chile, 1971) has explored extensive research that investigates the nature of the archive, memory, and the cultural and symbolic notion of social trauma. This research has focused on the Cold War in the Latin American region through the implementation and review of the declassification process of intelligence files that the United States has carried out on the countries of the region in recent decades. The implication of secrecy as a modus operandi of politics, its effects on the psyche, as well as the exploration of ways to emancipate ourselves from these structures, are the concerns of her recent works and research.
Her work emerged in the Chilean cultural scene during the artistic renaissance of the 1990s after the military dictatorship. Today, Voluspa Jarpa is one of the most internationally recognized Chilean artists.
She has exhibited in museums and art centers of Latin America and Europe as well as in international biennials such as the Havana Biennial (1996), Shanghai Biennale (2003 and 2018), Istanbul Biennale (2011), Mercosur Biennale (2011), Sao Paulo Biennale (2014) and the Venice Biennale (2019) where she represented Chile.
Her work is part of important collections, including the MALBA (Buenos Aires), the Engel Collection (Santiago de Chile), LARA Foundation (Singapore), Kadist Foundation (San Francisco / Paris), Rabobank Collection (Eindhoven), Museum of Visual Arts (Santiago de Chile) and Blanton Museum of Art (Austin, Texas).
The mission of the Julius Baer Art Prize for Latin American Female Artists is to pay tribute to the production of Latin American female artists for their innovation, research and influence on modern art, offering a fund to develop a new project in situ, which will be exhibited on the third floor of the MAMBO. The five jury members (Cecilia Fajardo-Hill, Cuauhtémoc Medina, Agustín Pérez Rubio, Barbara Staubli y Eugenio Viola) proposed an initial list of 22 female artists of Latin America and the Caribbean. Among those preselected, five finalists were chosen and invited to present a project and participate in the award: Sandra Gamarra (Peru, 1972), Voluspa Jarpa (Chile, 1971), Sandra Monterroso (Guatemala, 1974), Rosângela Rennó (Brazil, 1962), and Mariela Scafati (Argentina, 1973).
This new award reflects on various themes, such as Latin American art and the features that distinguish it from other artistic currents in the world; It also focuses on the contributions of Latin American women to contemporary art; It is an open door to promote the visibility of women artists in Latin America, and a vision of the discourses, concepts or recurring concerns in the artists of the region.
Announced as the winner, Voluspa Jarpa shared: "The project that I have presented is carried out from perplexity and anger, but above all, from a deep love for young people, who reveal themselves and rise up with the aim of making Latin America a better society. For them, my admiration, respect and wishes that the claimed dignity shapes our near future. I receive this prize with humility, and mainly I would like to recognize the other nominated artists, their works and trajectories, and other Latin American female artists. I honor this recognition granted to me and I thank all the people who have collaborated with my artistic work and have made it possible. I feel that behind me lies the collective struggle of many generations of women who could not enjoy such a significant distinction as this. I also think about my students and the Latin American feminist movements, and I hope this can inspire them. My sincere wish is that women's accomplishments occupy a place of relevance in the public realm and that our contributions towards art and our ideas spread since we are a significant part of society and we have things to say and show."
Syndemic: Resistance, social unrest and violence
Winner of the Julius Baer Art Prize for Latin American Female Artist
Museo de Arte Moderno de Bogotá - MAMBO
Until February, 6th 2022
Subscribe
to receive the latest news and articles written by experts
May interest you