"MOQUÉM_SURARÎ: CONTEMPORARY INDIGENOUS ART" AT THE MUSEU DE ARTE MODERNA DE SÃO PAULO
Curated by Jaider Esbell, and within the context of the 34th Bienal de São Paulo, the group exhibition Moquém_Surarî gathers contemporary artworks by indigenous artists. The exhibition at MAM São Paulo will include drawings, paintings, photographs and sculptures referring to the visual transformations on the cosmological and the narrative Amerindian thinking.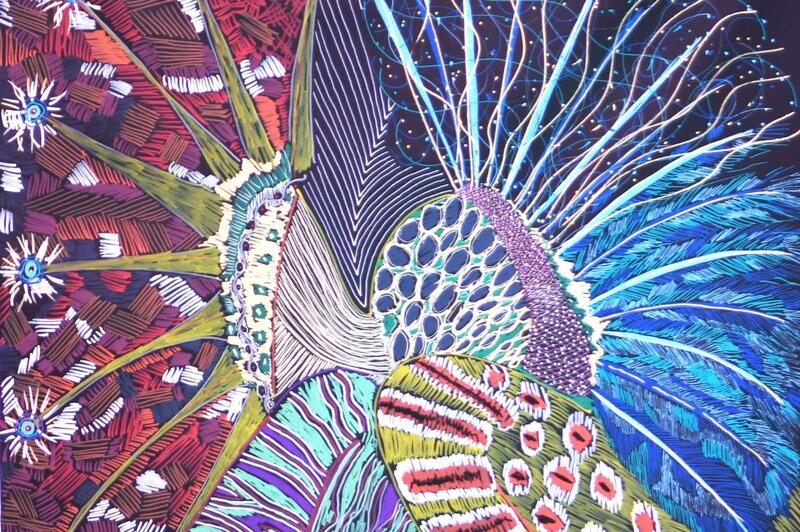 Moquém refers to the technology used for thousands of years by indigenous peoples to conserve food after a group hunting, and to make it easier to transport the products around the villages. The title of the show — Moquém_Surarî — also refers to the makuxi story on the transformation of Moquém into a woman who, in ancient times, ascended to heaven in search of her master, who had abandoned her. Once in the sky, Surarî transforms into the constellation that brings the rain, marking the end of the world and the beginning of a new one. The Moquém technology is thus used to reflect on the exchange and transformation of knowledge that crosses different times and spaces — transits that make up the movements of contemporary indigenous art.
Representing a wide variety of groups and cultures, the participating artists belong to the Baniwa, Guarani Mbya, Huni Kuin, Krenak, Karipuna, Lakota, Makuxi, Marubo, Pataxó, Patamona, Taurepang, Tapirapé, Tikmũ'ũn_Maxakali, Tukano, Wapichana, Xakriabá, Xirixana and Yanomami peoples.
For Cauê Alves, chief curator at MAM, "the existence of this exhibition in the Museu de Arte Moderna de São Paulo's programming evinces an institutional stance that deconstructs colonial assumptions. Moquém_Surarî opens a direct conversation with indigenous artists that allows MAM to rethink and expand its policy regarding collection acquisitions, including ethnic groups that have been underrepresented or neglected throughout history." And he adds, "the narratives of Makunaimî's descendants, told by themselves, certainly open new perspectives beyond those imagined by the modernist artists and intellectuals, who were vital to the foundation of MAM."
Born in the region currently demarcated as Raposa Serra do Sol Indigenous Land, Jaider Esbell (1979, Roraima, Brazil) is a Macuxi artist and writer. Since 2013, when he organized the I Encounter of All the Peoples, Esbell has played a central role in the movement for consolidating contemporary indigenous art in the Brazilian context, acting in a multiple and interdisciplinary way, combining the role of artist, curator, writer, educator, activist, promoter and cultural catalyzer.
Combining painting, writing, drawing, installation and performance, his work intertwines indigenous myths, criticisms of hegemonic culture and socioenvironmental concerns, sometimes drifting into the poetic realm, sometimes taking a clear political and activist stand.
Moquém_Surarî: contemporary indigenous art
Curated by Jaider Esbell
Until November, 28th 2021
Museu de Arte Moderna de São Paulo (MAM São Paulo)
Parque Ibirapuera, portão 3, Vila Mariana, São Paulo – SP
Related Topics
Subscribe
to receive the latest news and articles written by experts
May interest you