PRODUCTION / REPRODUCTION - SANDRA GAMARRA'S INDIVIDUAL EXHIBITION AT MALI
The Museum of Art of Lima - MALI presents this exhibition of the outstanding Peruvian artist curated by the historian and art critic Luis Eduardo Wuffarden. Based on the so-called mixed race paintings commissioned by Viceroy Manuel de Amat y Junyent and sent to the King of Spain Carlos III in 1770, Sandra Gamarra commissioned their reproduction to a copyists' workshop in China. On these she added quotes from different contemporary feminist thinkers. In response to the absence of original works in Peru, this series, made up of twenty paintings, has been donated by LiMac to the MALI collection of contemporary art.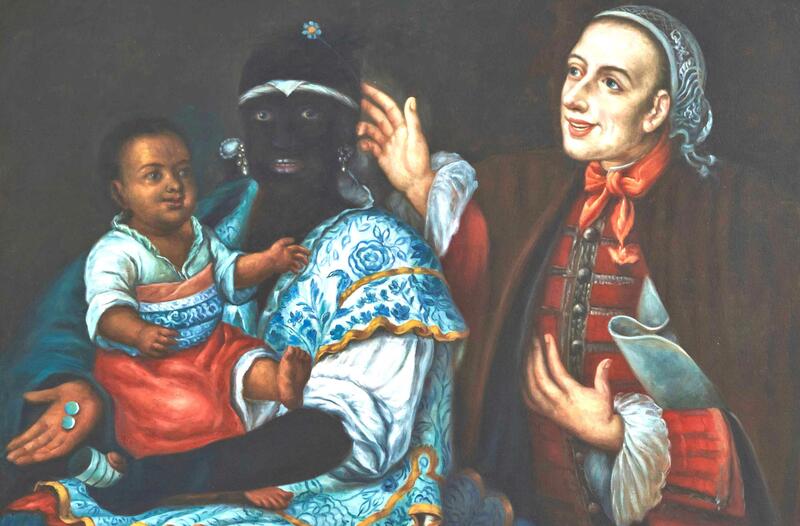 Twenty years after the exhibition that presented them for the first time in Lima, the copied "mixed race" canvases return to MALI to stay. The donation initiative comes from the LiMac, Gamarra's museum-like fiction which becomes real by joining the MALI exhibition circuit. This income updates the representation of Sandra Gamarra in the museum's collection, but it also compensates for a void that cannot be filled in their historical collections. Through these new originals, she reinterprets a revealing artistic document from the colonial past to trace in it the web of racial and gender prejudice that divides today's Peruvian society.
The ultimate meaning of Production/Reproduction rests on a normally relegated aspect: the subordinate but essential role of women in the production and reproduction of the labor forces. In order to do so, the term "produce" (repeatedly used in the original legends) is used as a starting point and touchstone, linking the subtexts with handwritten quotes from contemporary feminist thinkers such as Silvia Federici and Claudia Mazzei, referring to the historical patriarchy.
Subscribe
to receive the latest news and articles written by experts
May interest you