LAST DAYS! SANDRA GAMARRA AT THE SPANISH MUSEUM CGAC
CGAC -Centro Galego de Arte Contemporánea- exhibits Buen Gobierno (Good Government) by Peruvian artista Sandra Gamarra Heshiki.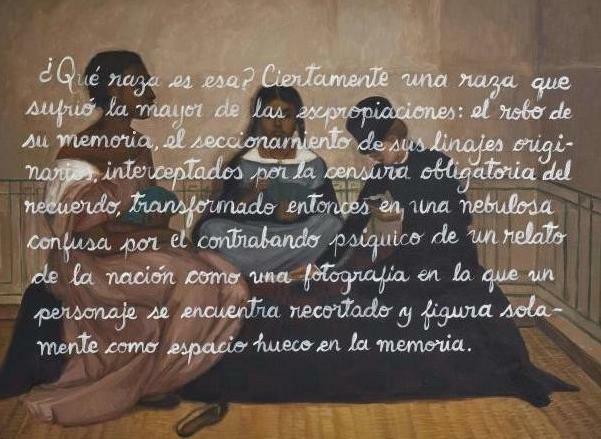 The project takes its title from the manuscript, 'Primera Crónica y Buen Gobierno,' written in Peru in Spanish around 1616 by the Amerindian chronicler, Felipe Guamán Poma de Ayala. This document was drafted to be sent to the then King of Spain, Philip iii, and was intended to portray the Andean colonial reality and to request that the Spanish Crown conduct a reform of the viceregal government with a view to safeguarding the Andean population from exploitation, disease and racial mixing, as a synonym of the disappearance of the native culture. Almost four centuries on, this racial and cultural mixing has not resulted in the disappearance of those civilisations, rather it has been instrumental, through pain and hardship —one almost against the other—, in their evolution.
From this place, Buen Gobierno is constructed as a space of conflict, indicating how the origin of the Latin American nations is intimately linked to the birth of Spain itself and the urgent need to review the 'good governance' of these two legacies to construct other, better, forms of coexistence.
The exhibition is presented as an exercise of decolonisation for our gaze, through different genres of painting understood as mechanisms for the domestication and perpetuity of colonialism, and it functions along with collaborations and works from other artists. Far from being presented as a thesis or an illustrative representation of the past, the project questions the established orders in the imaginary of both nations. It also delves into the colonial, racist and extractionist situation of the present in our country/continent with respect to the neo-colonial relationship that still prevails, thus highlighting the need for other forms for the restitution and healing of these processes.
Sandra Gamarra Heshiki (Lima, 1972) lives and works between Lima and Madrid. Her work addresses the different mechanisms through which Western art has shaped the gaze and been instrumental in forging a hierarchical and unequal world. She has exhibited at the 11th Berlin Biennale; at the 29th São Paulo Art Biennial, 53rd Venice Biennale, and the Cuenca Biennial. Her work is included in major collections around the world including the Museo Reina Sofía, Madrid; MACBA, Barcelona; Tate Modern, London; Hamburger Bahnhof - Museum für Gegenwart, Berlin; MALI - Museo de Arte de Lima, and MAR - Museu de Arte do Rio, Rio de Janeiro.
Subscribe
to receive the latest news and articles written by experts
May interest you