PINTA MIAMI 2022 INAUGURATES AND BRINGS SPECIAL PROJECTS AND DEEP CHANGES INTO THE END OF YEAR
Pinta Miami inaugurates today, and within the concepts of change and processes, the Special Projects section presents works by Carlos Medina, Richard Garet, Muu Blanco and Julia Zurilla.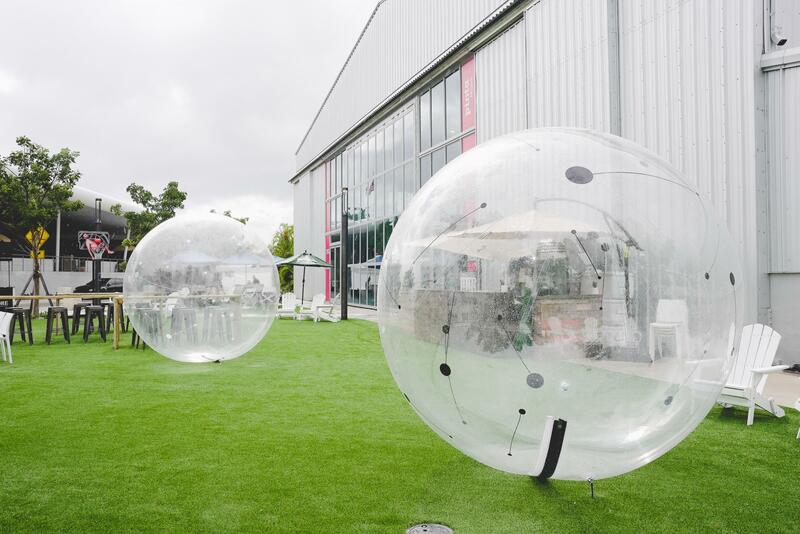 In search of new territories and exhibition formats, Pinta Miami inuagurates The Hangar in Coconut Grove. Located in a privileged place and with a strong historical character, The Hangar used to be the base of Pan American. Today, the space retains its functionality and combines elements of nature. Including meeting, lounge and enjoyment spaces, the experience at The Hangar is complete. The wide and state-of-the-art accesses connect water and land, the natural and the built, thus generating a unique environment for art.
Public Opening
Thursday, December 1st between 11am and 8pm.
Download the Pinta APP to access tickets, entry passes and unique, centralized content about Miami's Art Week.
SPECIAL PROJECTS AT PINTA MIAMI 2022
The Special Projects section of Pinta Miami 2022, curated by Félix Suazo, presents the work of Carlos Medina, Richard Garet, Muu Blanco and Julia Zurilla, whose proposals question issues of high significance in today's society; among them, the impact of the Covid-19 pandemic, the challenges of climate change and the incidence of science and technology in artistic processes.
Carlos Medina takes neutrinos as his starting point -subatomic elementary particles with a neutral charge and very low mass -in the work Neutrino Spheres 3 & 4 (2022), specially conceived for the outdoor area of ​​The Hangar in Coconut Grove. The work focuses on the notions of immateriality, emptiness, lightness and light, as well as suggesting a metaphorical leap between extreme powers; from the microscopic to the macrocosmic, from the corporeal to the elusive, from the visible to the invisible.
For their part, Richard Garet, Muu Blanco and Julia Zurilla make up a videographic triad that dialogues from different levels: perceptive, social and ecological. Garet shows a work from the Perceptual series, which proposes a counterpoint between the pictorial and the electronic. Blanco presents the video Delivery Aesthetic, a record of his personal and professional experience during the Covic-19 pandemic. Zurilla exhibits one of her audiovisual diptychs from the Vertical Horizon series, an investigation based on the double articulation of family archive images and documentary images of extraordinary events and natural phenomena.
Carlos Media is represented by: Galerie Denise René, París / Ascaso Gallery, Miami – Caracas / Carré Latin, París / Art Nouveau, Miami / LFA House of Art, Miami / GBG Arts, Caracas. Richard Garet is represented by: Alex Slato, Miami-París. Muu Blanco is represented by: Espacio Monitor, Caracas / Espace Expression, Miami. Julia Zurilla is a memeber of the Residency Program at Laundromat Art Space, Miami.
November 30th to December 4th.
The Hangar - 3385 Pan American Dr, Miami, FL 33133.
Get your tickets here.
Related Topics
Subscribe
to receive the latest news and articles written by experts
May interest you