CUBAN LEGACY GALLERY PRESENTS BARUJ SALINAS: 1972–2022
Miami Dade College's (MDC) Cuban Legacy Gallery, in collaboration with the American Museum of the Cuban Diaspora, presents Baruj Salinas: 1972–2022, a thematic survey of the acclaimed Miami-based Cuban American painter's abstract work. Curated by Adriana Herrera, the show spans a half century of Salinas' artistic career and features 40 works and includes paintings, works on paper, glazed ceramics, and an artist's book. The works are borrowed from Miami collections, including that of the Cintas Foundation. The exhibition will be on view until August 14, 2022.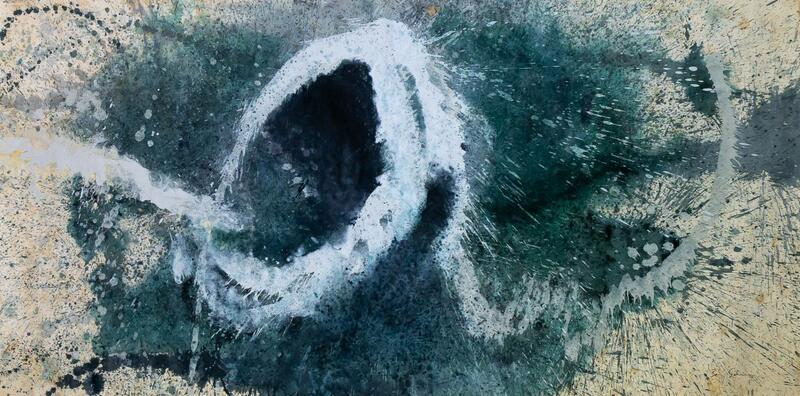 Salinas had trained and worked as an architect, but has created abstract works in a gestural, expressionist style since the early 1960s. Influenced by philosophy, music, and literature, he has also explored a lifelong interest in cosmology in his art. By the early 1970s, he had begun engaging themes of origins—of life or of the universe—on both microcosmic and macrocosmic scales.
Increasingly during the twenty-first century, Salinas has pictured oceans, both primordial and apocalyptic, envisioning water's role in alternating acts of creation and destruction. The oceans also refer to a lifetime's experience of living adjacent to various seas, especially his early years growing up on the island of Cuba, which he was forced to leave. Between 2003 and 2008, Salinas painted the series Claros del bosque (Clearings in the Forest), inspired by a book of the same title by his friend, the Spanish writer and philosopher María Zambrano.
The artist's 2015 Torah Project included images that evoke the Hebrew Bible's account of the creation of the cosmos and other foundational stories and resulted in an editioned illustrated Pentateuch in 2017. In all of Salinas's abstractions, whether imagining landscapes, seas, skies, or cosmic space, he continually attempts to give shape to the formation of the universe, combining a vision of elemental flux and transformation with the traces of ancient alphabets or an imaginary language.
"The ancient Greek pre-Socratic philosophers searched for the beginnings of the universe in the elements and their properties," notes the exhibition's curator Adriana Herrera. "Baruj Salinas endeavored to rediscover the origin of creative matter through painting, exploring the aesthetic potential of water, air, fire, and telluric forces."
A public program, featuring a conversation between Baruj Salinas and Adriana Herrera will take place at the American Museum of the Cuban Diaspora on Sunday, May 22, 2022.
Baruj Salinas was born in 1935 in Havana, Cuba, and received a degree in Architecture from Kent State University in Ohio in 1958. He was exiled from Cuba in 1959, and in Miami during the 1960s, he co-founded the Grupo de Artistas Latinoamericanos (GALA) with other abstract artists, including Rafael Soriano and José Mijares. He was awarded the Cintas Foundation Fellowship in Visual Arts in 1969 and 1970, and moved to Barcelona in 1974. Salinas exhibited in the United States at galleries in Washington, D.C., Chicago, and Detroit, as well as in Spain, Mexico, Israel, Colombia, France, and Switzerland. Specifically, he held exhibitions of his paintings at Galerie Editart in Geneva, where he also began collaborating with poets and philosophers such as José Ángel Valente and María Zambrano on interdisciplinary artist books. These experiences influenced the incorporation of ancestral and unknown alphabets in his cosmic-themed abstractions. He was awarded the Amelia Peláez Prize in 2021.
Baruj Salinas: 1972–2022 is curated by Miami-based independent scholar Adriana Herrera. In 2011, she cofounded the Aluna Art Foundation and the Aluna Curatorial Collective, dedicated to furthering the understanding of Latin American artists and their contributions to fields such as geometric abstraction and sound art. She has explored Latin American contribution to fiber art in exhibitions that include America Weaves at the Coral Gables Museum in 2019, and has co-curated exhibitions of Salvadorian, Cuban and Brazilian art. In 2021, she completed a book on the graphic work of Mercedes Otero (1938–2012), forthcoming from the Otero Pardo Foundation, as well as the catalogue for the exhibition Ronald Moran: Por encima del jardín, to be published by the Museo MARTE in San Salvador.
Subscribe
to receive the latest news and articles written by experts
May interest you