HÉLIO OITICICA'S INSTALLATION IN NEW YORK
Exhibited at the Spcrates Sculpture Park, in collaboration with Projeto Hélio Oiticica and Americas Society. Titled Subterranean Tropicália Projects: PN15 1971/2022, this immersive environment is the first realization of a never-before-executed idea by the late Brazilian artist.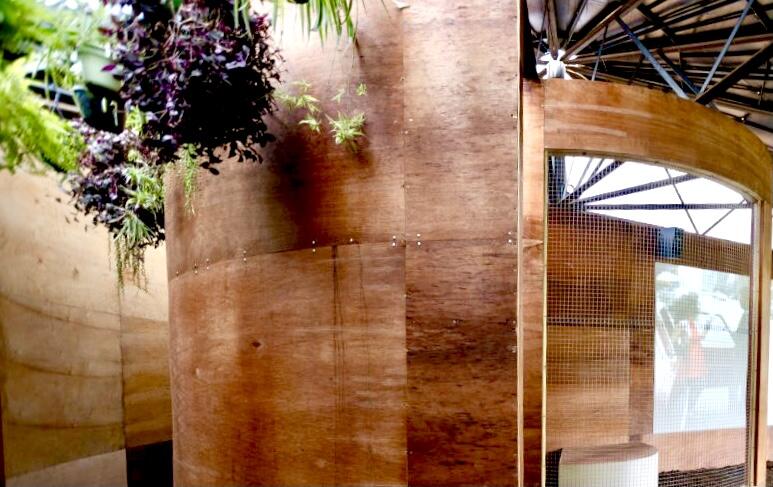 Oiticica envisioned the work in 1971, as part of a series of Subterranean Tropicália Projects for Central Park, while he was living in New York City, drawing inspiration from the thriving underground culture.
The circular structure of curving corridors provides visitors with a multi-sensory experience and a space for the public to collectively engage in auto-performance. The 40 feet diameter environment, with plants and image projections, creates a play of light, shadow, opacity, framing, and orientation. It is a space for collective creativity and leisure, dubbed "creleisure" by the artist.
Socrates presents PN15 as a structure both for visitors to drop-in and create their own spontaneous auto-performances and as a platform for planned performances by the Park's community partners and living artists, bringing new currency to Oiticica's vision from 1971.
Over the course of the exhibition, Brazilian and Queer artists will activate the installation as a stage for interactive performances and workshops, bringing new currency to Oiticica's vision from 1971. The series kicked off with a performance by multidisciplinary artist MX Oops on Friday, May 20th, in addition to programs with La Luna and Bell Falleiros.
The video projection program series in the interior of PN15 presents both historical video by the artist, his Latin American artist contemporaries, and recent video by Brazilian and queer artists who share overlapping interests. The artist wrote that he intended for the Puerto Rican drag queen and underground cinema star Mario Montez to perform inside PN15. One of the video projection programs showcases various films featuring Montez, including Oiticica's super 8 film Agrippina e Roma Manhattan.
Hélio Oiticica (1937 – 1980) is widely regarded as one of Brazil's leading artists of the twentieth century and a touchstone for much contemporary art made since the 1960s, primarily through his freewheeling, participatory works of art, performative environments, avant-garde films and abstract paintings. Even before the age of 20, Oiticica was a key member of the historic Rio de Janeiro-based Grupo Frente (1954-56), his radical play with geometric form and vibrant colors transcending the minimal lines of European constructivism and imbuing his work with an exuberant rhythm that resonated with the avant-garde music and poetry of his native Brazil. In the late 1950s, Oiticica would go on to become a leading figure of Brazilian Neo-Concretism (1959-61) that included other ground breaking artists such as Lygia Clark, Lygia Pape and the poet Ferreira Gullar, ultimately giving rise to the artistic movement known as Tropicalismo, named for a work of Oiticica's from 1967.
Increasingly, Oiticica became a countercultural figure and underground hero, foregrounding bodily interaction with spatial and environmental concerns over pure aesthetics. "Ambient art," he wrote, "is the overthrow of the traditional concept of painting-frame and sculpture – that belongs to the past. It gives way to the creation of 'ambiences': from there arise what I call 'anti-art,'" which he later defined as "the era of the popular participation in the creative field."
The project is presented in conjunction with the exhibition 'This Must Be the Place: Latin America Artists in New York, 1965-1975′ on view at Americas Society until May 14, 2022.
Related Topics
Subscribe
to receive the latest news and articles written by experts
May interest you