ES BALUARD MUSEU PRESENTS ITS NEW COLLECTION EXHIBITION "PERSONAE. MASKS AGAINST BARBARITY"
The project, curated by Imma Prieto, structures and defines the Collection from a line of research focused on the human body, understood as a reflection of socio-political situations in different contexts. In addition, it brings us closer to the construction of identity from the relationship between body, subject and image. The exhibition can be visited in Space C of the Museum until November 13, 2022.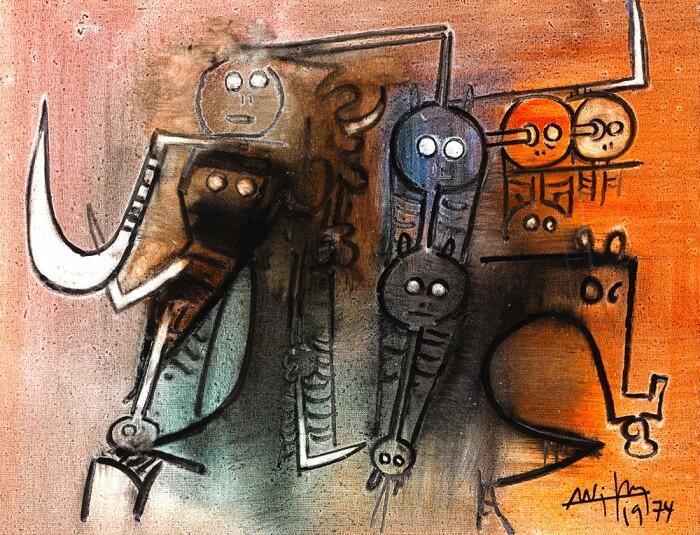 Based on one of the key pieces of the Museum, the set of puppets and drawings made by Miró around the text by Alfred Jarry Ubu Roi, Personae. Masks Against Barbarism approaches why, since prehistoric times, human beings have needed to create masks in order to express themselves from contexts and situations that require the embodiment of other identities.
Thus, the exhibitions indicates different scenarios (ritualistic, shamanic, classical theater, as well as historical contexts in which the political situation censored difference) to bring to the public a multiplicity of manifestations that demonstrate the representation of the human being as a reflection of a space and time of which it forms part as a common thread. Thus, it delves into the research that brings us closer to the creation of identity from an analysis rooted in the relationship established between body, individual and image.
"It should be noted how throughout the 20th and 21st centuries the gaze around the subject has been transformed and how this transformation has given rise to a new imaginary. Approaching the way in which the human body has been represented allows us to ask ourselves who we are or, above all, what makes it impossible for us to just be", explains Imma Prieto.
The exhibition is presented from three different areas and features works by artists such as Marina Abramović, Pilar Albarracín, Karel Appel, Mercedes Azpilicueta, Miquel Barceló, Per Barclay, Georg Baselitz, Christian Boltanski, Robert Cahen, Miriam Cahn, Pepe Cañabate, Maria Carbonero, Francesc Català-Roca, Toni Catany, Lluis Claramunt, Carles Congost, Esther Ferrer, Bel Fullana, Ana Gallardo, Alberto García-Alix, Daniel García Andújar, Ferran Garcia Sevilla, Amparo Garrido, Susy Gómez, Núria Güell, Lawrence Abu Hamdan, Rebecca Horn, Wifredo Lam, Jana Leo, Robert Mapplethorpe, Nauzet Mayor, Manolo Millares, Joan Miró, Amedeo Modigliani, Jean Marie del Moral, Shirin Neshat, Antón Patiño, Pablo Picasso, Joan Ponç, Charo Pradas, Bernardí Roig, Francisco Ruiz de Infante, Antonio Saura, Gabriel Serra, Josep Maria Sert, Antoni Socias, Antoni Tàpies, Endre Tót, Eulàlia Valldosera, Darío Villalba, Robert Wilson, Wols and Francesca Woodman.
Subscribe
to receive the latest news and articles written by experts
May interest you