ES BALUARD MUSEU EXHIBITS "MOUNIR FATMI: WHILE THE STORM ARRIVES"
While the Storm Arrives is a project for our tumultuous times in which mounir fatmi assesses the sheer weight of accounts and commentaries we increasingly have to bear—physically and intellectually violent narratives that have marked our past and are now shaping our future.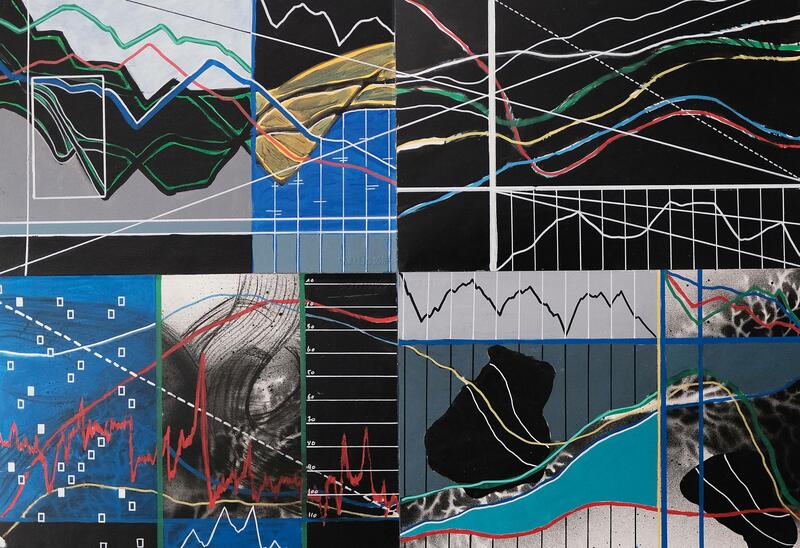 Around the large central installation Inside the Fire Circle 02, the artist forges a metaphor of the construction of history, the factors conditioning it, the interests governing it and the manipulations radiated by the dominant power, while still leaving a chink of hope that this hamstrung, unhinged and indolent society might somehow rouse itself to search for change that has never been needed so urgently.
Three new pieces have been specially created for this project: The Point of No Return, in which fatmi explores the idea of a world invaded by information where everything has been turned into often complex and incomprehensible data, graphs and symbols that synthesise and transmute our relationship with reality; the eponymous Before the Storm, a large painted installation with clear references to the decorative tradition in Islamic art in which a disturbing set of polychrome arabesques reflects the tense times we are currently living through; and Poems: The Missing Show, which takes the form of a poetic video that engages us in questions related to the fear of others, exclusion, xenophobia and the fateful danger of stereotypes, generalisations and prejudices that emanate from the slogans created by the hegemony of empire. These three new works are accompanied by two existing pieces: The Angel's Black Leg (2011) and History Is Not Mine (2013).
mounir fatmi was born in Tangier, Morocco, in 1970. He moved with his family to Casablanca when he was four, and at seventeen he went to study at the Accademy of Fine Arts in Rome. He returned to Casablanca to attend the School of Fine Arts, before winning a place at the Rijksakademie van beeldende kunsten in Amsterdam. He works with obsolete materials such as antenna cables and old typewriters in a process of experimental archaeology that explores the role of the artist in a society in crisis, while questioning the limits of memory, language and communication. His research reflects on the history of technologies and their influence on ideologies, popular culture, knowledge transfer and the suggestive power of images.
His installations have been selected for biennales worldwide, including Venice, Sharjah, Dakar, Seville, Gwangju, Lyon, Auckland, Bamako, Shenzhen, Setouchi and Echigo-Tsumari. In addition to solo shows at the Migros Museum für Gegenwartskunst in Zurich, MAMCO in Geneva, Musée national Pablo Picasso in Vallauris, Akbank Foundation in Istanbul, Museum Kunstpalast in Düsseldorf and Göteborgs Konsthall in Sweden, among many others, he has also taken part in major group shows in spaces such as the Centre Pompidou and Palais de Tokyo in Paris, Brooklyn Museum in New York, MAXXI in Rome, Mori Art Museum in Tokyo, MMOMA in Moscow, Mathaf in Doha, Hayward Gallery and Victoria & Albert Museum in London, Van Abbemuseum in Eindhoven, Nasher Museum of Art in Durham, North Carolina, MNCARS in Madrid and the Louvre Abu Dhabi. He has won a clutch of awards, including the Uriöt Prize in Amsterdam, the Grand Prix Léopold Sédar Senghor at the Dakar Biennale, the Grand Prize at the Cairo Biennale and the Silver Plane Prize in Moscow.
mounir fatmi: While the Storm Arrives
Curator: Fernando Gómez de la Cuesta
Until June, 19th
Fundació Es Baluard Museu d'Art Modern i Contemporani de Palma
Plaça de la Porta de Santa Catalina, 10 • 07012 Palma, Spain
Subscribe
to receive the latest news and articles written by experts
May interest you