'EL CHICO' LABORATORY OF THE NEW GENERATION - INTERVIEW WITH JAVIER APARICIO
By Matías Helbig
Located on the border between La Latina and Embajadores neighbourhoods, inside a 60's trade complex, El Chico is one of the main spaces of the emerging scene that is occupying Madrid's centre. Space is just a general and practical nomenclature. Founder and director Javier Aparicio (Mexico 1985) explains that the limits of this project are not that important, but if we insist on defining it: "El Chico is, for now, a Podcast with a space," he explains. "The podcast has become an approximation tool for visitors."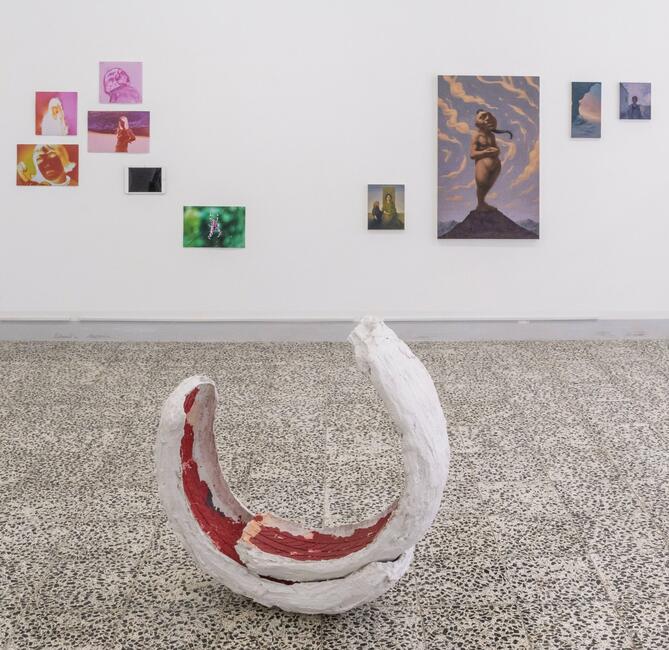 In its origins El Chico was only that: the idea of producing, through conversations with artists and agents of Madrid's scene, a podcast platform capable of scanning what was happening in the Spanish capital city. But one thing led to another, confesses Aparicio, and the physical space was suddenly imposed on him. In January 2021, with the collective project El Primero, local 9 at Ronda de Toledo 16 opened its doors. The appearance of that foundational project was a clear sign of the proposal that El Chico was landing in Madrid: the development of a community and a healthy ecosystem for artists recently graduated from academies.
How did you realise the first project?
It was very important to pull from local resources. In my first years in Madrid (2004 and 2005) working for Travesía Cuatro I was lucky enough to meet artists who were fundamental to my training in contemporary art. When I returned, in 2019, I began to pull from them. In this way, 'El Primero' became an exhibition in which the invited artists where from younger generations and who had something to say at that specific moment. That's when Silvia Olabarría, Juan de Sande, Guillermo M. Bermejo and María López Díez appeared. All of them introduced me to other artists, including some who later continued to collaborate with El Chico, such as Pepe Domínguez and Abel García, two Sevillian painters who had their first solo shows here.
Since then, El Chico has been in this unclassifiable and sui generis position. A sort of cultural enclave for emerging artists that, little by little, is becoming a meeting point for the new generations of artists and cultural managers living in Madrid.
The podcasts, on the other hand, counts sixteen episodes to the day.
What brought you to Madrid to do this?
In the last few years, I worked at KCM Fine Arts consultancy, specialized on contemporary American painting. In the United States, unfortunately, art has a lot to do with fashion and the cycles are very short. In that context, to understand what works in the markets, you must identify references. The artists who take references without copying them are those who are developing new languages and that is of interest. Then time decides who moves on to one level or another.
With this knowledge, when I came to Spain, I found that painting was absolutely neglected. And I understood that what was lacking was education. Education cannot be completely delegated to the academy, it's useless. The academy does what it can. What new spaces are trying to do, in different ways and from different points of view, is to fill this educational gap…
Art collection training for the new generations?
No. Precisely one of the great surprises has been that. For example, practically all the artworks from the first individual exhibition at El Chico 'Todas las fiestas del mañana' (All the parties of tomorrow), by Irene Anguita (Spain, 1997), were acquired by collectors of Irene's or my generation. And that matters a lot to me: that a solid network is developing. Since that exhibition I began to investigate what the interests of the generation I'm exhibiting are... And perhaps one of the reasons why culture is so institutionalised in Spain is because there is a gap, a hole between the beginning and the mid-career artists. This is where the new generations of artists need to be educated. To push themselves, to move within these parameters.
Not being so immersed in the art world system as it is understood in the United States, the possibilities that Madrid has to generate this ecosystem, healthy and with the potential for self-management, are huge.
But it doesn't happen...
Of course, because of many, many factors. The main one, I think, is the gap that exists in the process that makes a graduated artist a mid-career artist: in Spain there are no validating and validated platforms. The most similar would be 'La Casa Encendida' with its Generation project, but it is still an institution and you can't ask institutions to follow the career of an artist. The institutions provide sporadic tools, and that's fine, because the work of accompanying is of the galleries, and many do it, but in Spain there are no emerging galleries. There are some very good ones, Travesía Cuatro, Helga de Alvear, Elvira González... But they all deal with that spectrum of established and mid-career artists. And so, we are still too lame to help those who are just starting out.
Eleven projects and little more than a year later, El Chico has managed to form a community together with other young projects. During Madrid's Art Week, together with Arniches 26, Intersticio, Sala Picnic, Habitación Número 34, Aparador Monteleón, Nunca Nadie Nada No and PradiAuto they carried out a programme called Quintos. Both Javier Aparicio and the people behind these emerging platforms, which have appeared on scene in the last two years, propose new ways of understanding physical spaces, both from an aesthetic and conceptual function and in terms of management. Quintos is the first symptom of a new cultural network that comes to update Madrid orthodox scene. A consequence of the pandemic, of the desire to go out and do things, and of a "generational break", says Aparicio.
The second edition of Adentro/Afuera has been exhibited in the 50m² of El Chico. It's a collective project that began thanks to the support of Margarita González Vázquez, Vice-Dean of the Faculty of Fine Arts of the UCM, and that now, in its second edition, also has the support of the Faculty of Fine Arts of the University of Sevilla.
Apart from generating a space for interaction between young artists in Spain, what does El Chico intend with the project Adentro/Afuera? What defines the artists that are part of the exhibition?
This exhibition is not thought of as a quarry of artists, but as a post-academic exercise of accompaniment. These artists can count on me and El Chico whenever they want. Regardless of whether or not there is a working relationship with them. That is precisely why we are not a gallery.
What I look for in these kids is, mainly, that their academic training is reflected in their work and that they have the potential to professionalise their work. The latter has to do with how a work is edited, how it is presented to a collector or a gallery, and so on. It is, in short, the training part we were talking about before. I try to share with them everything I consider essential.
And is the selection always from a local perspective, from artists living in Madrid?
At the beginning I wanted to make this a little more international, but I've realised that it's not necessary. There's so much to work with what's happening here that bringing in artists from abroad who I know are going to sell out... That's bread for today, hunger for tomorrow. The first thing is to help here, to get to know new artists here, to talk to them about the references that I associate with their work and that they may not have seen. For me, a good artist is one who finally becomes a sign of his time, and for that you need to see a lot and know a lot. You can't just say 'this is my cosmogony', there are 35 million others like you.
Finally, El Chico has a special relationship with painting. This space has exhibited very different works such as those of Abel García (Spain, 1996) and Pepe Domínguez (Spain, 1997), referents of what Guillermo M. Bermejo calls 'New Andalusian Figuration', Amaya Suberviola (1993) or Irene Anguita (Spain, 1997). Having worked with them and observed the painters who pass through this house, where would you say painting is heading in this new generation?
If we think about it coldly Spain is, in modern terms, a new country. It came out of the dictatorship in the 1980s when everyone was already 'producing modernity'. So everything had to be done very quickly and, perhaps, one of the most effective tools was to denigrate everything that had gone before, among them the best painters in the world, and that made a dent... La Movida became a kind of propaganda.
To be part of La Movida you had to deny previous generations...
Of course, but now there is a generational break and those who are coming are returning to painting.
Is it a gesture of rupture?
It's a spring. They are resprouting. You can't deny painting, especially in a country like this. The most important pictoric gallery in the world is in Madrid.
This generation is relating again to painting without all the yokes of the violent rupture that the transition brought about. Because it no longer interpellates them, the first time they went to the Prado they were perhaps 11 years old and had no idea who Gordillo was, to name one of those producers of modernity... They don't even think in terms of abstraction or figuration. They understand painting as a means of exploring how to tell something.
If I had to suggest a theme that runs through them all, I would say it is the digital transformation. In the case of Amaya Suberviola, it is directly this exercise of translation, as is Irene Anguita. They are all traversed by a digital culture. And painting offers them multiple ways of expressing that relationship. And in this 'how' we find that painting stands at the same level as, for example, sculpture.
Related Topics
Subscribe
to receive the latest news and articles written by experts
May interest you