MEDELLÍN - FIRST MUSEUM RETROSPECTIVE EXHIBITION OF MARÍA TERESA HINCAPIÉ
The Museum of Modern Art of Medellín (MAMM) exhibits María Teresa Hincapié. Si este fuera un principio de infinito (María Teresa Hincapié. If this were a principle of infinity), the first institutional exhibition dedicated to the practice of Colombian artist María Teresa Hincapié (Armenia, 1954 – Bogotá, 2008). A pioneer in Colombia and Latin America, Hincapié had a very particular definition of the performative discipline that she used to call "training" and which resisted any specific categorization; rather, it oscillated between life, creation in motion and the search for the sacred.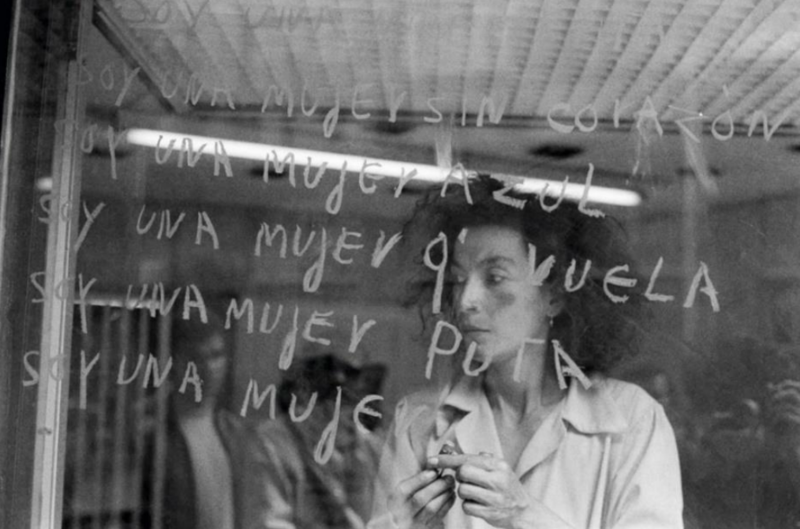 One can say of her practice as an approach to the poetics of the domestic in performance, with which she transformed routine actions into symbolic acts to create her own methodology. The domestic in this conception is not limited to the realm of the private or the intimate, but is open to the relationship of care with the planet, understandood from María Teresa Hincapié's idea that the universe is her own home.
With extensive theatrical training, unwavering rigor and discipline, María Teresa Hincapié knew how to combine her experience in theater with visionary concerns for that time: the questioning of the hyperproductivity of late capitalism, the unbalanced relationship with the planet and the lack of meaning in a society dominated by consumerism. Hincapié's career laid the foundations for the affirmation of a discourse around the performative as a field of artistic creation in Colombia, and the inclusion of urgent themes – then and now – in the repertoire of aesthetic production on the American continent.
Maria Teresa Hincapie. If this were a principle of infinity is a first attempt to organize the legacy of this artist, essential to understand current practices, whose work still needs to be reviewed in depth.
In this first exhibition dedicated to the work of the artist, a vast selection of her works will be presented: archive material from performances, photos, videos, written documentation, slides, visual testimonies, etc. Works made by José Alejandro Restrepo to be performed by Hincapié will also be included, as well as three projects commissioned specifically for the exhibition that open an essential debate on movement, bodies and the cognitive legacy of a practice that is itself destined for transformation. The artists and groups invited to develop a new work that dialogues with the performative language of María Teresa Hincapié are: María José Arjona (Colombia), Coco Fusco (Cuba) and Mapa Teatro (Colombia), whose praxis is closely linked to that of the artist.
María Teresa Hincapié was born in Armenia in 1954 and died in Bogotá in 2008. She trained as an actress by joining the group Acto Latino led by Juan Monsalve in 1978, and for nine years she studied the theories of Jerzy Grotowski and Eugenio Barba. In 1986, after performing "Ondina", she left the theater and embarked on a personal and intimate path that led her to art performance. In 1987, she performed Si esto fuera el principio de infinito (If this were the beginning of infinity), her first performance piece, which would become an important antecedent of subsequent actions carried out in the late 80s and early 90s. She carried out her performances in renowned institutions, salons and biennials between which stand out: The Insitute of Contemporary Art, in London; XXXIII Salón Nacional de Artistas, in which she was awarded the first prize for her performance Una cosa es una cosa (A thing is a thing); Reina Sofía Museum, Madrid, Spain; MAM, Paris, France; 51 Venice Biennale, Italy; Bienal de Sao Paulo, Brazil; Patricia and Phillip Frost Art Museum, Miami, United States.
María Teresa Hincapié. Si este fuera un principio de infinito
Until June 12th, 2022
Curatorship: Claudia Segura (MACBA Museu d'Art Contemporani de Barcelona) and Emiliano Valdés (MAMM).
Related Topics
Subscribe
to receive the latest news and articles written by experts
May interest you