THE ARTISTIC CAREER OF BEATRIZ GONZÁLEZ
By Eduardo Márceles Daconte | May 26, 2021
After concluding her retrospective exhibition at the Miguel Urrutia Art Museum, of the Banco de la República, between October and December 2020, the artist Beatriz González has been invited to participate in the exhibition "Another Energy: Power to Continue Challenging", in the company of 15 women artists of wide range and different nationalities, at the Mori Museum in Tokyo (Japan). Here is a summary of her artistic career.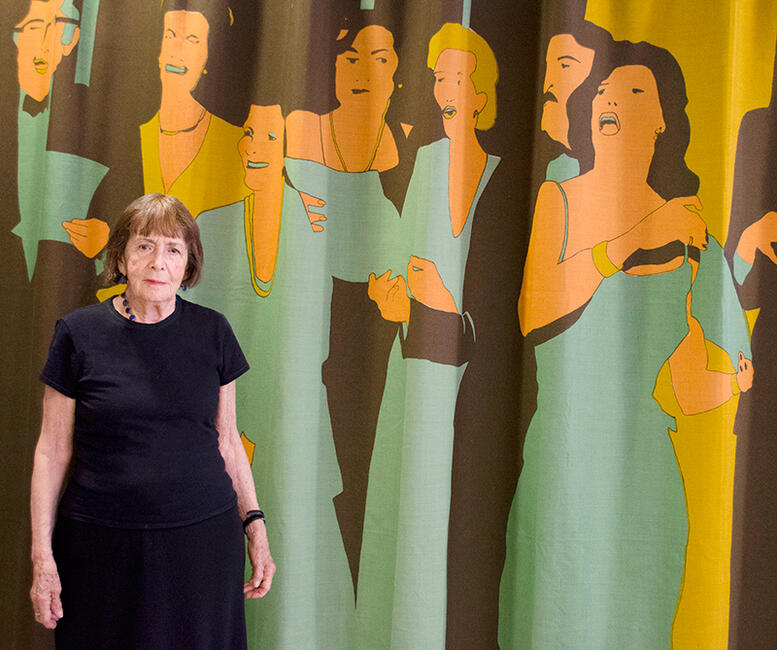 Beatriz González's works have been exhibited in the country since the early sixties, but they only emerged with greater intensity and experimentation from 1965, when she won a special award at the XVII National Salon of Artists with her most famous painting of that time, in three different versions: Los suicidas del Sisga.
Already since 1967, in an incipient way, in her series of national heroes, the painter replaced oil and canvas with enamel and metals that led her to explore unpublished fields of visual creation. Around that time she began to assemble her well-known Furniture, taken from their domestic context, such as cribs, beds, tables, hair dressers or televisions that she uses as integral supports for her enameled paintings, becoming one of his most significant contributions to contemporary art in Colombia.
She also ventured into screen printing and painting on common objects, such as drums, flags and jewelers, and made gigantic canvas backdrops intervening and recreating works by the French Impressionists to build, in short, an iconography that has found multiple channels of plastic expression. It could be argued that she is a pioneer in postmodern art in Colombia, since she breaks with the notions that characterize modernity in terms of techniques, materials, themes and ideology, increasingly approaching a conceptual expression free of any commitment to conventional aesthetics.
Throughout her life trajectory, the artist has insisted on experimenting from different perspectives, but has remained faithful to a theme that is inspired by popular painting, newspaper photographs, religious prints or the works of the great universal masters. However, she drastically alters the colors for others that are flatter, intense or faded, applied with apparent carelessness within a limited range of colors. There are references to pop art in the images intended to demystify, bordering on caricature at times due to her tendency to emphasize the essential elements of the themes and critical humor that emerges from them.
It is not a question of concretizing the ironic, satirical, scathing or caustic aspects by resorting to the ease of traditional illustration. In fact, few artists have developed a compelling sense of humor in their work. We remember, for example, Fernando Botero, Antonio Samudio, Marlene Troll, Juan Camilo Uribe, Diego Pombo, Antonio Caro, Pedro Alcántara's black humor, or even the works of implicit wit and social criticism of the collective El Sindicato de Barranquilla , to name the most prominent in this field. It is a minimal representation that confirms the complicated undertaking of generating a complicity smile in plastic expressions.
Since she first saw the robust figure of President Julio César Turbay (1978-1982) in a newspaper photograph, Beatriz González (Bucaramanga, 1938) thought it would be a good model for a painting, so she started cutting them out and collecting them. She did not know for sure what the final aim of this endeavor would be, but one day she began to draw on this subject and when she realized it she already had a series of sketches that she provisionally exhibited to test the grounds. On that occasion, she also showed a television receiver on which screen the face of the president was displayed, using the enamel-on-metal technique, inaugurating the first Colombian color television, a true novelty that deserved the presidential intervention.
Those initial works in August 1980 were just a glimpse of the potential they hid, and it didn't take long for the painter to discover the extent of her endeavors. Without intending to, she began to work on a design based on a photograph of President Turbay Ayala and a group of people singing some verses at a joyous party. Intuition is more powerful than logic. Without knowing exactly where it was going to end, but with the certainty that that was the way, she simplified the set of people into intimate characters illustrated with closed areas of solid colors within a limited range of green, brown, mustard and yellow, suggesting a silkscreen. However, in the process she realized that such a sketch lent itself better to a more ambitious project.
It was not the first time that Beatriz González had the strange idea of ​​making a curtain as a work of art. The proposal had already been rehearsed in another context and with different intentions by Christo Javacheff (1935-2020), a conceptual artist of Bulgarian origin, who, in addition to performing his famous Wrappings (gigantic monuments wrapped with canvas and ropes), delimited geographic areas with orange curtains of astonishing proportions (Cortina en el valle, 1970-72, with an extension of 380 meters). But in the case of the Colombian painter it was, at first, to assimilate well-known works of famous impressionists to her canvas curtains.
The idea arose in 1975, during a tour of Jiménez de Quesada avenue in Bogotá, when she detected "in the window of a store, next to bottles and sandwiches, a Salvat magazine which had as a cover Lunch on the Grass, by Edouard Manet (1863), ruined by dirt and the sun. It looked like a curtain or a circus tent painted with faded acrylics. That was what came to us from the mobile and changing physiognomy of nature, so sought after by the Impressionists", as she later recalled.
With these initial curtains of monumental size, the artist participated in the XXVIII Venice Biennale (1978), although since 1975 she had produced her first test with the Mouth curtain for a lunch (4.50 x 5.20 meters), inspired by the mentioned painting by Manet. Later, in 1978, she exhibited, along the same lines, her work Ten Meters by Renoir, which consisted of a seamless chaining of a simplified detail of Le Moulin de la Galette in solid colors and imprecise contours. The work had very special distribution characteristics, as it was sold by the meter; even an art magazine had the idea of ​​offering its readers a square centimeter of this sly painting on a sheet of graph paper.
From there to the curtains it was just one step. The first was called the Orangerie Bathroom Curtain (2.50 x 20 meters) and was exhibited at the FIAC exhibition in Paris in 1979. It was a green plastic curtain with original designs painted with PVC material. Her work Interior decoration (screenprint on canvas, 1981), starring Turbay, was consistent with coherent parameters of artistic creation: it consists of a 2.85 meters high by 120 meters long curtain, which had to be divided into unequal parts to display it.
As for the images, it is evident that Beatriz González was not interested in exalting or disseminating the figure of President Turbay for free. If we consider that his work is part of an authentic pop modality, with Colombian roots (that is, she uses the popular elements that surround her to recreate them in local image and likeness), we must remember that from the beginning pop art derived its iconography of images and symbols typical of the communication media (photographs of characters, consumer articles, myths and social fetishes).
Let's remember Andy Warhol with his serial portraits of Marilyn Monroe and Elvis Presley, Roy Lichtenstein with his comic strips or Jasper Johns with his United States flags repeated in succession of images. Beatriz González ventures into this field within a concept that has evolved and is no longer inspired by a motive foreign to her country or an allusion to the past, but focuses on the pulsating events of Colombian politics in scenes that, in her curtain, are repeated every three meters with the monotony that personifies the protagonist of their argument.
Beatriz González's curtain was exhibited simultaneously with the scandals that arose around the person of Turbay, although there was no premeditated coincidence. To show a rumba president in the midst of the conflicts and difficulties that besiege Colombia on a daily basis is precisely to point out the incongruity of such a situation and to highlight, through an apparent joke, the state of moral prostration in which the country was - and continues to be in - since the photographs published in the press almost always showed a president in his official functions, but also a traveling, seductive, ceremonious, solemn and even devout character.
However, behind that facade, the country was falling apart victim of the laziness and incompetence of the narcoclientelism that dominated government spheres at that time. For this reason the work of Beatriz González is critical, taking advantage of humor, the most forceful and difficult of the tools that an artist can use: the political commentary that contains a subtle irony. It was not a grotesque caricature, but the careful handling of iconographic symbols that little by little have permeated our subconscious. Turbay is already a kitsch character in popular Colombian paraphernalia.
Among her most recent works, Auras Anónimas deserves to be highlighted, an intervention of the columbariums in the Central Cemetery of Bogotá, with more than eight thousand niches that represent the silhouettes of porters who carry the corpses caused by the violence in Colombia. These images are still as valid today as in 2009, when González finished printing the different matrices with the manual screen printing technique, a monument to the memory of countless anonymous victims of the armed conflict in the country.
Related Topics
Subscribe
to receive the latest news and articles written by experts
May interest you