UNCOVERED BOOKS AS PAINTING/SCULPTURES BY REFAEL DOMENECH
[NAME] Publications inaugurated their new space in West Miami with the exhibition Rafael Domenech: An Oracle on a Tomato, Ubiquitous Rectangles. The exhibition includes a series of newly-commissioned objects that activate the hidden potentials in the traditional book form by unfolding it as multi-media painting-like structures.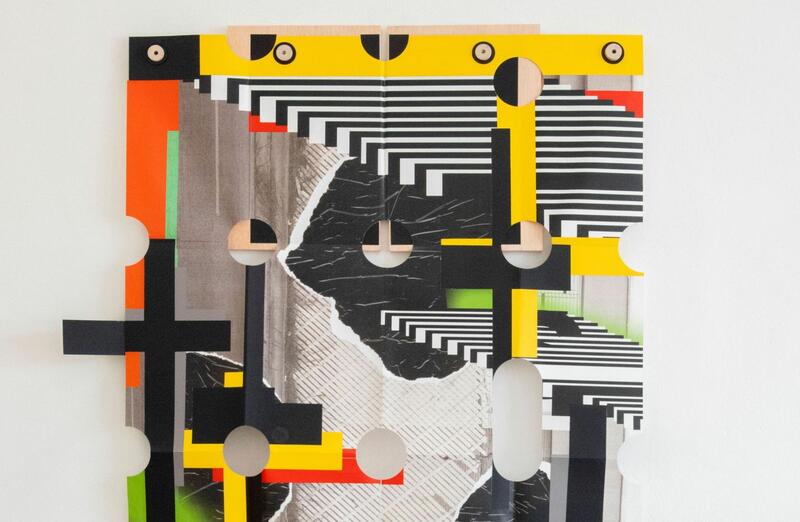 The "book-paintings," as Domenech refers to them, bring together an archive of photographs taken intermittently in and around Miami since 2017 with varied surplus materials that include felt, commercial vinyl, paper, and plywood in a layering process that tracks the city's urban dynamics and material flows. Closed, the "book-paintings" are containers for the many possibilities to set off a complex distribution of information and a play of forms and colors. Open, they are complex and vibrant structures that open new possibilities for painting in the age of standardization and data overloads.
Domenech's meticulous process of layering diverse materials generates unexpected contours for these works. Sharp points, quasi-organic elements, and curves appear at the edges of these works, glitching the rigidness of the "page" and generating counterpoints to the geometric compositions.
Rafael Domenech (b.1989, Cuba) graduated with an M.F.A. from Columbia University. His work has been exhibited at Sculpture Center, New York; MIT List Visual Arts Center, Cambridge; Socrates Sculpture Park, Long Island City; The Storefront for Art and Architecture, New York; The Bass Museum, Miami Beach; Phillip and Patricia Frost Art Museum, Miami; Bronx Museum of the Arts, New York; Artium Museum, Vitoria, Spain; and Hua International Gallery, Berlin, and Beijing. He has been the recipient of awards from the Rockefeller Brothers Fund, Tulsa Artist Fellowship, and the Cintas Foundation. His work can be found in the collections of The Metropolitan Museum of Art, New York; Pérez Art Museum Miami; The Bass Museum; The Cisneros Fontanals Art Foundation Collection, Miami; The Bronx Museum; and the Great Meadows Foundation, Kentucky, among others.
Founded in 2008, [NAME] Publications is dedicated to making books with an emphasis on histories and practices often marginalized in dominant art and design histories. The press facilitates the production of books by artists, designers, curators, and scholars with practices anchored in the Americas. It disseminates these titles and builds new audiences for them through exhibitions, public programs, and the salvaging of archival materials.
[NAME] is co-directed by Gean Moreno and Natalia Zuluaga.
Subscribe
to receive the latest news and articles written by experts
May interest you