TROPICAL FOREST: ANCESTRY AND DYSTOPIA
The Amazon rainforest is one of the planet's largest and most important ecosystems, it serves as a and home to the people who inhabit the forest and to forces that impact its future and affect global climate change. These themes are explored in "Forest: Ancestry and Dystopia, presented by The55Project Art Foundation in collaboration with The Fundación Pablo Atchugarry in Miami, from February 19 to July 16,2022.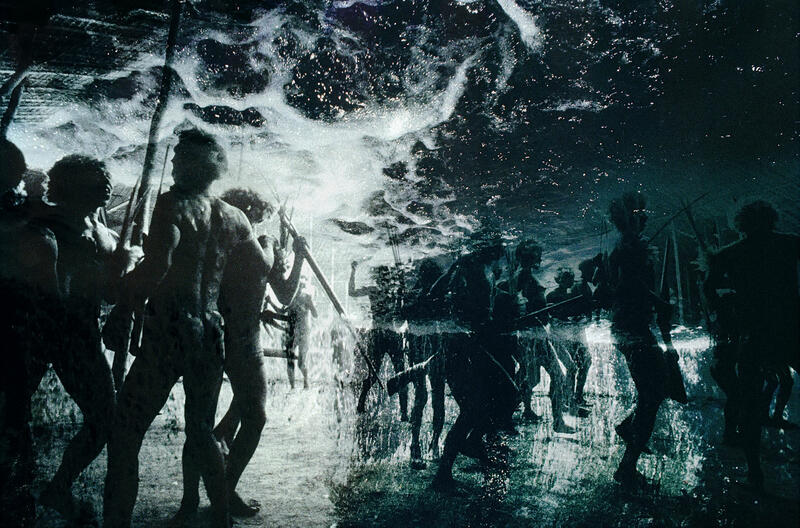 The exhibition features the work of 16 Brazilian artists, many of whom have dedicated their careers to chronicling life in the rainforest and protecting a ecosystem. Collectively, their work examines the delicate, and often perilous, balance between ecology, ancestral communities, and unbridled ambition encroaching on the forest - with profound impact for the planet.
Curated by Eder Chiodetto, the exhibition aims to raise awareness about the Amazon's rich natural resources, reflecting on its mythical, environmental, and anthropological aspects, as well as calling attention to the destructive forces that threaten the biome: deforestation, agro-industry, and illegal mining.
"Forest: Ancestry and Dystopia" uses the Amazon Forest and other biomes as a field of investigation on how humanity has chaotically and dangerously relativized the relations between ancestry-preservationism and growing dystopia-destruction unleashed by the disproportionate capitalist ambition. Photographs and videos show the beauty and wisdom of the Earth's original peoples against a terrifying scenario generated by deforestation, agro-industry and illegal mining.
ABOUT THE ARTISTS:
Claudia Andujar – Claudia Andujar first met the Yanomami people as a young photojournalist on assignment in 1970 to photograph northern Brazil's native population for the magazine Realidade. This encounter sparked an interest that would endure throughout her career as a photojournalist and an environmental activist.
Edgar Kanaykõ – A prominent social scientist, activist, and ethno-photographer, Edgar Kanaykõ has worked extensively with the Amazon's Xakriabá indigenous people, documenting aspects of their lives and culture through his photography and audiovisuals.
Luiz Braga – Known for an extensive body of work in black and white photographs, and in a later phase, color, Luiz Braga has spent decades travelling through the Amazon region, capturing images of its vibrant landscape. He worked for the National Arts Foundation and in 1987 won Brazil's prestigious Marc Ferrez award for photography.
All the artists who form part of this collective exhibition: Claudia Andujar, Luiz Braga, Rodrigo Braga, Gisela Motta, Leandro Lima, Walda Marques, Elaine Pessoa, Elza Lima, Edgar Kanaykõ, Rogério Assis, Regina Parra, Lalo de Almeida, Victor Moriyama, Nailana Thiely, Luciana Magno, and Ana Nitzan.
ABOUT THE CURATOR:
Eder Chiodetto was born in São Paulo, Brazil, where he earned a master's degree in Communication and Arts from the University of São Paulo (USP) and served as the curator of photography at the São Paulo Museum of Modern Art (MAM-SP) from 2006 to 2021.
As an independent curator, Chiodetto has organized over 130 exhibitions in Brazil and abroad. He is the author of the books Curatorship in Photography: from research to exposition, and Generation 00: The New Brazilian Photography (Edições Sesc), among others. He is the publisher of Fotô Editorial, a publishing house that specializes in photobooks.
Fundación Pablo Atchugarry, 5520 NE 4th Ave., Miami
Feb. 19 – July 16, 2022
Related Topics
Subscribe
to receive the latest news and articles written by experts
May interest you