ALCHEMIC CHANTS BY YANIRA COLLADO
"My work attempts to assemble a visual language that reconciles the process in which the history of this information is recorded, stored, and retrieved." Emerson Dorsch presents Alchemic Chants/ Reliquias Fragmentadas, Yanira Collado's first solo exhibition with the gallery. A platform nearly covers the gallery floor, while objects and paintings punctuate the slim corridor around it. The platform echoes the footprint of a small house, one for living and for working.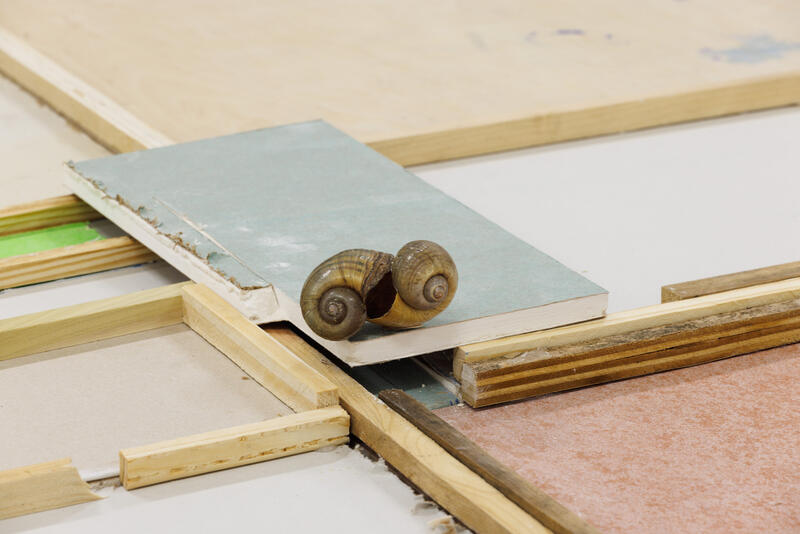 Collado continues to imbue her work with the stories of migration and subcultures, wrapping them in protective layers of cardboard, paint and fabric. Her work builds from fragmented stories of errantry as much as her ability to stand still and think in many directions. She places relics from a root – from her own life, the neighborhood, or a community – inside a house for contemplation. Yet, if a reliquary is a house for a relic, she's turned the system inside out, an action that gets at the paradoxical nature of memory and identity.
Yanira Collado's works are walls of resistance to the culture of explanation. Roughly traceable to the Western European Enlightenment drive to classify, label and map the world in an expression of colonial and imperial vectors, the culture of explanation was taken up with gusto by new Americans of the same mindset. Today the push to explain exists in the death of wonder, where answers are available in the top hits of an Internet search.
To her, taking a piece of fabric in her hands conjures days spent with her mother and father while they worked as seamstress and tailor for various fashion brands, from the generic mass-produced labels to Oscar de la Renta. At various times, her mother worked in a clothing production factory, in underground clothing production workshops in New York, and in a clandestine operation in her own house in the Dominican Republic. Seamstresses and tailors in these contexts are poorly paid, but they know their craft; they recognize the quality (or lack of) in the fabrics and their patterns. The artist embeds fabrics with glue and wheat paste over a support. Some of the fabrics have cheap reproductions of patterns once intricately made by artisans across the world. Traces of migration and cultural exchange are hiding in plain sight, along with another kind of parallel universe in time and space in which those artisans may have been her mother and the women working alongside her.
Collado has in the past embedded photocopies of pictures of quilt patterns associated with coded communications to people fleeing slavery. Those patterns brought forward their makers' memories of African patterns, their symbols and their meanings. The way the patterns' reproductions scatter across her surfaces evoke stars in the sky where the spaces in between stretch like the distances in space and time between specific (beautiful, fierce, terrifying) stories and the worn traces we see.
Scavenged materials have long been part of contemporary artists' vocabulary, and Collado deliberates over every material she uses. The support and the back are as important as the face. Nothing is left to convenience or assumption. The physical laboring that goes into these works echo that of her father and uncles, and her material choices reflect her conviction that each so-called disposable thing has value throughout its life. She is interested in how value changes with context, but at every point, it has value. She is a storyteller who embraces the roles her materials have to play. She embraces openness and recalibration, a meditative awareness of connections across space and time.
Yanira Collado (b. 1975, Brooklyn, NY; lives and works, Miami, FL). Born to Dominican parents, as a child, Collado traveled between Santo Domingo and Miami frequently, until 1992 when she attended Miami's New World School of the Arts for high school. Collado studied at The School of the Art Institute and later on perused studies in Early Childhood Education.
Yanira Collado: Alchemic Chants
November 28, 2021 – February 5, 2022
Emerson Dosch Gallery
5900 NW 2nd Ave, Miami, FL 33127, United States
Related Topics
Subscribe
to receive the latest news and articles written by experts
May interest you