SONORAN QUIPU. CECILIA VICUÑA'S SCULPTURE AT MOCA TUCSON
Sonoran Quipu is a sprwaling sculpture at Museum of Contemporary Art Tucson composed of natural and human debris collected by indivuals and organizations across the city.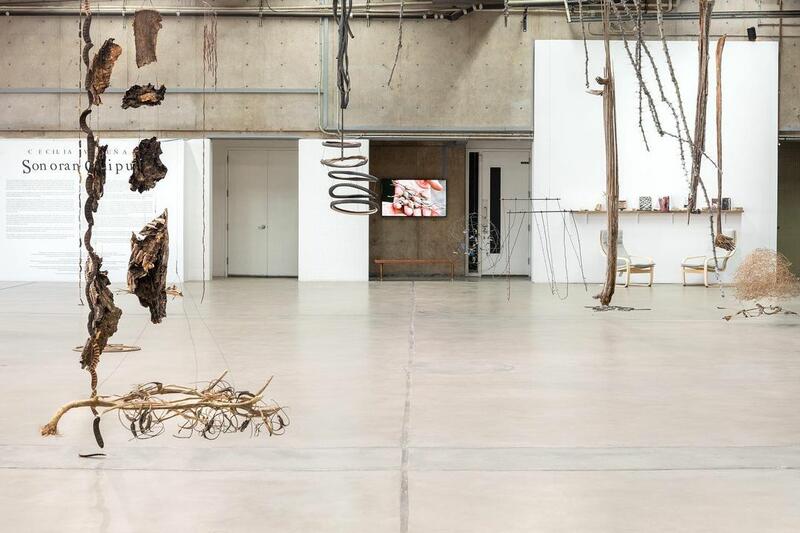 The elements are gathered from kitchens, gutters, artists' studios, gardens, and streets. Transforming the museum into a studio, artist and poet Cecilia Vicuña alchemized these fragments—things deemed no longer useful, having been shed by a plant, broken by a child, or left in an alley—into a living installation. The exhibition also includes elements that offer a small window into the breadth of Vicuña's practice: three videos, a sound piece, a little library, and the vapors of performances, rituals, and relationships Vicuña created while in Tucson. Sonoran Quipu senses the fragility of our world as climate change tilts us towards mass extinction. Weaving together plant and industrial materials, the artist invites viewers to consider the beauty and precarity of our world, and our interconnected relationship to the environment and each other.
The Sonoran Quipu combines the artist's signature sculpture forms—the monumental quipu and the precario. A quipu ('knot' in Quechua) is an ancient Andean communication technology that uses knotted strings to record information, and was banned by the Spanish during the colonization of South America. Vicuña reimagines the ancient quipu system, incorporating contemporary materials to highlight its capacity to connect worlds and people. The artist's sculptural precarios are described by the artist as simultaneously "about to happen" and in a constant state of dissolution. The ephemeral precario and the delicate universe of the quipu are composed of materials perceived as disposable, reclaiming meaning from waste.
This quipu is part of a new arc in the artist's work that she defines as "a quipu of encounters" to map and hold networks of relationships. The first ones occurred last year at Organizmo, in Cundinamarca, Colombia, the Guggenheim Museum in New York and at the Tate Modern in London, and now here in Tucson.
Sonoran Quipu is a poem in space that gently sways in the wind and changes with the passing of time. This new commission expands on the ecological and cosmic themes at the center of Vicuña's life practice. It is enlivened by collaborations and public programs that situate the installation as a living site for contemplation, knowledge sharing, and gathering.
Cecilia Vicuña (b. 1948 in Santiago, Chile; lives and works in New York and Santiago) received her M.F.A. from the National School of Fine Arts, University of Chile in 1971 and continued with postgraduate studies at Slade School of Fine Art, University College London from 1972-1973. This year alone, solo exhibitions of her work have been organized at a number of major institutions, including the Tate Modern, London, United Kingdom (2022); Solomon R. Guggenheim Museum, New York, NY (2022), and Museo de Arte Miguel Urrutia (MAMU), Bogotá, Colombia (2022). Vicuña is also included in The Milk of Dreams, 59th International Art Exhibition, Venice Biennale, Venice, Italy (2022), and was awarded a Golden Lion for Lifetime Achievement (2022). Her work is in numerous public collections, including the Museo de Arte Latinoamericano de Buenos Aires (MALBA); Museo Nacional Centro de Arte Reina Sofía, Madrid, Spain; Museum of Fine Arts, Boston, MA; The Museum of Modern Art, New York, NY; Museo Nacional de Bellas Artes, Santiago, Chile; National Portrait Gallery, Smithsonian Institution, Washington, D.C.; Solomon R. Guggenheim Museum, New York, NY; and Tate, London, United Kingdom. Vicuña is the author of 30 volumes of art and poetry.
Related Topics
Subscribe
to receive the latest news and articles written by experts
May interest you