ANA GALLARDO AT MAMBO: THE JULIUS BAER AWARD EXHIBITION
(Te busco en otro nombre). Bitácora guatemalteca 1987/2023 [(I'm looking for you in another name). Guatemalan Journal 1987/2023] is the winning project of the second edition of the Julius Baer Prize for Latin American women artists. The winner Ana Gallardo, together with María Us, presents the exhibition at the Museo de Arte Moderno de Bogotá (MAMBO).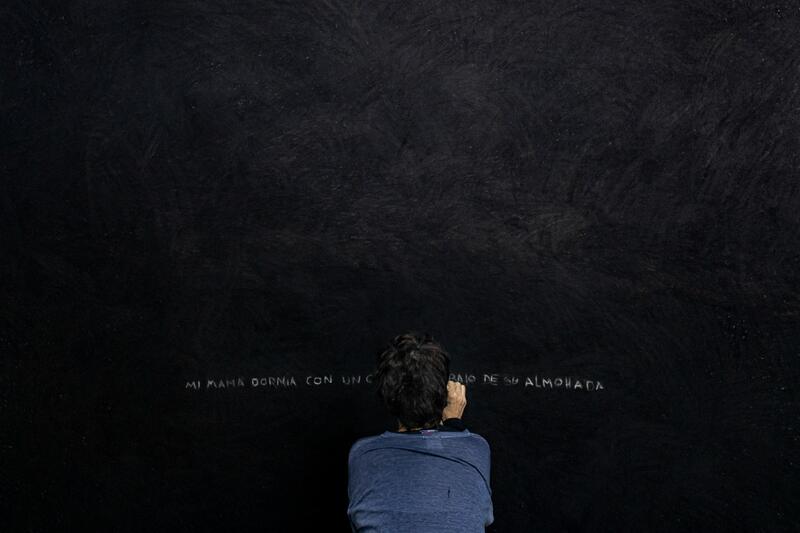 Ana Gallardo decided to seek out ex-combatant women with whom she formed a bond in Guatemala. In this process she found fragments of testimonies of the violence exercised by military and paramilitary groups on the bodies of these women, including pregnant women, girls and grandmothers.
The exhibition brings together these testimonies of women in wartime situations and reveals the extreme violence perpetrated by military and paramilitary groups against their bodies. The project compiles moving stories that invite the viewer to reflect on the lives of those who remain invisible in our society.
Commissioned specifically for this exhibition, Gallardo created a new series of charcoal drawings, characteristic of her work, which recreate an immersive monumental fresco. The artist conceives the charcoal drawing as a tool to make women's issues visible. The words and texts inscribed on the lower part of the drawings belong to the testimony that María Us writes about her experience, and from conversations they both share about their joint participation during the Civil War in Guatemala.
The exhibition will feature two videos that will be played on 10 televisions of different sizes, in order to weave together historical and geographical narratives of the Guatemalan context. One of the videos relates to the territory in which María Us and other indigenous women have negotiated with the Guatemalan government for their land rights. The second video shows Gallardo narrating her relationship with this unknown territory.
Museum curator Eugenio Viola explains: "(Te busco en otro nombre). Bitácora guatemalteca 1987/2023 recalls a painful chapter in the country's history, and also reminds us that we live in uncertain times, shaken by violence, war and intolerance. This project is a demonstration of Ana Gallardo's committed work, which seeks to unravel personal stories and reveal broader social problems".
Ana Gallardo (Rosario, Argentina, 1958) is a multimedia artist whose work is mainly developed in video, installation, drawing and performance. Her artistic research deals with ideas related to insecurity, violence, loneliness, exclusion, as well as the proximity to death as a consequence of gender violence, prostitution, human trafficking, forced disappearance of women and girls, femicides, domestic violence and age discrimination.
She lives in Mexico, where she directs the IMAN school, La Verdi CDMX, and teaches at Soma. Her work has been exhibited internationally, including Parque de la Memoria (Buenos Aires); Museo Universitario de Arte Contemporáneo (MUAC); Museo Jumex (Mexico City); MAMBA (Buenos Aires); 56th Venice Biennale; 29th São Paulo Biennial of Art; Whitechapel Gallery (London); and Palais de Tokyo (Paris).
Subscribe
to receive the latest news and articles written by experts
May interest you