JOSÉ CAEROLS NOMINATED IN Ch.ACO FOR THE EFG LATIN AMERICAN ART AWARD
The EFG Latin America Art Award, in partnership with ArtNexus, announces José Caerols, from OMA Galeria, Santiago de Chile, as the nominated artist for its annual acquisition award. The list of selected artists is now finallyy complete, and the winner will be announced at Pinta Miami this week.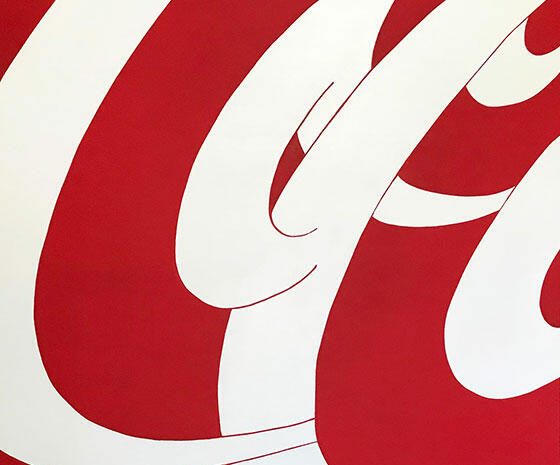 Caerols' work was selected at the Ch.ACO fair with the collaboration of Carolina Castro Jorquera, curator and researcher, jointly with Celia Sredni de Birbragher, Director and Editor of ArtNexus.
"José Caerols' work shows the insistence on shifting certain methodologies and aesthetics from the world of graffiti to installation. In particular, the work selected for the EFG Latin America Art Award is a painting that takes the graphics of advertising (in this case, Coca-Cola) to take it to a plane of abstraction and thereby appropriate the aesthetics of the market in a decolonizing attitude" shares Carolina Castro Jorquera.
EFG Latin America Art Award, on its eleventh year, was created to support a Latin American artist whose work is pre-selected through a juried process in Latin American contemporary art fairs throughout each year. The award aims to promote Latin American visual arts production and increase awareness of regional fairs among collectors worldwide.
This year, the nominated artists were selected at the fairs SP Arte, São Paulo; Art Lima and PArC, Lima; arteBA, Buenos Aires; Ch.ACO, Santiago de Chile, and ArtBo, Bogotá.
As is tradition, the winning artist and artwork will be selected and announced in Pinta Miami during Art Week in Miami. EFG Capital will acquire a work of art from one of the nominated artists to incorporate to the collection's permanent display at EFG Capital's Miami offices.
Tickets for Pinta Miami are available here
Subscribe
to receive the latest news and articles written by experts
May interest you