PINTA NAMES DANIEL FISCHER AS NEW ARCHITECT
By Mercedes Abella
With its new location and wider horizons, Pinta introduces architect and curator Daniel Fischer to its production team.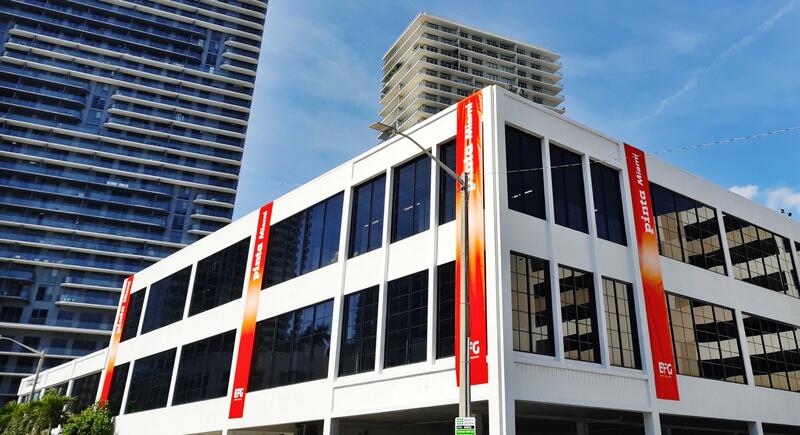 Regarding Pinta Concept, the fair's 2021 edition, the search for a location was carried out with one main thing in mind: to find a place that would be both intimate and different from other art fair experiences. Its urban location, uncluttered floor plans and multi-functional spaces aim to dynamize the artistic affaire and invite visitors to engage more personally, all while being cautions of health safety measures.
Designed on a 2nd floor with a cosmopolitan feel, Pinta 2021 will feature natural light and be surrounded by open views; these hint at Pinta's attitude towards the near future of expanded horizons and new equilibriums.
"The choice of location isn't naïve" explains Fischer. "The intimate scale, the glass façade and the landscape as artistic scenery are all conceptual and design tools that enable a perfect atmosphere for Pinta as it concludes this year's agenda and gives way to a promising 2022"
Born in Argentina, Daniel Fischer is trained as an Architect and Visual Artist, and member of the Argentine Association of Art Critics (AACA). He is currently Professor and Independent Curator of Contemporary Art, participates as a researcher and academic for the Society of Morphological Studies in Argentina (SEMA) and was director of the René Bruseau Museum of Fine Arts.
He has obtained scholarships from the Federal Council of Culture, the Telefónica Foundation, the National Fund for Arts, Science and Technology, the Cultural Office of the Spanish Embassy, ​​the Volpe Foundation and the Antorchas Foundation.
Fischer has curated and designed large exhibitions for museums, galleries, and national and international contemporary art fairs and participated as judge in biennials and national and provincial contemporary art salons.
Institutionally, he coordinated the Work Improvement, Production and Analysis Grant for the Antorchas Foundation in addition to carrying out activities for the Centro Cultural Rojas of the Universidad Nacional de Buenos Aires (U.B.A). He was the annual curator of the Vórtice exhibition program at the Emilio Caraffa Museum of Fine Arts, Córdoba and from 2013 to 2015 he was the exhibitions designer at the Museum of Contemporary Art of the Province of Buenos Aires, MAR Museum. In 2010 he was Guest Curator at The Contemporary Latin American Art Fair, UK. and gave talks about art, conservation and cultural heritage internationally.
He is currently doing his Doctorate of Arts at the University of La Plata.
Subscribe
to receive the latest news and articles written by experts
May interest you