GUADALUPE MARAVILLA EXHIBITS IN MoMA AND OFFERS HEALING SESSIONS
Guadalupe Maravilla: Luz y Fuerza exhibits sculptures and other pieces by the Salvadoran artist while also hosting Healing Sound Baths for the public. "I create new mythologies that take the form of real and fictionalized rituals based on my own lived experiences," says Guadalupe Maravilla.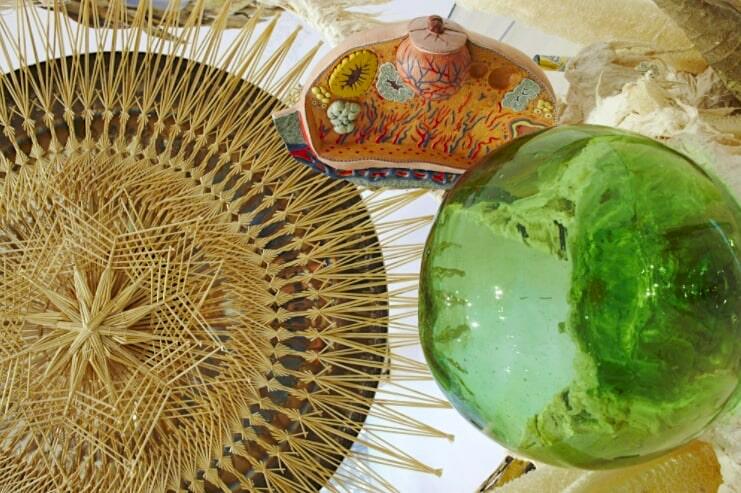 Two events from the artist's life animate his work most of all: emigrating from his native El Salvador to the United States as an unaccompanied, undocumented eight-year-old and, later, surviving cancer. From this personal history grows a multidisciplinary practice that addresses trauma, contagion, rehabilitation, and rebirth.
"Maravilla's work proposes care as a form of political work, particularly towards the healing of intergenerational trauma as well as trauma caused by migration. He frequently activates his artistic objects through performances and sound baths—a meditative experience where participants are "bathed" in sound frequencies meant to encourage therapeutic and restorative processes." [1]
While undergoing treatment for cancer, Guadalupe Maravilla was introduced to sound therapy, a healing practice that uses vibrations produced by gongs. According to the artist, this practice "cleanse[s] the water in our bodies, which can carry stress, impurities, and, in some cases, diseases." Now a trained sound healer, Maravilla regularly holds therapeutic workshops for undocumented immigrants, cancer patients, and those in need. The gongs played by the artist and his collaborators are tuned to specific frequencies that resonate with the moon and other planets in our solar system and will create an immersive soundscape within the artist's sculptural installation.
Sound healers include Guadalupe Maravilla, Naoko Wowsugi, Daniel Givens, MX Oops, Hillary Ramos, and Sam Xu.
This exhibition—whose Spanish title translates as "hope and strength"—features works inspired by Mesoamerican myths and Salvadoran traditions. The sculptures are made from natural materials and ready-made objects selected for their therapeutic, historical, symbolic, and aesthetic properties. Maravilla sees them as healing instruments he can activate—and often does, especially for people experiencing illness and other hardships.
Guadalupe Maravilla: Luz y fuerza includes sculptures from MoMA's collection as well as new works from the artist's studio.
[1] Rachel Remick, 12-Month Modern Women's Fund Intern, Department of Painting and Sculpture, MoMA; and Simon Wu, Administrative Assistant, Department of Painting and Sculpture, MoMA. 2020
Subscribe
to receive the latest news and articles written by experts
May interest you