INTIMATE, URBAN AND HUMAN - YAMADÚ CANOSA EXHIBITS IN BARCELONA
Galería Zielinsky presents Yamandú Canosa's exhibition "Entre ramas" (Between Branches) as an epilogue — a coda — to "El árbol de los frutos diferentes", the project that the artist presented in 2011 at the Fundació Suñol in Barcelona. "Entre ramas" is Yamandú Canosa's first solo exhibition for the Zielinsky Gallery, in which the artist revisits works from different periods that interweave different formal preferences and thematic subjects.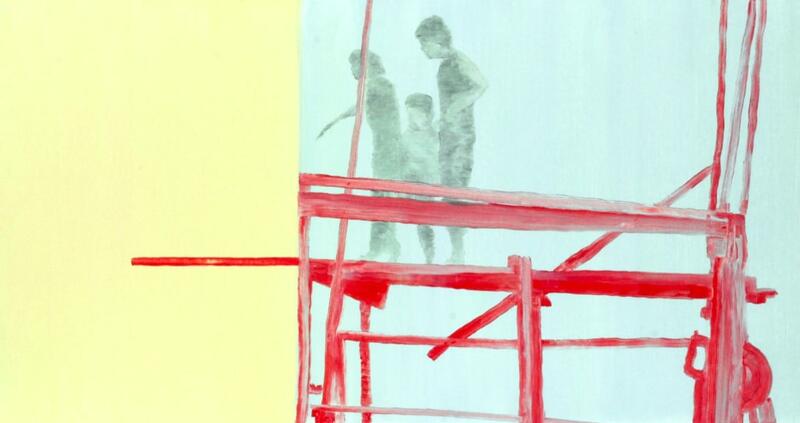 A metro line crosses the city. A tree grows towards the sky. The train cars circulate along routes that connect with other neighbourhoods and other towns; the branches occupy the neighbour's courtyard or are, perhaps, the end of a song that leads into a new melody and takes us to other unknown sounds. "Entre ramas" is not a shortcut, but a path that has always been there. On an intimate scale, the exhibition presents many of the subjects of Canosa's research over the years. Landscape, a classic painting genre and the backbone of Canosa's work, is present in the horizons of the works, occupying the walls. The horizon line runs across the works and defines the space in the golden ratio; the same horizon line that shapes the viewer's gaze.
The paintings and drawings in "Entre ramas" span the period 1990-2021 and approach the themes that Canosa has investigated throughout his career. In addition to landscape, everyday objects can be found along maps, people, the horizon, language and utopia. The oldest work in this exhibition — "Sistemas" (1990) — is a labyrinth, a play on words and images, where the viewer can get lost and found endlessly. Language is as much in what can be felt as in what can be said. Canosa speaks through metaphors and from the complexity of the world, as Martí Peran puts it in the exhibition catalogue for "El árbol de los frutos diferentes": 'The shattered world stretched out across the surface of an exploded painting, making up an heterogeneous constellation of strange yet enigmatically similar knowledge, brought together by morphological similarities, sometimes melodic, other times joined through dark similarities'. Canosa's world is made up of a changing, subjective and tireless grammar.
Yamandú Canosa was born in 1954 in Montevideo (Uruguay) and lives and works in Barcelona since 1975. His works have been selected to feature in solo and group exhibitions, including: the Museo Reina Sofía, Madrid, Spain; the Sprengel Museum, Hannover, Germany; the Albuquerque Museum, New Mexico, USA; the Dalí Museum, St. Petersburg, Florida, USA; the Bass Museum of Miami, Miami, USA; the DA2 Domus Artium 2002, Salamanca, Spain; the Fundació Suñol, Barcelona, Spain and the Centre d'Art Santa Mònica, Barcelona, Spain, among others. In 2019, Canosa represented Uruguay at the 58th Venice Biennale with his project "La casa empática".
"Entre ramas"
Until October, 29th 2021
Galería Zielinsky
Passatge de Mercader, 10
Barcelona, España
Subscribe
to receive the latest news and articles written by experts
May interest you