"EL ATAJO". A DISPLACEMENT IN THE AUTHOR
By Maria Paula Zacharías | August 31, 2021
José Luis Landet has been searching for the image of the Latin American landscape for years. And in El Atajo (The Shortcut), the exhibition that he presents in Marco, he finds some ways of approaching that idea. He builds ramps, connects vestiges, shreds colors, traces identikits, joins random images, creates an alphabet ... and ends up building a total idea of ​​our landscape, but above all of another subject that also haunts him: the painting. There is a large installation, a physical shortcut, and a set of 467 works that point to something that is clear in the subtitle: a displacement in the author.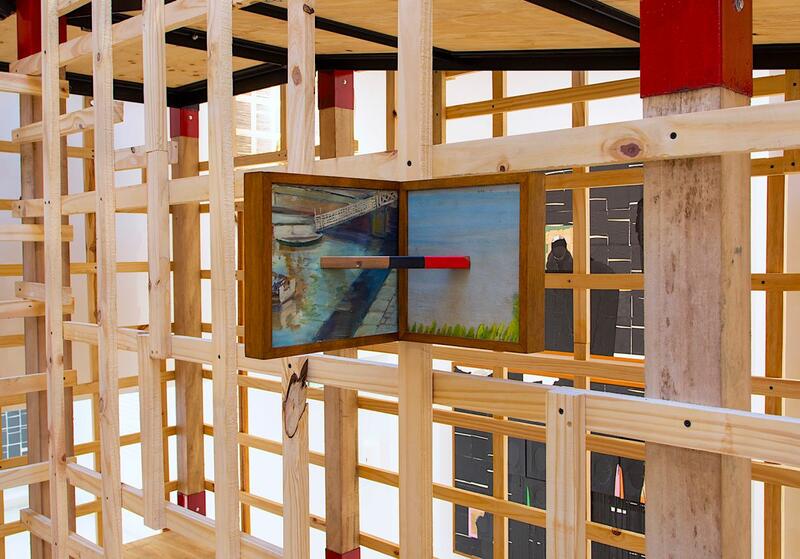 The show is anthological, a synthesis of his research from the last ten years, with work produced in the last year and a half. It summons on a special tour inside one of the newest museums in La Boca. With one of its very characteristic wooden structures, those that refer to the skeleton of the frame, it allows one to get from the ground floor to the skylight on the first floor without touching the stairs. A museum within another museum.
His dialogue in this search is with an essential amateur author, built with thousands of fragments of found works, on which Landet works and creates his own. What is an amateur painter? For Landet it is about those creators who do not participate in the art market. I think they are painters who previously enjoyed commercial approval and are now forgotten. Will Landet and the artists of his generation be considered amateurs a hundred years from now? Will they use his work as a basis to intervene and create their own? We do not know. But today his work is necessary and fair, he opens trails and offers a worthy finale to the work done by his colleagues of yesteryear.
It is possible to browse the archive of Landet's work in a cabinet. There, one can find his wooden grids and all the journey that led him here. Sometimes the artist himself is working there. "I am a facilitator, I am interested in opening the processes and communicating them," says Landet, who is always available to the viewer.
"I work with sociocultural waste, things that I find in the flea market or on the street, that have had a specific production and consumption, and are loaded with a memory. From these materials, I begin to classify, order and include in them my own narratives," he explains. For a long time he was inspired by his family memorabilia and a history of leftist militancy and exiles, beginning with the discovery in an attic of dusty memories. He immersed them in his own tints, underlined them - like read books - and brought them to the present. "What still interests me are three questions: who produces? Who distributes? And who consumes the sociocultural objects that artists produce?" says Landet.
Looking for answers, since 2014 his research dives into non-professional painters. Thousands of pieces from Mexico, Peru, Brazil and Argentina have passed through his hands. Bucolic, romantic, paradisiacal and also European landscapes. A nineteenth-century format that is repeated, where Landet looks for clues of his own from deconstruction, fiction or the analysis of the signatures. "The Landet method resembles procedural archeology and directs its research to find cultural vestiges which he calls civilizational ruins, and it is from these materials that he makes a radical and poetic appropriation of images, whether in the format of paintings or graphic pieces", writes the curator, Sandra Juárez.
A large Warburgian atlas is displayed on the far wall. There are 162 of his 200 Triads, sets of three images and titles taken from encyclopedias and put together at random, from his practice of Tai Chi and breathing as inspiration. Collages of three that he pastes on graph paper, photocopies, breaks, pastes, dips ... They are on the wall and are also a book and a poster, because Landet is interested in the accessible consumption of his work.
How does Lenin sound today? is a group of 54 fragments from Lenin's essays, which are submerged in black and randomly reveal aphorisms. Landet wants to make them sound like sheet music. They are seen on the side walls, along with four decades of Argentine political processes worked from the covers of left-wing books, fragmented and intervened, and a series of masks created in quarantine, which, when the public takes the shortcut and goes up the ramp, begin to change perspective.
The upward journey immerses in another sensoriality. It is possible to caress the back of the window frames that are suspended in height. In the central structure, paintings-sculpture (collages of paintings in three dimensions) appear. And one arrives at a walkable space, in the center, where there is a bench that is usually occupied by the improvisational theater group La Bomba de humo - they have a wardrobe with their costumes on display - or by intellectuals invited to chat about the exhibition. The audience does and undoes, lies down or sits down. The upward journey reaches the ceiling (kids like to reach out and touch it). A painting of the Nicolás Avellaneda Bridge is superimposed in an imaginary line with the bridge itself, which is a few hundred meters beyond the walls.
The artist looks at the reverse, hidden or backstage of the painting. He finds shapes in the oil stain that the oil pastel leaves on the back of the canvas. He makes geometric compositions with squares from behind the found works, a gradient from the lightest to the darkest and oldest. He also paints foreign skies, grids that the hand tends to caress, as if one could shake the hands of unknown painters.
In his ode there is a reference to a reference. Landet wields the brush to embody the morphine landscape of which César Aira speaks in An Episode in the Life of a Traveling Painter, a dreamlike chronicle of Rugendas's life (who looks at the horizon under the effect of opioid, from behind a veil which protects his skin burned by two rays that fell on him). "All my work has to do with this reorganization of the landscape, this dreamy gaze of the amateur painter, the Eurocentric landscape; in my decomposition I try to rethink ourselves as a territory in Rodolfo Kusch's terms, to be being".
Among the thousands of canvases that passed through his hands, he had unexpected finds, such as when he cut a canvas that, he later learned, was worth thousands of dollars. He found a work by the painter from La Boca Enrique Nani and cleaned it, restored it, and payed close attention to its nostalgic and dark palette. He dedicated a room to him and a whole series in which he immerses foreign landscapes in eleven of his color tones, bought at the local hardware store, the same enamels with which the tin houses are painted. "I wanted the painting to reverberate in the neighborhood," he says. On September 18 they will be activated as a score: the music will be heard from speakers on the sidewalk. Another date: the theater group is rehearsing to present in November the concepts of the ideograms of its New Language in the open-air museum in Cañuelas that the Marco museum is putting together, where the installation will be moved when the exhibition ends, on September 19 .
The relational and collective are trends that attract the artist. He is erased or dissolved in the work of others, in the rescue of ancient pieces or in the games that he proposes to his contemporaries. For example, in Description and Interpretation he asks people outside art to describe a famous painting, and then he asks artists to draw it from those texts. Gaspar Acebo, Lucila Gradin, Gustavo Navas, Julián Terán, Gustavo Marrone, Marina Sissia participate. In Identikit, portrait and signature he investigates who are the appropriate authors, and asks for handwriting reports of their signatures and invents dates from numerology to draw astral charts. The actors then bring them to life.
Perhaps the culminating point of his intention to merge into a collective author is the Gómez artist and mentor project, for which he builds from hundreds of works and stories of his own and other people's to an author that until now Landet presented as a railroad, Marxist, painter, friend of poets. He claimed that he had met him in 2011 and inherited his work, and in Walden he dedicated a retrospective to him in 2014, shortly after his supposed death. Now Landet reveals that Carlos Gómez does not exist: it is his invention. What else is an artist, if not that.
Until September 19th at the Marco museum, Almirante Brown 1031, La Boca.
Subscribe
to receive the latest news and articles written by experts
May interest you