ON THE MEANING OF INTERSECTION – EAMON ORE-GIRON'S EXHIBITION IN GENEVA
Geneva-based gallery Espace Muraille presents Eamon Ore-Giron: Auto-Tune, the first-ever show of the Los Angeles-based artist in continental Europe. Curated by Valentina Locatelli and developed in close collaboration with the artist, the exhibition gathers eighteen paintings from his ongoing series Infinite Regress, conceived especially for the exhibition in Geneva, and two loom-woven tapestries created in collaboration with the Taller Mexicano de Gobelinos in Guadalajara, Mexico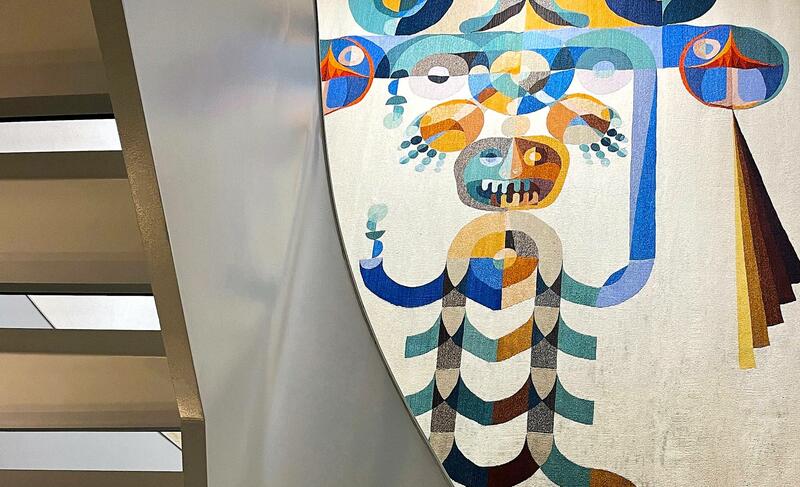 Born in Tucson, Arizona, to a Peruvian father, who emigrated to the US, and an Irish-American mother, Eamon Ore-Giron (b. 1973) was raised and educated in an environment where diverse cultures intersect and mix, a formative experience which has informed his artistic aesthetics and interests. Rooted in the idea of cultural cross-fertilization and characterized by interdisciplinarity and a multiplicity of genres – besides being a painter, Ore-Giron is also a sculptor, video artist, DJ, and musician – the artist's work is the result of an ongoing exploration of the language of abstraction and its potential to synthesize and combine seemingly disparate systems and elements into a more complex whole. Ore-Giron's artistic practice grows out of an investigation of both Western and Latin American canons, whereby the historic and visual legacies of the Global South meet and converge with North American and European modernist traditions. As a result, his work proposes alternative and unexpected discourses expanding the potential of synchronicity and interconnectedness, and unlocking them across time and space.
Evoking motifs derived from pre-Columbian architecture, Andean textiles, and ancient Peruvian gold work as much as from the abstract compositions of European avant-garde movements, Russian Constructivism, and Brazilian Neo-concretism, Ore-Giron's paintings are the artist's synthetic and personal response to the encounter between all these transnational narratives and legacies.
The concept of "infinite regress" is a philosophical one and it is determined by skepticism and the will to put knowledge in question. It designates the logical progression that occurs when, in order to explain a given term, one has to refer to another term and so forth, without ever being able to reach the final and ultimate definition or truth. Each painting in Ore-Giron's series is like a ring in an endless chain of meaning: while it requires and is contained in its embryonic form in the works that precedes it, it is also indispensable for understanding the essence of the works that follow it in the sequence.
Born in 1973 in Tucson, Arizona, Eamon Ore-Giron spent extended periods of time in Mexico and Peru, before settling in Los Angeles, where he continues to live and work. He received a BFA from the San Francisco Art Institute and an MFA from the University of California, Los Angeles.
Eamon Ore-Giron's work has been featured in important group shows, including Soft Power at the San Francisco Museum of Modern Art (2019) and Made in L.A. 2018 at the Hammer Museum, Los Angeles (2018). He participated in Something Else, the OFF Biennale Cairo (2015) and the California Biennial at the Orange County Museum of Art, Newport Beach, California (2008). He has also had numerous solo exhibitions, among others at LAXART, Los Angeles (2015) and the Pennsylvania Academy of the Fine Arts, Philadelphia (2005). As part of the artistic duo LOS JAICHACKERS, his work has been shown at Pérez Art Museum Miami (2013), the Los Angeles County Museum of Art (2008), and on the occasion of Prospect.3 in New Orleans (2014).
Ore-Giron has been selected to realize major public commissions by the New York Metropolitan Transportation Authority and LA METRO for subway stations in Brooklyn and Los Angeles, respectively. His work is held in the following collections: Hammer Museum, Los Angeles; Kadist, San Francisco; Los Angeles County Museum of Art; Museum of Fine Arts, Boston, MA; Pennsylvania Academy of the Fine Arts, Philadelphia; Pérez Art Museum Miami; San Francisco Museum of Modern Art; and the Whitney Museum of American Art, New York.
Eamon Ore-Giron: Auto-Tune
Until December, 11th
Espace Muraille, Geneva, Switzerland
Related Topics
Subscribe
to receive the latest news and articles written by experts
May interest you