DANIEL ORTEGA CREATES AN IMAGINARY OF FUTURE ARCHEOLOGY IN HIS EXHIBITION "ABRAXAS"
Exhibited at Galería Zielinsky, this solo exhibition will take place until September 10, 2021 in Barcelona. It gives an account of the recent production of the artist, who bases his research on envisioning a new perspective of the landscape: extracting the layers of the environment he inhabits and discovering the synergies that arise between fragments of everyday ruins with materials of great symbolic charge.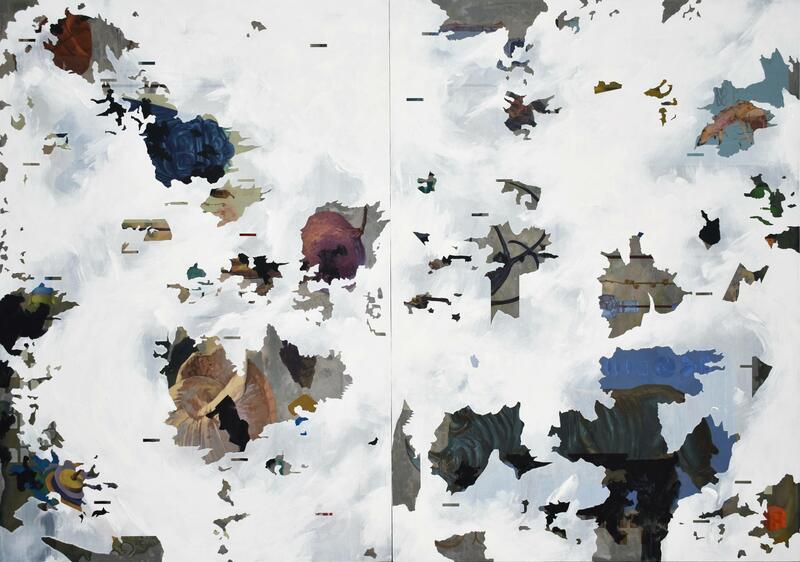 The exhibition includes paintings and sculptures that point, as the artist indicates, to "a search and interpretation of the hidden messages that are around us, in those places far from human control, where the power of the involuntary and the unconscious allow a glimpse of another reality; Referring to the concepts of adaptation, development and communication". Ortega presents fragments of a superficial culture to the viewer, under a gaze that privileges abandoned materials, in disuse or deprived of their potentialities that, in the exhibition, are rearranged and receive a new, mysterious coding close to mystical space.
The title of the exhibition, "Abraxas", offers indications of reading the works. It regards a deity that alludes to duality, a symbol of Gnosticism that emerged in the 1st century and refers to ancient religious ideas and systems that pursued personal and spiritual knowledge; an intuitive, mysterious and secret knowledge of things. They used to use the name of this god as a talisman, invoking him through engravings in certain songs, called Abraxas Stones. The exhibition is presented on the threshold of the natural and the artificial, between the spiritual and the earthly, between the visible and the invisible. Considering the talismans, relics and other ancient objects found by archaeologists, what heritage do we hope to offer in the future?
This interpretation is exhibited as vestiges of an unknown culture, where the viewer is invited to reflect on these questions, completing the traces that can be found in this site of antagonistic experiences.
Daniel Ortega (1986, Puertollano, Spain) has a degree in Fine Arts from the Polytechnic University of Valencia and has completed a master's degree in Artistic Production at the same institution. He has been awarded a scholarship at the Accademia di Belle Arti di Brera, Milan and the Autonomous University of the State of Mexico. His work has been exhibited both nationally and internationally, either in individual or group exhibitions, among which are: the Carmen Center for Contemporary Culture of Valencia; Museum of Contemporary Spanish Engraving, Marbella, Spain; Trepat Museum, Lléida, Spain; Agora Gallery, New York, USA; Rizzuto Gallery, Palermo, Italy.
Zielinsky Gallery
Passatge de Mercader, 10
08008 Barcelona
Spain
Subscribe
to receive the latest news and articles written by experts
May interest you