LIGIA D'ANDREA: VISUAL POETRY THAT ESCAPES FROM TWO-DIMENSIONALITY (part 1)
By Jorge Luna Ortuño – Philosopher and researcher | August 16, 2023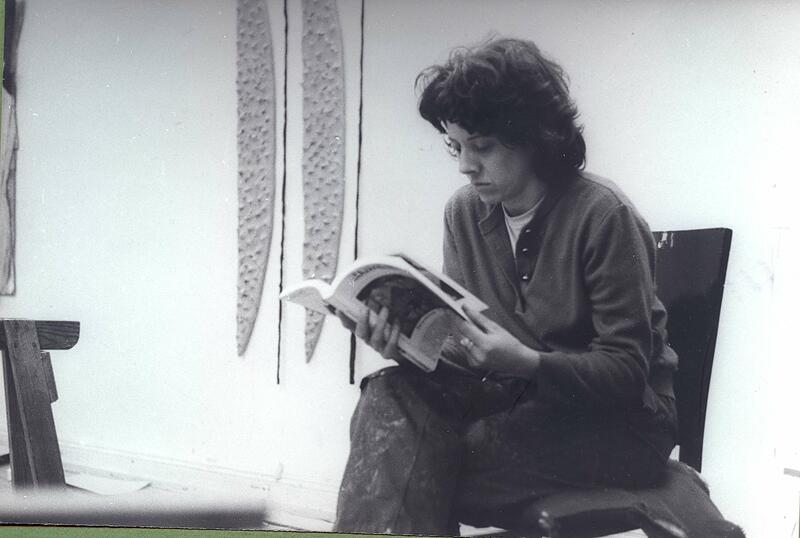 There are not many opportunities to find exhibitions with paintings by Ligia D'Andrea (Porto Alegre, 1948), a Brazilian artist based in La Paz since 1993. The reason is that almost all her career has been marked by the desire not to be trapped within the two-dimensionality, being that she is better known for the installations she has been making since the 80's or the poetic artist's books she has made as three-dimensional supports. It was last year that she exhibited for the first time paintings hung on a wall, in a group exhibition at the Manzana Uno Gallery, Santa Cruz de la Sierra.
Beyond an opposition between the two-dimensional and the three-dimensional, Ligia D'Andrea is an artist of great human quality who has perfected the path of the medium, zigzagging between any hint of dualism; she embodies in her way of living a subtle definition of artist: someone who expands the horizons of the sensitive, in the warmest silence, with stubborn patience. Away from the conceptualizations that drink from colonialism, or from Euro-centrist thought, she is the owner of a work that claims its own categories, dialoguing with the different contexts in which she has lived, always embarked on a broken line that points to the South.
When she is not working on the making of her jewelry -a job she combines by diversifying herself-, she is working on her creative process as an artist, or simply writing on top of books already written, folding the pages of old dictionaries, colorfully scratching them with geometric shapes, just to clear her head, involuntarily reinventing the very notion of the book and its uses, but also rediscovering the treasures of repetition.
Thanks to the exhibition she held in Santa Cruz last year, and further stimulated by the impulse of curator Cecilia Bayá, I got to know Ligia D'Andrea and her work through an intermittent electronic correspondence, until recently I was able to visit her at her home. Then I got to know a little more of that plural world of multiple perspectives that the artist encourages in everything that surrounds her, a world of poetry expressed in folds of paper, collages with precarious materials, miniature rivers of stones, extrapolations of lines, superimpositions between distant temporalities, delicious aroma of roasted coffee, and richness of vibrant colors. In this article I share some passages of those conversations, as a way to encourage the public and the new generations to get to know precursor artists who live and imagine from Bolivia.
Getting out of the two-dimensional by making paintings
The first thing we asked Ligia D'Andrea was what had led her not to exhibit paintings during her entire career, until she finally did so last year. What was it that she was looking for this time?
Painting for me has always been an almost impossible challenge. I don't really like what I do in a two-dimensional painting. I have "n" paintings that I have already taken out and thrown away. I paint and throw away. In this there was something that seemed to me, now, because of my age, my life history, etc., that was a challenge to see if I could find myself in a two-dimensional surface. So, I gathered in this exhibition at Manzana Uno some of my works painted on canvas, which is a place where I don't feel comfortable. I have tons of paper with drawings. I have always drawn, but painting for me is a sacrifice, let's put it this way: it is a place of self-improvement (laughs). Because for me the two-dimensional painting always ends up in a very aesthetic thing, for myself. So it satisfies me for a moment, but then I try to run away. And the drawing seems to me, black and white, something minimal, I feel better. [1]
Good artists are those who know how to escape, since art is an act of temporarily occupying spaces, what every artist must know beforehand is how to get out of these territorialities even before having entered. The same applies to life. Ligia D'Andrea is a great designer of vanishing lines, something typical of those who work creatively from the limitations and conditioning factors inherited from each discipline. Even adapting to the two-dimensional format of the canvas, the artist managed to generate these paintings -exhibited without frames- that seem to begin elsewhere and end outside, as if they were photograms of a journey that contains them. The optical illusion generated by the multiple gradients of colors arranged in vertiginous linearities, promote the illusion of being volumes of fabrics coming out of the wall.
Life itself is the support
Born and graduated in Brazil (Plastic Arts at UFGR, Porto Alegre, 1972), Ligia D'Andrea is a name that testifies to the long journey, a zigzag between the mountains, from Brazil to Bolivia, having previously passed through Germany, where she obtained her Master's Degree in Plastic Arts; then a shorter stay in Mexico, to later settle in Barcelona (ESP). This journey has taken her through very different cultural contexts, disparate realities that the artist carries with her, and that perhaps explain why her installations make diverse elements that belong to unequal contexts coexist, connecting pre-Hispanic symbols with other contemporary ones.
It is my life trajectory: I emigrated from Brazil during the military dictatorship, when I was already a university professor. I was granted a scholarship to go to Germany and managed to leave with the help of friends. From Germany onwards I was jumping from one place to another. I lived in Mexico for a year, then I lived five years in Barcelona (ESP) where my daughter Paola was born. Then I came to live in Bolivia. [2]
One of the characteristics of this journey has been the lightness, the ability to travel carrying the minimum, with works that could be moved in a couple of suitcases, something celebrated by portable artists, who walk the world without high pretensions. Ligia D'Andrea is one of those beautifully simple people. But the history of her moves is also given by the sign of losses: the lightness of her travels was for her something forced, and that she relates more to the precariousness that has been a constant in her path.
I have had no financial resources other than a day job and a little bit of a scholarship. So my economic precariousness and my precariousness as an art producer, let's say, without a workshop, without many resources, led me to do things and abandon them and lose them. I lost in transporting from one place to another all my work from the exhibition I had done in Berlin. I couldn't even pay for transportation to Barcelona, let alone Bolivia.
So it's a cut. That's why the minimalist theme of my installations. Or that break with the dictionaries, or with the art book, has to do a little with that improvised trajectory. I can say it like that (laughs). I'm an artist who works with what I just found on the road. That's a very painful place, because you can't even make a memory of your stuff. My installations have always been ephemeral, with precarious materials (paper, thread, tin cans, earth...). Things like that I can handle and form something, with the minimal. The Manzana Uno exhibition is the first one I've done, it would seem to me to be the first one, where I hang paintings. [3]
CONTINUE READING PART TWO HERE
[1] 1 D'Andrea Ligia. Electronic correspondence from the artist addressed to Jorge Luna O. La Paz, 2022.
[2] Ibid.
[3] Ibid
Subscribe
to receive the latest news and articles written by experts
May interest you