SHEROANAWE HAKIHIIWE: YANOMAMI COSMOLOGY AT MASP
The exhibition All this is us by Yanomami artist Sheroanawe Hakihiiwe at MASP presented 48 works with the mission to preserve his community's cultural value.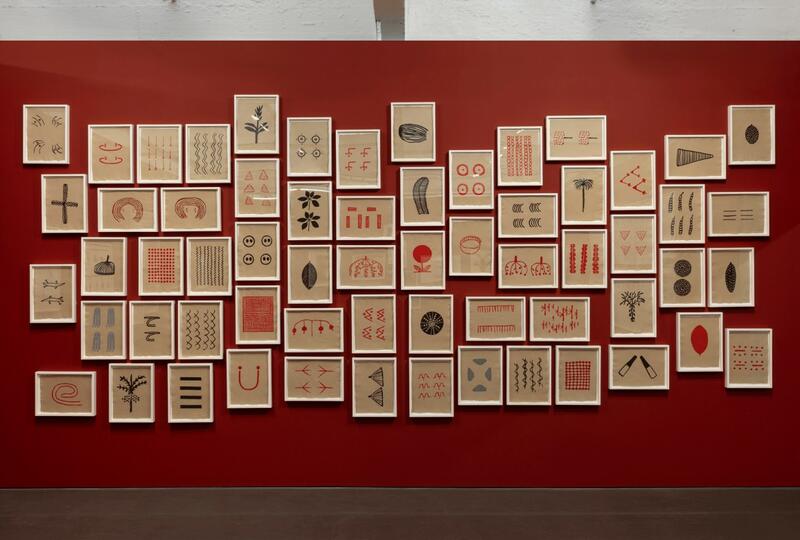 The show bears the subtitle Ihi hei komi thepe kamie yamaki [All This Is Us], proposed by Hakihiiwe to embody the diversity of elements that form his community and its surroundings. For the artist, "All this is us" means "all that is there in the jungle. We all live there, and it's not just us. There are big rivers, big lagoons, all the animals, and the insects. I recover everything that is there where I live."
Hakihiiwe's work intends to preserve, care, archiving, and translation of images and materials of community cultural values, producing drawings that depict Yanomami cosmology and form a true inventory of the immaterial heritage of his people. Most of the drawings and monotypes in this exhibition were produced on handmade paper with fibers such as sugarcane, cotton, mulberry, banana, and corn.
Sheroanawe Hakihiiwe's show is part of MASP's 2023 program devoted to Indigenous Histories, which includes exhibitions of the MAHKU collective (Huni Kuin Artists' Movement), Carmézia Emiliano, Paul Gauguin (1848–1903), the MASP Landmann Long-Term Loan of Pre-Columbian Art, Melissa Cody, as well as the large group show Indigenous Histories.
Sheroanawe Hakihiiwe (Sheroana, Venezuela, 1971) is a Yanomami artist who has been producing drawings, monotypes, and paintings since the 1990s. His delicate, abstract, and minimal artistic language uses straight lines, organic curves, dots, circles, triangles, zigzags, arcs, and crosses. Hakihiiwe lives in Mahekoto-Theri, a Yanomami community in the city of Alto Orinoco, in the Venezuelan state of Amazonas, which borders the Brazilian states of Roraima and Amazonas. The artist actively watches nature and the daily life of his community, recording in a notebook what he finds, learns, and uncovers in body and face paintings, shamanistic chants, traditional knowledge about animals, the medicinal aspects of plants, as well as the patterns his people use in their material culture. These notebooks are like archives, which help Hakihiiwe collect his graphic memories of life in the forest. His notes are later transferred to sheets of paper on which he adds colors, patterns, repetitions, and textures.
Subscribe
to receive the latest news and articles written by experts
May interest you