ART, ART AND MORE ART! MARTA MINUJÍN AT THE PINACOTECA OF SÃO PAULO
The exhibition Marta Minujín: Vive at the Pinacoteca de São Paulo is the first panoramic exhibition in Brazil of one of the most important Latin American artists of her generation.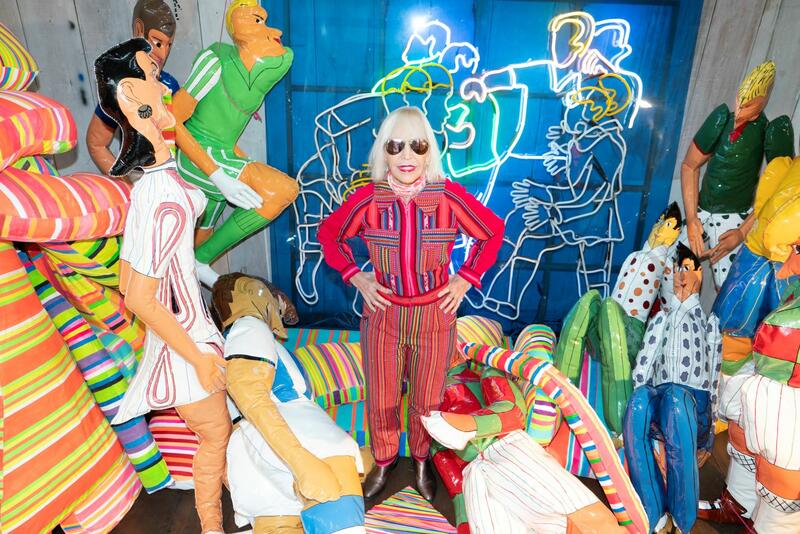 Marta Minujín: Vive articulates more than one hundred works by the artist, from 1963 to the present. In the first days of the exhibition, the public was welcomed by the Escultura de los deseos [Sculpture of Wishes], a 17-meter inflatable in the Pinacoteca's parking lot. In addition, installations such as Galería Blanda (1973), video installations and photoperformances such as El pago de la deuda externa [The Payment of the Foreign Debt] (1985) will be on view.
The exhibition covers crucial moments in the artist's career. Her research on the social phenomenon of communication and its potential for dissemination resulted in several works such as Simultaneidad en Simultaneidad [Simultaneity in Simultaneity] (1966) and Leyendo las noticias sobre el Río de la Plata [Reading the News on the Río de la Plata] (1965).
In the political context of the 1970s, the proliferation of military dictatorships in Latin America led Minujín towards artistic practices aimed at making known a socio-political reality and an integration project among the countries of the region. The artist's most emblematic work in this sense was Comunicarse con la tierra [Communicating with the Earth] (1976) the installation in the form of a giant bird's nest reassembled for this exhibition.
The work El Batacazo [The Batacazo], from 1965, was recreated especially for the Pinacoteca. In it, media icons guide the visitor, who passes by soccer players from Brazil and Argentina, climbs stairs and encounters playboys and cosmonauts, and descends on a slide to fall on an inflatable doll in the shape of the face of Italian actress Virna Lisi.
The exhibition ends with one of the artist's most recent video installations, ¡Implosión! [Implosion!] (2021). The new version of the work promotes immersion in a multicolored musical cube.
Born in Buenos Aires, 1943, Marta Minujín achieved great recognition in Argentina and internationally. Throughout her career she became an ambassador of the pop movement in Argentina and, although she identified herself with the label, her production has a multidisciplinary character, combining aspects of pop art with passing and conceptual art.
Minujín produces art tirelessly to this day, moving between different languages, scales, artistic and social circuits. With her mirrored glasses and her extravagant personality, the artist-character figures in important chapters of art history, passing through new realism, pop art, conceptualism, public art and multimedia.
Related Topics
Subscribe
to receive the latest news and articles written by experts
May interest you