FOUNTAINHEAD RESIDENCY PRESENTS THE WORKS OF ITS MAY ARTIST RESIDENTS
María de los Angeles Rodríguez Jiménez (Cuba), Karlo Andrei Ibarra (Puerto Rico) and Adolfo Bimer (Chile) are the three artists who participated in Fountainhead's residency program in Miami during the month of May.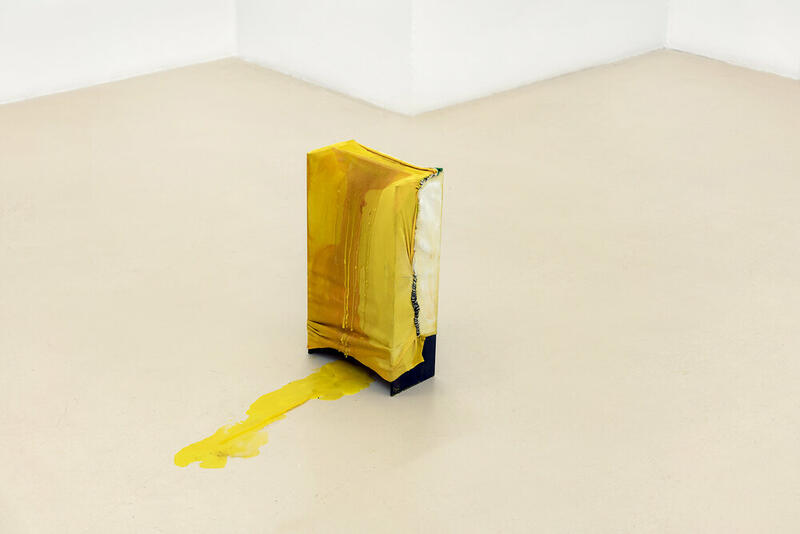 María de los Angeles Rodríguez Jiménez was born in Holguín Cuba in 1992. She received her BFA from The Cooper Union for the Advancement of Science and Art in 2015 and MFA in Painting and Printmaking from Yale University in 2020.
"My work is focused on questions pertaining to the body as a temporal vessel, the spirituality of objects, and material symbolism. Inspired by the Lukumí and Yorùbá traditions in Cuba, Brazil and Nigeria, I make "offerings" out of organic and industrial materials. I combine objects that have an intimate relationship with the human body, such as indigo, textiles, and beads, alongside materials that provoke visceral responses (razor wire, broken glass, and wax). I believe my works to be akin to wombs—vessels full of potential, able to incubate internal forces as they are simultaneously pushed to their physical limits. Over time, my pieces have become sculptural objects in space, all while maintaining the language of painting. Personal rituals of mine have been integrated into my practice through the medium of performance, and the residue of these performances then find their way into the objects I create in the studio. The use of language in my work creates a creolized poetry of various tongues for the offerings to speak. All of the works share a symbiotic energy, and create a crossroad between individual and collective experience for our diasporic bodies and spirits. They mirror the unfixed border of an identity that cannot be easily contained within established categories and in doing so, they continue to blur the separation between art and the spiritual."
Born and raised in Puerto Rico, Karlo Andrei Ibarra studied painting in Escuela de Artes Plásticas de Puerto Rico. Currently, he works as an artist and cultural manager. He is also cofounder of the contemporary art space in Santurce, Puerto Rico, called Km 0.2. His proposal addresses directly to Puerto Rico's subordinate position as an unincorporated territory of the United States, and aesthetically examines the implications of this association.
"For over 15 years I have worked with the concept of "repair" in my artistic practice. It allows me to investigate the dialect between destruction and repair, in which repair is understood as a way of cultural resistance as well as a means for a society or a subject to reappropriate their history and identity. On the other hand, I am also interested in investigating aspects about the historical and colonial framework which affects what we were in the past, what we are in the present and what we will be in the future.
I employ a wide variety of media that refer to conceptual art and mass media while addressing issues of social, political, cultural and geographic boundaries. My practice relies on social and political cognitions gathered from personal investigations, which draw correlations between individual and national identities and make larger observations respective to a global community."
Adolfo Bimer (Santiago, Chile, 1985) has a degree in Visual Arts from the University of Chile (2011) and is studying Art History at Utrecht Universiteit (2007). Since 2014, he is co-director of the Chilean artistic organization Sagrada Mercamería, an independent space in the center of Santiago, focused on promoting residency projects, exhibitions and the discussion around contemporary art.
"Since about 10 years I have been developing an artistic practice that indagates on how medical imaging technologies represent the human body and how this images shape the cultural opinion we build of diseases and the people who have them. From analyzing file typologies such as microscopy, X rays, scanners and anatomical drawing, I reflect on how their signs match with material accidents that occur during studio experimentation. In this way, I articulate a visual analogue logic translated into painting, digital photography, sculpture and objects. In my work, the sample becomes an image, a data and an object at the same time.
The results obtained by medical technologies are used here for the production of new images and visual information, generating therefore a language of distorted reading and materic allegory about the afflictions that we as individuals carry; the disease visualized from its diagram and its sensitivity from the instrumental resource. We are humans resumed into data; and disease, a form of measure that brings us closer to the body."
Founded in 2008 by Kathryn and Dan Mikesell, Fountainhead takes a holistic approach to empowering artists, while cultivating and nurturing a community who values them. They do this by providing artists space to create and experiment, connections that lead to financial opportunities and the tools they need to flourish in their careers. At the same time, they provide arts professionals and enthusiasts intimate time with the artists, not to simply see art, but to delve into their practice and understand their perspective. Fountainhead cultivates new audiences for artists through meaningful engagements in an approachable, inclusive, and welcoming environment.
"Diversity, equity and inclusion are at the core of Fountainhead's mission. We welcome everyone regardless of age, gender, race, ethnicity, sexual orientation, religious beliefs or marital status. The Fountainhead team lives by these guiding principles in all aspects of their lives."
Related Topics
Subscribe
to receive the latest news and articles written by experts
May interest you