WHEN THE POTATOES BURN - JAZMÍN GRINBAUM'S EXHIBITION IN REVOLVER BUENOS AIRES
The exhibition by the artist and architect proposes scenarios where the elements are stripped and the forms are revealed. The title of the exhibition, an idiomatic expression, already suggests the obligation of necessity and the inescapable nature of the evidenced planes. Until May 30.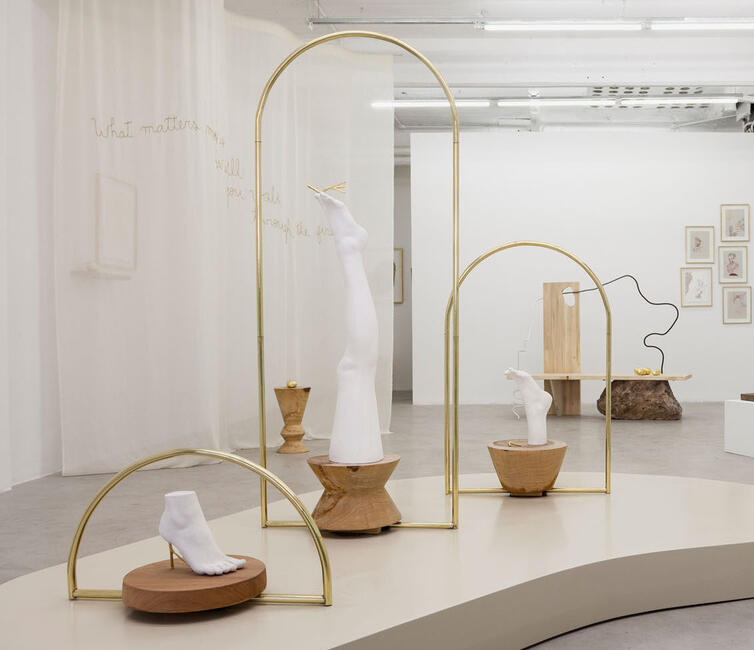 From an individual point of view, Jazmín's project raises questions related to the truth and the primal, trying to clarify very personal certainties. Thus, Jazmín suggests a return to the nucleus, to the bottom of what configures us. However, to know the truth we must first know the danger. Potatoes must burn. "What matters most is how well you walk through fire," reads the Bukowski quote embroidered in gold and silk.
Jazmín asks us (asks herself) what happens when the potatoes burn? Let the truth emerge; the basic, the simple, the primal, the origin, the real, the root or the tuber. In this way, the exhibition is presented as a temple or receptacle of talismans - a lock of my sister's hair, my father's modern-style chairs (...) - but also as a question that asks us what we do when the potatoes burn.
Jazmín Grinbaum is an Architect and Visual Artist from Buenos aires, Argentina. Jazmín's work spans a range of mediums including architecture, object design, drawing, painting, furniture design, interior design, sculpture, site-specific installation and art exhibition design.
Jazmín's objects, sculptures, drawings, and paintings are present at private collections, retail stores and restaurants in Buenos Aires, Chicago and Tel Aviv. Her work was exhibited at international art fairs represented by Revolver Gallery, and she has designed exhibitions and spaces for Revolver Gallery, BienalSur, the National Museum of Riyadh in Saudi Arabia, Museo Nacional de Arte Decorativo in Argentina, Museo Universidad de las Américas in Mexico, among others.
Revolver Buenos Aires
José León Pagano 2750
Visits by appointment only
micaela@revolvergaleria.com / DM revolvergaleria
Subscribe
to receive the latest news and articles written by experts
May interest you