"THE COURSE OF THE WORK IS NOT DELIBERATE." INTERVIEW WITH JUAN HENRIQUEZ.
By Félix Suazo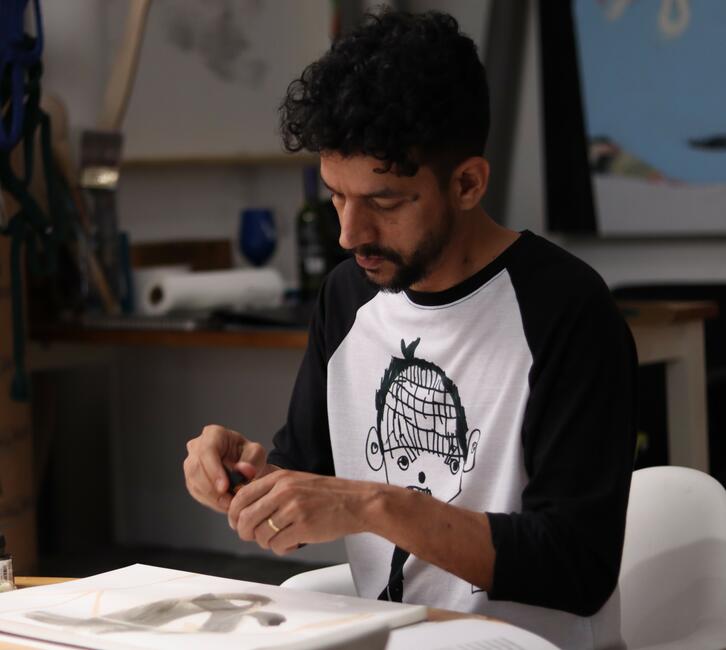 "There is a chain of causalities creating a universe that is not preconceived"
Juan Henriquez
Reflective and persistent, Juan Henriquez is an artist who assumes the pictorial activity as a means of introspection and analysis. "Hysterical Map", his solo exhibition held until June at Laundromat Art Space in Miami, Florida, shows his constant concern for the pictorial process, abstraction and other related issues. During the preparations for the project, we met several times in his studio in Little Haiti, Florida. There, between his paintings and the attenuated sound of the street, we talked about the impact of everyday life on his works, about the role of the media in the construction of his language and about the expansion of the pictorial beyond traditional supports. Henriquez works with everything that he has at hand — acrylic, graphite, ink — whether it be tracing, masking, crossing out or recovering trails and prints. His pictorial work is the extension of his personal and professional experience; of what happens in the day to day and also of what happens in his mind. Hence this kind of entropic cartography where areas of color, lines, writing and unfinished images are juxtaposed. Much of the meaning that Henriquez gives to his current work slides into the interview that, without verbal saturation and with direct arguments, we reproduce below.
FS: What is the dominant strategy in your work?
JH: The course of the artwork is not deliberate. That is why there are interruptions, accidents, and disagreements. Generally I conceive and elaborate the work in a massive way, although there are parts that must be seen from very close.
FS: How do you locate an attention focus in the midst of this spontaneous flow?
JH: When making a line, there is a chain of causalities creating a universe that is not preconceived. Yes there is an aesthetic judgment, but it is not just about that; it is not about whether the palette is harmonious or not. The selection is arbitrary, like a game. Sometimes I have tried to get into a program but it has gone very badly.
FS: In your pictorial work, extensive color planes and gestures prevail, although there are also figurative indications. How do you think about these cross-languages?
JH: I look at figuration, realism and traditional painting with a lot of admiration. But I moved away from figuration from the beginning of my work. The construction of the abstract work contains that fear, complaint or admiration for the figuration. In my case, I try to provoke figurative readings from the abstract. I create different morphologies that, when put together, suggest readings. Nothing is that abstract really.
FS: In this exhibition you present a significant number of works on paper, along with various canvases. What is the point of agreement between the different supports used?
JH: Works on paper are also paintings. I have never been able to separate drawing or painting; the definition of both does not depend on the material. I call all this painting, but I also have a drawing in each work, both on canvas and on paper.
FS: In this exhibition there are not only paintings. You have also included an on-site installation and video.
JH: Yes, it's true. I need to let go of the canvas and experience the space. Paint can be a kind of comfort zone that can be dangerous.
FS: That is in terms of space and how do you approach the video experience?
JH: Video art is oriented towards a close-up view of my own work. On this occasion I count with the important collaboration of Carlos Pedreañez, a Venezuelan artist residing in Brazil, who has been able to create an animation from elements extracted from my work, such as lines, stains and traces that are generated in sequence referring to the execution of the work in action. Some time ago I was doing a series of digital jobs. This essay aimed to put the elements of the work in a movement that was almost imperceptible to the quick glance, therefore the contemplation of video-art resulted in the encounter of an image that was reconfigured and repositioned.
Felix Suazo. Professor, Art Critic and Curator.
Related Topics
Subscribe
to receive the latest news and articles written by experts
May interest you