THE ARMORY SHOW'S 2023 EDITION
The 2023 edition of The Armory Show features 225 leading international galleries exhibiting, representing more than 35 countries and showcasing over 800 artists. The New York fair returns for its third year at the Javits Center on September.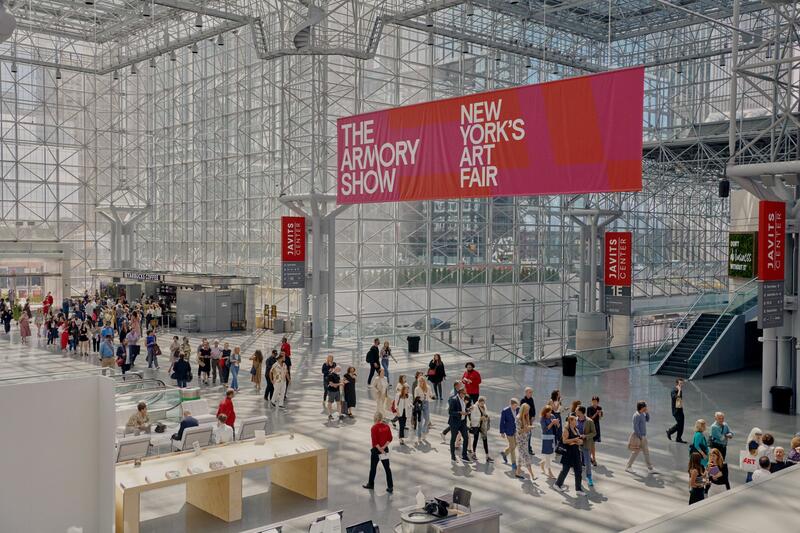 Expanding on the fair's thematically unified curatorial sections from the 2022 fair, The Armory show 2023 brings together three exceptional women curators to examine historical narratives – practices of artists both emerging and established whose work is informed by structures of inclusivity and exclusivity. Focus and Platform sections will once again join Galleries, Solo and Presents under one roof in a cohesive, integrated floorplan at the Javits Center.
Eva Respini, Deputy Director for Curatorial Affairs and Barbara Lee Chief Curator at the ICA/Boston, will curate the Platform section; Candice Hopkins, Director and Chief Curator of Forge Project, will curate de Focus section; and Adrienne Edwards, Engell Speyer Family Curator and Director of Curatorial Affairs at the Whitney Museum of American Art, will chair the sixth annual Curatorial leadership Summit.
Galleries
Galleries is the core section of The Armory Show where leading international galleries present outstanding 20th and 21st-century artworks across a range of media, featuring a strong representation of New York exhibitors alongside other galleries from the United States, Asia, Africa, Europe, South America, and Australia.
Solo
This section is dedicated to intimate single-artist presentations of emerging, established, and historic artists.
Highlights include new paintings by New York-based artist Bridget Mullen, presented by Shulamit Nazarian (Los Angeles); first time exhibitor Semiose's (Paris) installation of New York by emerging Chinese painter Xie Lei; a presentation of work by José Leonilson by Almeida e Dale (Sao Paulo); acb Gallery's (Budapest) solo booth of new paintings by Márton Nemes, who will represent Hungary at the 2023 Venice Biennale; hand-painted bronze and resin figures by South African artist Mary Sibande, presents by SMAC Gallery (Cap Town, Stellenbosch, Johannesburg); and Galerie Christophe Gaillard's (Paris, Brussels) presentation of new oil paintings by Julien des Monstiers.
Presents
Galleries under 10 years old comprise Presents, where exhibitors showcase recent works through solo and dual-artist presentations.
Highlights include Embajada's (San Juan) presentation of new pictorial works by Puerto Rican painter Jean-Pierre Villafañe; Broadway's (New York) presentation of new oil paintings by New York artist Victoria Roth; Sow & Tailor's (Los Angeles) booth, designed to resemble the inside of a psychic storefront to accent their presentation of new paintings by Kayla Witt, which depict the imagery of psychic shops; and new paintings on hand-sewn canvases by Heloise Chassepot, presented by Tara Downs (New York).
Curated Sectors
Expanding on the thematically unifies curatorial sections from the fair's 2022 edition, The Armory Show 2023 brings together curators who will mount presentations that explore and examine historical narratives. Rather than taking a geographical focus, each curated section will consider artistic process, identity, and materiality to engage a representative view of art from around the world.
Focus will center on emerging and established voices that uncover hidden histories and little-known narratives, including CLEARING's (New York, Brussels, Los Angeles) presentation of hand-drawn textiles by Sara Flores, an artist of the Shipibo-Conibo notion, an Indigenous group living along the Ucayali River in the Peruvian Amazon.
Platform will feature large-scale installations and site-specific works, staged at the center of the fair. The section will showcase: Hank Willis Thomas presented by Ben Brown Fine Arts (London, Hong Kong, Palm Beach); Yinka Shonibare and Xu Zhen presented by James Cohan (New York); Devan Shimoyama presented by De Buck Gallery (New York); Shahzia Sikander presented by Sean Kelly (New York, Los Angeles); Barthélémy Toguo presented by Galerie Lelong & Co. (New York, Paris); Teresita Fernández presented by Lehmann Maupin (New York, Seoul, London, Palm Beach, Hong Kong); Jean Shin presented by Praise Shadows Art Gallery (Boston); and Woody De Othello and Pae White presented by Jessica Silverman (San Francisco).
Fair news: Frieze acquired The Armory Show and Expo Chicago
Frieze, one of the world's leading contemporary art organizations, announced that it has acquired The Armory Show in New York and signed an agreement to acquire EXPO CHICAGO. The acquisition of two of the longest-running art fairs in the United States demonstrates Frieze's firm commitment to the US market and confidence in its continued strength. Both fairs will continue to operate under their existing brands and with their current teams.
Related Topics
Subscribe
to receive the latest news and articles written by experts
May interest you