PUNTO DE VISTA: RODRIGO ARTEAGA'S EXHIBITION AT MAC
Curated by Carolina Castro Jorquera, Punto de vista (Point of view), Rodrigo Arteaga's exhibition, is a continuation of the artist's explorations and concerns about the way in which we perceive the beings and forms with which we coexist.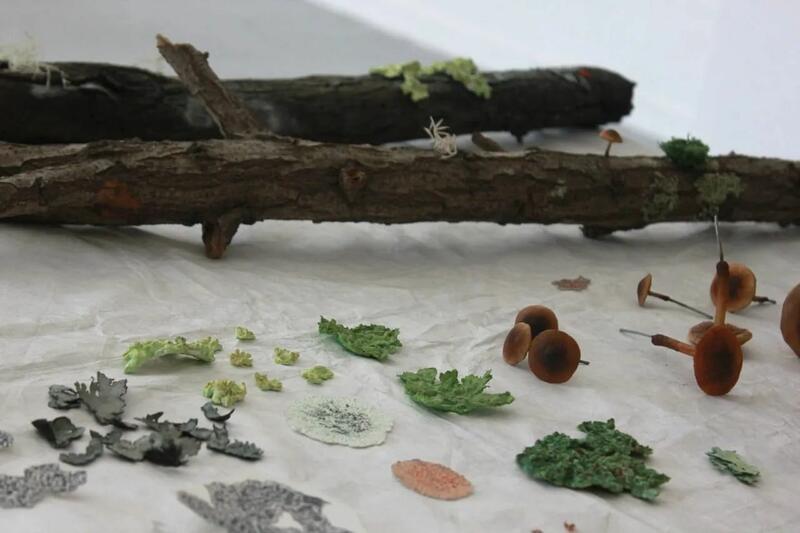 Chilean artist Rodrigo Arteaga returns to the MAC (Museo de Arte Chileno) with an exhibition that invites us to redirect paradigms and understand humanity as a co-inhabitant of a world that is not entirely our own. It features objects, sculptures, photographs, videos and sounds that seek to generate bonds of solidarity between species: lichens, mosses, fungi and the wide range of tiny beings that coexist in the forests.
The exhibition has its origin in an expedition made by the artist and the curator to the Omora Ethnobotanical Park, located in the Cabo de Hornos Biosphere Reserve, where the southernmost forests of the planet are found, housing marine and terrestrial ecosystems where there are more than a thousand species of mosses, liverworts and lichens.
This experience was complemented by Rodrigo Arteaga's residency at the Centre for Print Research at the University of the West of England. During his stay Arteaga set out to find 'non-human' drawings, created by fungi. Thus, the darkroom for photography in that place was transformed into a mushroom cultivation laboratory that became a constellation between the workshop and the forest, taking samples of mushrooms from the surrounding forests to cultivate them in the laboratory and carry out experiments understood as devices to observe what happens beyond our perception, either under our feet through the earth or through a substrate.
In Punto de vista the artist has replicated the careful exploration of such forests to appreciate the infinite complexity of the small beings that inhabit that territory and their complex web of relationships, seeking to broaden our vision of the biological world to achieve a more conscious and empathetic way of cohabiting. "Looking with a magnifying glass gives us a perspective that broadens our mental, perceptual and affective image of nature and our relationship with it, as well as broadens the economic vision that currently prevails, since it reintegrates the ecological, aesthetic and ethical dimensions in the understanding of life," emphasizes curator Carolina Castro Jorquera.
Rodrigo Arteaga (Santiago, 1988) is a visual artist. His practice moves between installation, sculpture, drawing and sound. His work questions the complex relationship between nature, culture and representation. His interest in working across different areas of thought has led him to collaborate with specialists in fields such as Microbiology, Bio-Fabrication, Mycology, Ecology, Botany and Architecture. His solo exhibitions include Diorama en expansión curated by Carolina Castro Jorquera at the Museo de Artes Visuales MAVI (Chile), "This path, one time, long time ago" at PMAG Potteries Museum & Art Gallery (UK), "Placed into Abyss" curated by Eva Riebová at Kostka Gallery-Meet Factory (Czech Republic).
Related Topics
Subscribe
to receive the latest news and articles written by experts
May interest you